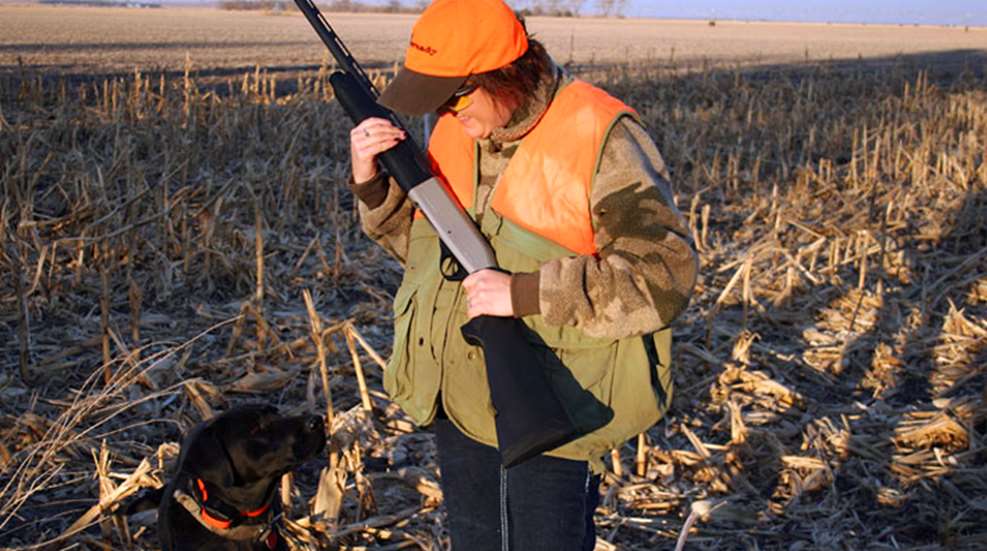 Life is busy. Marriage, kids, sporting events...you may be feeling that you're ready to get back to simple pleasures, like spending time in the outdoors together. A lot of folks have made the decision that shooting will be an enjoyable way to help instill responsibility, skill and discipline for the kids, as well as to bring the family together with a common pastime that everyone can enjoy.
However, nobody's wallet is bottomless, so your family might want to consider choosing a versatile firearm good for a number of shooting sports: the shotgun. To further conserve cash, you should think about one that will work for everyone in the family. That just might be Franchi's Affinity Sporting.
Franchi has long been a brand that is synonymous with high-quality shotguns. The Affinity Sporting is no exception. This well-made scattergun utilizes the Inertia Driven system perfected by Benelli—Franchi's parent company. There are many advantages to the semi-automatic platform. It is much easier for smaller-statured shooters to master, as there is no pump to operate. Semi-automatic shotguns also tend to recoil less than their fixed-breech counterparts, as they use the energy created by firing to cycle the action. Fixed-breech guns—pumps, side-by-sides and over/unders—send all the recoil back on the shoulder of the shooter. The Affinity Sporting is a 12-gauge shotgun, but don't let that intimidate you. The great recoil pad and semi-auto action keep perceived recoil well within the apabilities of new and small-statured shooters. The Affinity also has a stock that can be easily configured differently to fit a variety of shooters, which makes it great for the entire family.
The Affinity Sporting has elegant lines, and is proportioned such that a variety of shooters will find it very comfortable to handle and shoot. This proportional design means the gun "feels" right in the hands and on the shoulder, allowing the shooter to feel that they've become one with the gun. This makes the shooter more confident—and confidence is the most important thing to have when shooting, whether it's clay pigeons, mallards, pheasant or deer.
The Inertia Driven operating system does more for the shooter than reduce recoil. One of the most important things about inertia-operated shotguns is that they eliminate the gas operating system. Gas guns are great, but the downside is they get dirty…especially if they are being used for shooting-intensive sports like trap or sporting clays. The inertia system sends all of the burned gases downrange, where they belong. This cleaner system will be reliable longer, and will require less maintenance over time. That's not to say that these guns do not require maintenance and care; all guns do, and the Affinity Sporting is no exception. That's where instilling responsibility and good habits in new shooters comes in: Guns must be cared for, properly cleaned and lubricated so they continue to take care of their owners.
Thanks to its solid design and engineering, the Affinity Sporting is one of those guns that just comes to life when you pick it up. It has all of the right features in all of the right places, executed properly so it comes together in a design that begs to be shot, much like a fine automobile begs to be driven.
Shotguns are easily the most versatile guns in existence and are capable of taking a wide variety of game, from rabbits to deer. The Affinity utilizes screw-in chokes, which allow the shooter to configure the barrel to work ideally with the wide variety of shotgun ammunition that is currently on the market.
The chokes include IC (Improved Cylinder) for shooting steel shot at waterfowl, or buck-shot and slugs at larger game; Full (Full Choke), which is perfect for shooting heavier lead shot field loads at tough upland game like pheasant and prairie chickens; and Mod (Modified) for multi-purpose use from trap shooting to small-game hunting. Having the ability to change the choke really allows you to change the "personality" of the gun to fit a wide variety of hunting and recreational shooting scenarios.
The Franchi Affinity is truly a gun that will allow the family to come together for a wide variety of shooting activities, and is crafted with the kind of quality that generations to come will appreciate as they are nurtured into the world of shooting.