From the time we were little, Saturday-morning cartoons taught us that shotguns consist of two barrels next to each other. When we became adults, we noticed that there were in fact very, very few shotguns on the market that looked like that. There are a lot of reasons why that is, which we explored a few months ago right here on NRA Family. You might note the last line of that article: "So, if there happens to be a side-by-side double-barrel shotgun hiding in the corner of a closet somewhere in your extended family, don't let it get away." This year, we've learned about an all-new series of side-by-sides manufactured by storied gunmaker Weatherby, the Orion SXS, and we expect them to become instant classics.
Initially offered in 12- and 20-ga., the Orion SXS line now includes the .410 bore! It's been decades since Weatherby has offered a .410, so this new side by side should be a welcomed announcement for uplanders, small game hunters and small-bore enthusiasts. The new offering is a true .410 receiver and is scaled down from the 20-ga. version launched just a few months ago. It accepts up to 3" shells and the barrel is ready for today's modern shot selections. Like its bigger brothers, this new shotgun features a straight English stock, splinter forend, five extended chokes and double triggers.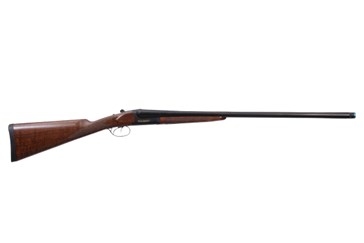 The Orion's double trigger is mechanical. The front trigger fires the right-side barrel, while the rear trigger fires the left-side barrel. The tang safety is ergonomically placed for easy, quick transitions from "safe" to "fire." 
It has a classic swamp rib, used to aid the shooter in keeping their face on the stock. This also allows the user to see between the barrel silhouettes, encouraging focus on the target. It also features a brass bead to ensure a clear sight picture for quick and accurate wing shooting. Made for conscious hunters, the side by side features extractors to make sure empty shells end up in your pocket and not on the landscape.
The long tang trigger guard adds strength and additional stability to the wrist of the stock. A classic straight English stock with a slim splinter forend allows for natural pointing and an easy transition between the two triggers.  Starting at just 6.1lbs, this is a shotgun you can carry all day long. MSRP:$1,099; weatherby.com