by
posted on August 15, 2023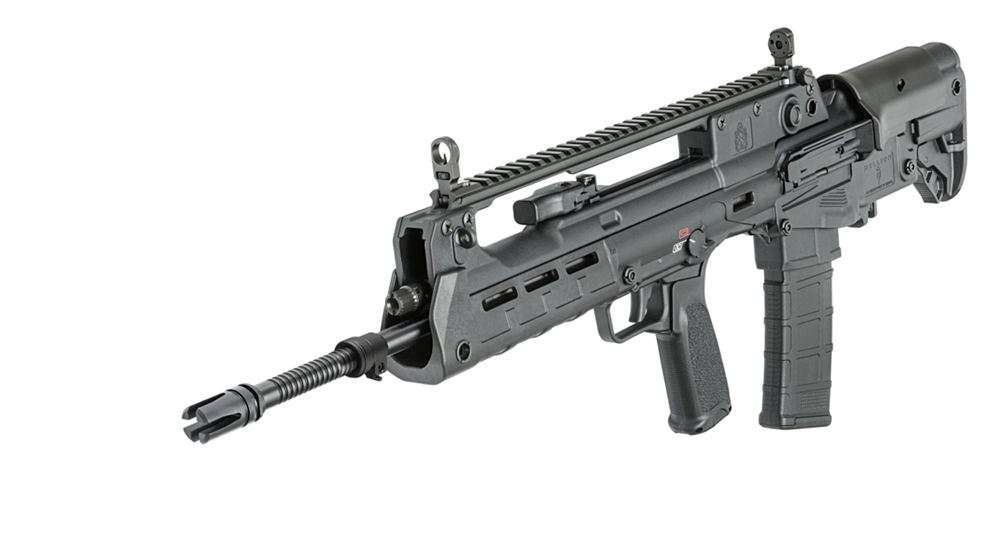 Last year, Springfield Armory delighted the nation's shooters with its Hellion, Springfield's first bullpup rifle. What's unique about the bullpup design is that it places the firing group and magazine behind the trigger, which moves the gun's center of gravity closer to the shooter. It also allows for a longer barrel relative to the overall length of the firearm, which results in a very compact package. Today, we've learned that Springfield is releasing two new variants of the Hellion, offering enhanced ballistic performance with 18" and 20" barrel length options and unique features true to the original VHS-2 design.
The original 2022 Hellion launched features a short 16" barrel designed to offer the most compact package possible, but of course the first question that shooters asked was, "When will there be longer barrels?" As you may know, the longer the barrel, the longer the sight radius ... and that means better, more precise sight pictures. That, in turn, means better downrange accuracy. Longer barrels also offer the projectile more time to "spin," which increases velocity. That's why the newly released variants feature extended 18" and 20" barrels. 
Like the original (which is, of course, still for sale and will remain so), the new Hellions are based on the internationally proven bullpup employed by the Croatian armed forces in demanding environments ranging from Iraq to Africa and beyond. Like the original, the new variants are fully ambidextrous. And, like the original, the new Hellions feed from AR-pattern magazines, use replaceable AR-pattern grips, and offer M-Lok slots in the handguard. 
All Hellions feature a reversible ejection system that requires no additional parts or tools. Complementing this system is a set of fully ambidextrous controls, including the safety, charging handle, magazine and bolt release. A five-position collapsible buttstock, two-position adjustable gas system and integrated flip-up iron sights further add to the design's adaptability.
In addition, the 20"-barreled version of the Hellion features an overall configuration similar to that of the Croatian VHS-D2, a designated marksman version of the VHS. The 20" Hellion is outfitted with a distinctive ribbed forward section of barrel for enhanced cooling as well as an integrated bayonet lug.
All Hellions come with a 30-round Magpul PMAG and Bravo Company USA BCMGUNFIGHTER Mod 3 pistol grip. MSRP of the 18" version is $2,016, while the 20" version has an MSRP of $2,031. Springfield-Armory.com