by
posted on June 11, 2019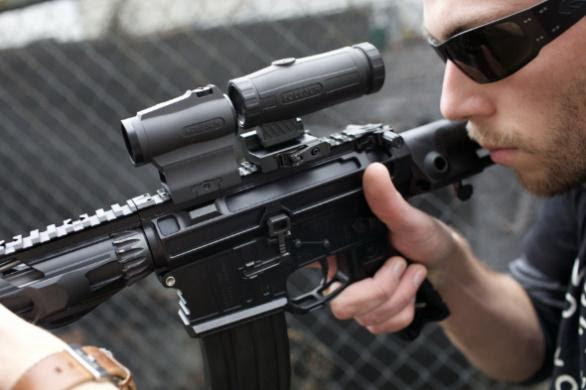 Holosun shook up the firearms optics world at the 2019 SHOT Show with their 3 power Flip-to-the-Side Magnifier, the Holosun HM3X. What's particularly exciting about this is that the HM3X is designed specifically to pair with Holosun's lineup of red-dot sights. Red-dot sights are a remarkably intuitive method for rapid sight-picture acquisition, and can really contribute to shooter accuracy even under stress. That said, red-dot sights generally don't feature any magnification, so if your Holosun red-dot is mounted on a rifle, you'll never be able to explore the rifle's true long-range potential without some sort of magnification. That's where the HM3X comes in.

Naturally, any time you're contemplating adding extra accessories and weight to your modern sporting rifle, you're going to want to ensure that it's enhancing your shooting experience. The HM3X offers a very generous 2.75 inches of eye relief, so you can rest assured that mounting the magnifier won't result in a "scope bite" (although we suppose that would be more like an "optics bite").
With its flip-to-the-side design, the HM3X allows users to toggle between an unmagnified and a 3-power magnification view through their optic as the situation dictates. With a little practice, you should be able to do it quickly using an index finger. So it'll be good news to the southpaws among us that the HM3X can be mounted to allow it to flip either to the right or to the left, depending on which hand is dominant.

Holosun offers versatility and value in all its offerings, and this magnifier is no different. Additionally, the mount has hard stop positions that sit straight behind an absolute co-witness height optic (1.4 inches from the top of the rail to the center of the lens) or flipped-to-the-side at ninety degrees. Also included is a spacer that creates compatibility for lower 1/3 co-witness height optics (1.63 inches from the top of the rail to the center of the lens).

The HM3X's aluminum body is durable and corrosion resistant, protecting it from the wear and tear of heavy use. The IP67 water and dust tight rating combined with a nitrogen gas purge ensure that the HM3X won't let you down in humid or damp environments.
The HM3X will debut with an MSRP of $235.28. For more information, please visit  www.holosun.com.