by
posted on August 24, 2017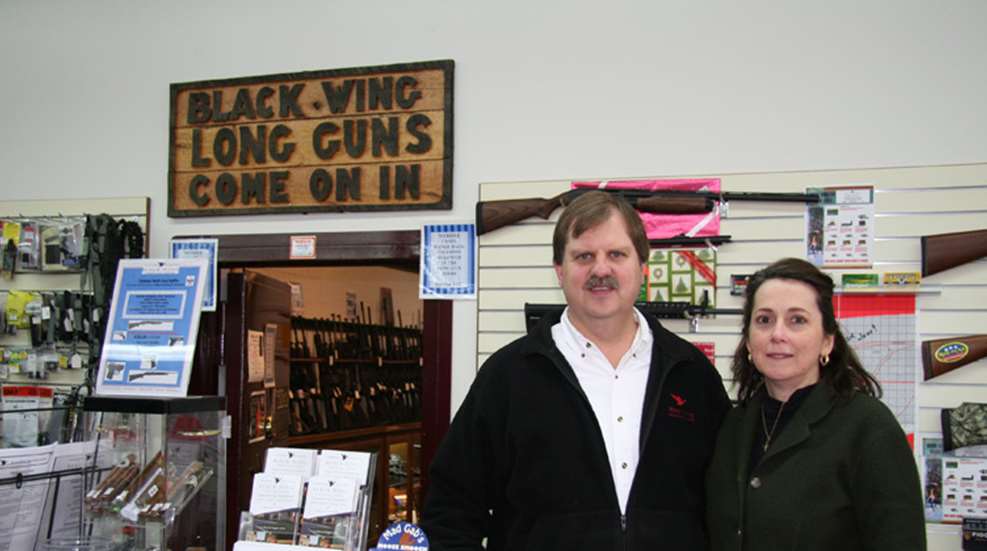 Rex Gore and wife Suzanne are the proud owners of Black Wing Shooting Center, a five-star-rated shooting destination. Located just west of Delaware, Ohio, near the center of the state, Black Wing is an easy half-hour's drive north from Columbus, the Buckeye State's capital and largest city.
"Black Wing offers everything a novice to experienced shooter would want or need," said Rex. "Our facility consists of 30,000 square feet of retail space filled with firearms and accessories, meeting space, a banquet room, full training department, gunsmithing services and indoor pistol and rifle ranges. Outdoors there are shotgun fields for trap, skeet and sporting clays, including a covered five-stand sporting clays pavilion."
How did you get started in the firearms industry, and have you always been interested in firearms and shooting?
"I grew up in Texas and we had guns in our home when I was a kid, so I've been around firearms and hunting all my life. I got started in the firearms industry about 20 years ago, but my professional background prior to that was banking and finance. A partner and I opened a small gun shop and shooting range in New Albany, Ohio, an affluent suburb of Columbus, and the shop did well. But I had a larger vision, so six years later I sold my partner the business and opened Black Wing Shooting Center in 2004.   
"But before building Black Wing I visited more than 75 shooting ranges and gun stores across the U.S. to get an idea of what worked and what didn't. What I didn't want to be was just another hole-in-the-wall gun shop. Rather, I wanted to create a diverse, state-of-the-art shooting facility that was welcoming, clean, well stocked, well-lighted and attractive to families. I also wanted not only experienced male shooters to feel comfortable at Black Wing, but women and first-timers, as well."
How would you advise a young person to prepare for a career as a shooting range owner or manager?
"We've mentored a lot of kids here at Black Wing through the years, and I would first recommend that a young person work for a shooting facility for a period of time, possibly a summer, to see firsthand what the business is about from the inside. Even if it's just picking up empty shell casings, general cleaning or loading clay-target throwers, that's how you get started. And once a young person does those menial jobs well, he or she may then be asked to help behind the retail counters.
"As for formal school studies, the shooting-range business is like any other; you'll need a firm understanding of the basics of finance. Learning how to manage money and how to plan and budget are critical. It doesn't matter whether you're selling guns or widgets, the basic concepts are the same. Unfortunately, a lack of those skills has led to the demise of many would-be shooting ranges and gun stores, especially given the cyclical boom-and-bust nature of the firearms industry."   
Are shooting ranges becoming more difficult to acquire/build due to increasing environmental regulations and noise ordinances?
"We're currently seeing a slowdown in the construction of new shooting ranges in America, but not necessarily because of regulatory issues. The current presidential administration being pro-gun, people are not as concerned that our Second Amendment rights will be taken away...so that sense of urgency to build new ranges has abated somewhat. It's true that some ranges constructed during the last few years are struggling financially, but that's due to the cyclical nature of the shooting-sports industry. To smooth out those highs and lows, we here at Black Wing have tried diversifying our services as much as possible."
What do you enjoy most about your job?
"Even though the American firearms industry is vast in scope, it's still a relatively small, very tightly knit, friendly, helpful group of people, and I enjoy rubbing shoulders with those kinds of folks. For instance, I've developed a peer network that extends from coast to coast that I talk shop with frequently. I've also participated on several national industry boards, including the National Shooting Sports Foundation (NSSF).
"But what brings me the greatest joy on a daily basis is helping new shooters come into the sport, especially families. I love seeing Dad, Mom and their kids here at Black Wing enjoying themselves, having fun together. And because of the group and corporate outings we host here—some 150 annually—we see many adults coming into the sport who were never exposed to shooting as kids. "        
What are the downsides of the job?
"Being in retail and customer service means long working hours, including weekends. We have to be available when shooters want to shoot and shop. We open at 10 a.m. and close at 9:00 p.m., which makes for nearly a 12-hour day by the time we close down the ranges, lock up and head for home. In the early years of Black Wing, I personally worked 80 to 100 hours per week getting the business off the ground and established. We now have more than 35 very capable employees, including a great management staff, so I've been able to back off a bit in recent years."         
Anything else you'd like to add?
"If someone is considering getting involved in the shooting-sports industry as a career, to be successful you have to have a passion for it; you won't get rich. And as with any industry, it's tough to break in and establish yourself. And once you're established, you have to constantly be thinking outside the box to survive. You can't necessarily rely on how things have been done in the past to be successful in the future. To my way of thinking, those of us in the shooting sports are really in the entertainment/recreation business, constantly vying for peoples' discretionary time and dollars. If you can remember that, you'll do well."