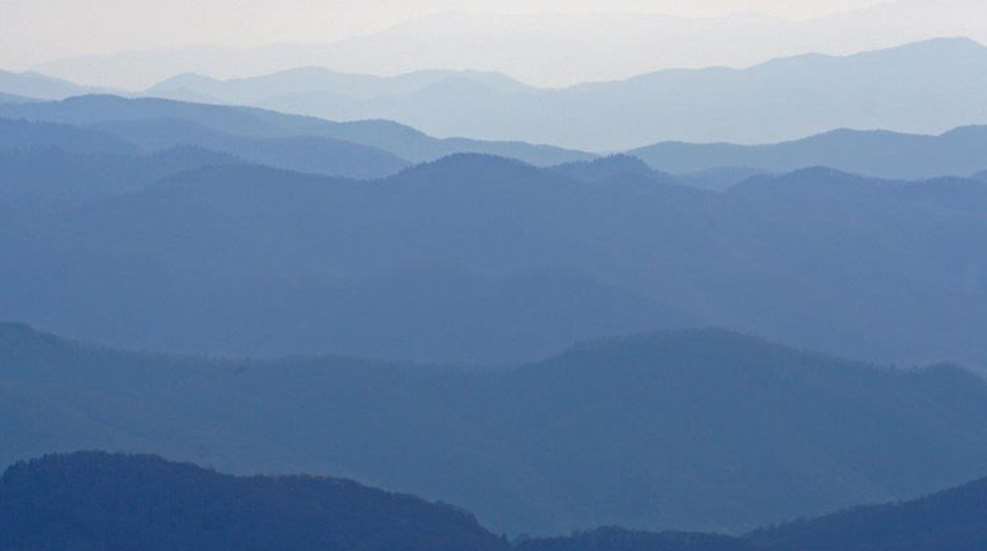 They are the oldest mountains on the continent, created before the dinosaurs. In the hills and valleys are more varieties of trees—over 130 species—than are found in all of Europe, some the largest and oldest of their kind. There are also plants and animals that exist nowhere else on earth. Welcome to Great Smoky Mountains National Park.
The Smokies are beautiful any time of year, but especially so in spring. After winter's cold and snow, black bears emerge from hibernation with their cubs, wild turkeys begin gobbling, and wildflowers burst forth from the forest floor. A myriad of colorful songbirds flit through the tree canopy, their calls celebrating the return of warmer weather.
Located on the border of eastern Tennessee and western North Carolina, Great Smoky Mountains National Park is the most popular park in the national park system, hosting some 10 million visitors annually. The reason for its popularity is twofold: its central location in the eastern U.S., and the fact that the park does not charge an entrance fee, as do most other national parks. The park gets its name from the nearly constant mists that rise from moist valleys, making the mountains appear smoky much of the time.
A great way to begin a trip to the Smokies is by stopping by the Sugarlands Visitor Center and park headquarters, just a few miles southwest of Gatlinburg, Tennessee. Pick up a free park map while there, and take time to view the continuously running 20-minute film giving an overview of the park, explaining its natural and cultural history.
Take a hike
The best way to experience Great Smoky Mountains National Park is by hiking. Some 800 miles of marked trails spiderweb the park, ranging from easy, level walks to strenuous, rocky climbs. The famous Appalachian Trail—some 70 miles of it—runs nearly the entire length of the park.
A good beginners' trail, one requiring only a modicum of physical effort, is the Laurel Falls Trail in the northwest corner of the park. Beginning at Little River Road, this trail is a gentle 1.3-mile upgrade to beautiful Laurel Falls. Unlike most other trails in the park, Laurel Falls Trial is paved, making it ideal for wheelchairs, mobility scooters, or those pushing a baby stroller.
Cades Cove
A driving tour not to be missed is Cades Cove. This 11-mile scenic loop was once home to an isolated mountain community of some 800 souls. The permanent residents are gone now, but a few historic churches, log cabins, barns and an old mill remain.
In the absence of people, wildlife has reclaimed Cades Cove, and numerous white-tailed deer and wild turkeys may be seen as you drive slowly through woods and fields. If you're lucky, you may spot a coyote or even the iconic symbol of the Smokies, a black bear.
Because the animals are so accustomed to humans—an estimated 3,500 cars per day drive the paved, loop road during peak summer tourist season—Cades Cove is a great place for wildlife viewing and photography. But even though the animals may seem tame and allow you to get quite close, remember they are still wild and should never be crowded or attempted to be touched. This warning is particularly important should you encounter a bear, especially a sow with cubs.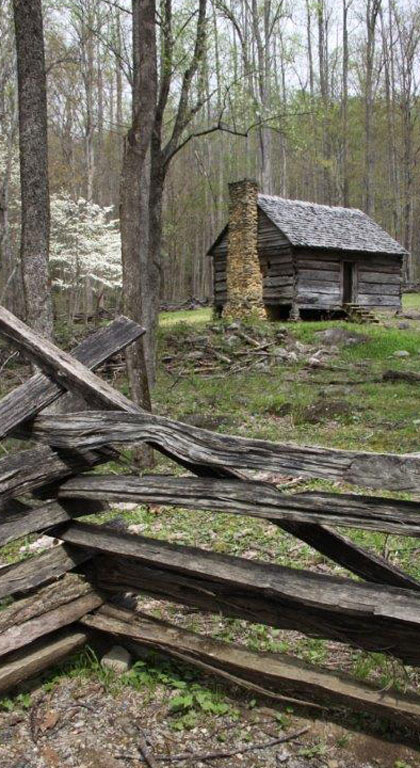 Clingman's Dome
The highest elevation in all of Tennessee—and the third highest peak east of the Mississippi—is Clingman's Dome, where you can see more than 50 miles on a clear day. Driving from the lowest elevation in the park (840 feet) to the summit (6,643 feet) is like traveling in latitude from Tennessee to Canada. Temperatures can vary by 20 degrees, and the higher elevations get 30 more inches of rain and snowfall each year than the lowlands. A viewing tower is located at the top, and the view is worth the half-mile walk up the steep but paved trail.  
Roaring Fork
Another self-guided auto tour is Roaring Fork Motor Nature Trail. Make a one-dollar donation at the nearby Visitor Center to obtain a brochure of the route. Sixteen stops along the tour interpret not only the various habitats encountered, but also explain the cultural history of the small, hardscrabble mountain community that once existed there.
For instance, Ephraim Bales and his wife, Minerva, raised nine children in a small, two-room, one-window, log cabin along Roaring Fork. As farmers, the family owned 70 acres of rocky, mountain hillside, and wrested their entire living from the land. Though the family is now long gone, their old homestead buildings still remain.    
If you'd like to stretch your legs while on the auto tour, stop number five marks the beginning of a 1.3-mile hike along Trillium Gap Trail taking you to 25-foot-high Grotto Falls. This well-marked trail winds through a virgin hemlock forest, and is a moderately strenuous walk.        
No matter where you hike or drive in the park, you'll never be far from a rushing mountain stream. Find one you can have to yourself for a few minutes and take the time to sit, breathe the clean mountain air, smell the damp woods, and listen to the quiet surrounding you, broken only by occasional bird song. Such is springtime in Great Smoky Mountains National Park.

Cool Critters
Some 30 species of salamanders live in Great Smoky Mountains National Park, more than in any other location on earth. In fact, salamanders are the top predator in the park, outnumbering and outweighing all the black bears combined.
If you go…
Great Smoky Mountains National Park
107 Park Headquarters Road
Gatlinburg, TN 37738
(865) 436-1200
www.nps.gov/grsm
For accommodations near the park, check out any of these three Web sites: Gatlinburg (www.gatlinburg.com), Pigeon Forge (www.MyPigeonForge.com), and Townsend (www.SmokyMountains.org).