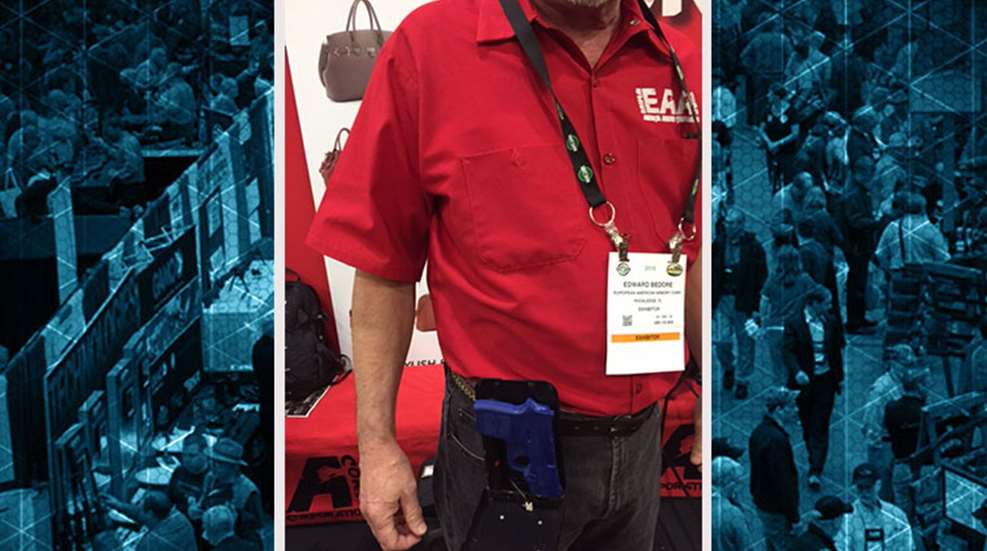 When you work for the NRA, you tend to pay a lot of attention to the way your friends and colleagues carry their firearms. We're always debating: shoulder holsters versus hip carry, small-of-the-back against appendix carry, purses versus fanny packs. What's safest? What's the most comfortable? What's the most subtle? Which is why it was so remarkable that when I walked up to European American Armory's (EAA) Edward Bedore, I didn't even notice the smartphone holster on his waist. 
And neither will anyone else. EAA's new ABDO Unit looks just like a regular smartphone holster, and it fits on your belt exactly like the one you probably already have. But inside, accessible with a simple click of a button, resides your compact concealed-carry firearm. But there's a lot more to the ABDO than clever design.
In the next 90 days or so, EAA will begin shipping the ABDO in a configuration that they believe will bring a whole new level of safety and security to your concealed-carry plan. If someone attempts to steal it from you, the unit locks down in 10 seconds. It then sends you a text to let you know that it's been removed. Just click on the link in the text, and you'll see exactly where it is on GPS. This means that law enforcement will be able to get it out of the wrong hands and back into the right ones (yours) as easily as they would with a LoJack. This is basically a safe that you can carry on your hip. And it's not just great for firearms; it's also a great way to secure other valuables while you're traveling.
Naturally, the ABDO was designed with EAA's line of compact handguns in mind, but it's suitable for a wide variety of small concealed-carry firearms. Keep an eye out on EAA's website for when this cool new product will be available to you!