by
posted on February 8, 2016
A murmur of "oohs" and "awes" could be heard as I approached the Raptors Up Close stand. Visitors know they will see these birds in action this afternoon, but seeing them this close is almost just as exciting.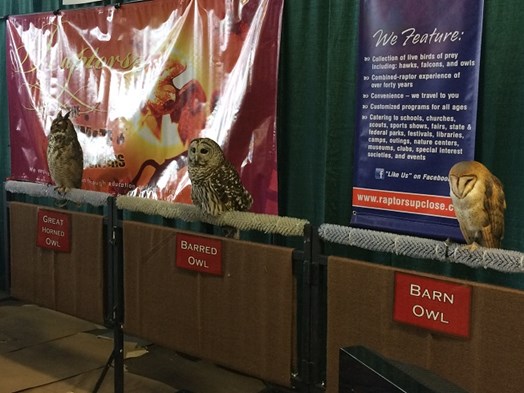 Four birds in the background sit calmly, preparing for their upcoming show in the Small Arena here at Great American Outdoor Show. The Red-tailed Hawk, however, is swaying back and forth, seeming to be anxious about the first wave of viewers. Then there's the bird that generated the most attention out of the six while at the Raptors Up Close stand—the screeched owl. While the five larger birds perched on a horizontal bar a few feet behind the stand's table, the screech owl was actually on the table and much closer to visitors. So close that myself, and those around me, wondered, "Is this real?" Yet after it fluidly swiveled its little head, revealing one missing eye, there was no doubt that the screeched owl was not only real but very much aware of everyone around.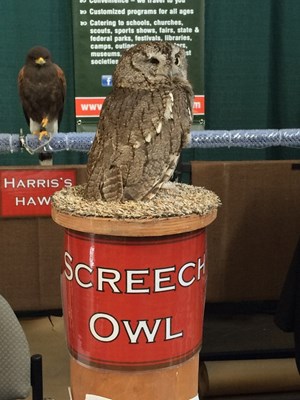 The Caldwells, the family who runs Raptors Up Close, were incredibly knowledgeable and friendly. "My husband and son are both expert falconers," Mrs. Caldwell said, motioning to her husband who was behind me. "We do about 35 shows a year around the U.S.," Howard Caldwell added.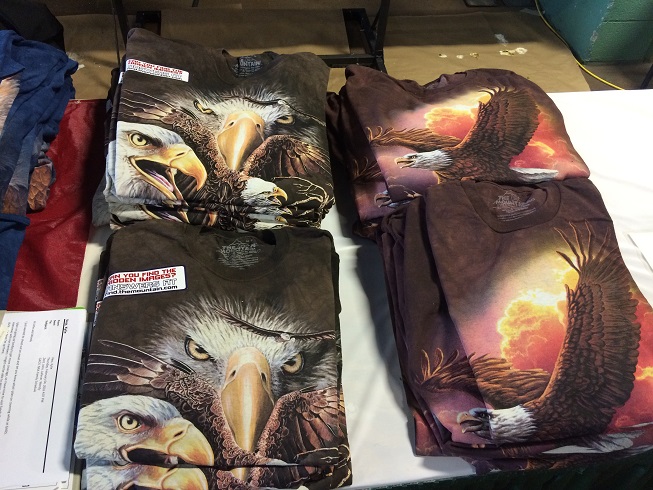 Later that afternoon the Birds of Prey show demonstrated the agility, strength and intelligence of these raptors. Crowds sauntered in to watch the much anticipated event at GAOS.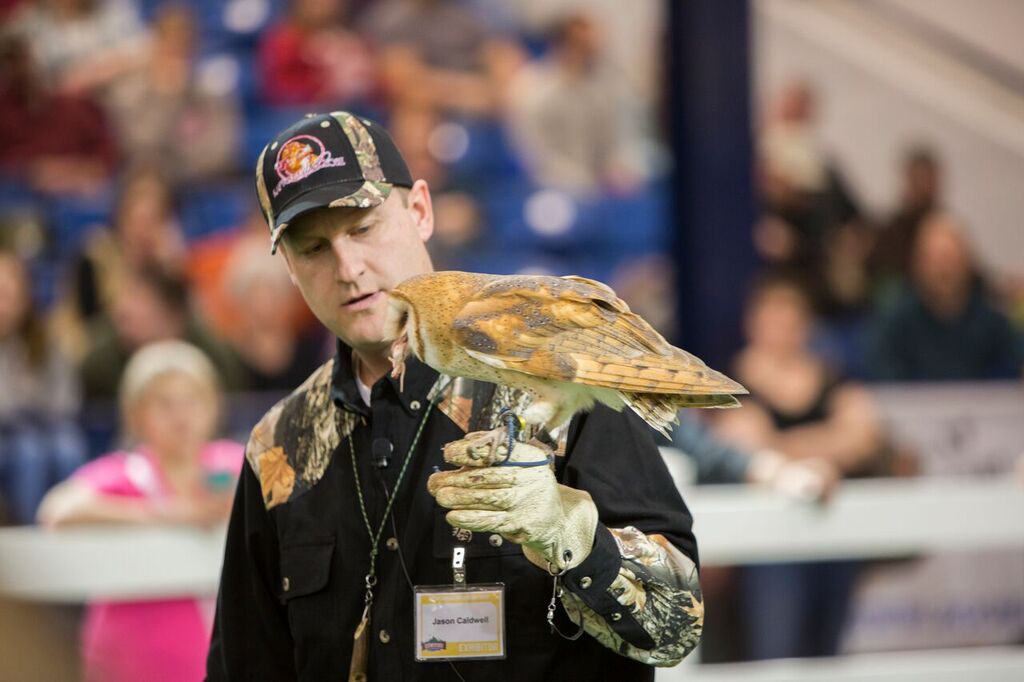 Jason Caldwell, the expert falconer son Mrs. Caldwell mentioned earlier, was conducting the Birds of Prey show. Before he brought out the main events, Jason discussed the laws surrounding birds of prey and falconry. The steps, classes and permits audience members need to take and acquire to become an expert falconer, or even how to run one's own rapture sanctuary.

He covered the history of falconry. "For more than 4,700 years humans have been using falcons to hunt, and at times fight," Jason said.  "Today falcon hunting is legal in every state except Hawaii," he added.
As Jason discussed working and training with the different birds of prey, he wanted to make one thing clear about owls. "Who ever said 'wise old owl' never trained one," Jason mussed. "It took me weeks to get the owl to realize the perch was there for him."
He then dove right in with audience participation. Asking specific questions about each type of bird he was about to bring out; an eagle, hawk, falcon and owl. To my surprise, an answer was shouted out almost every time he asked a question. Then every time that answer was correct!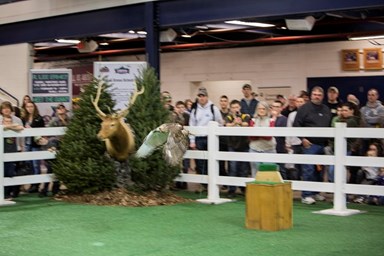 Beginning with a beautiful female barn owl, Jason brought out every raptor Raptors Up Close brought to GAOS. They each had their own personality, and it was a treat to see such a rare bond between these birds of prey and a human.
If you're here at GAOS this year, be sure to make the hour long show in the Small Arena. If you're planning on coming another year, plan on watching the Birds of Prey show.