It's wingshooting season, and you've just filled your limit of delicious game birds...now it's time to field-dress them so you'll get the full benefit of tasty meat. Game birds should be field-dressed as soon as possible. Some hunters prefer to pluck game birds rather than skin them. Upland game birds should be plucked as quickly as possible; 10 minutes after they're dead, their feathers will be set firmly and they will be difficult to remove without tearing the skin. Waterfowl should be "rough plucked" in the field as well. This makes the final plucking at home much easier. 
The easiest way to clean a game bird is, with the bird held breast upward, cut through the belly skin at the base of the breast and cut around the bottom margin of the breast. Then bend the bird backwards. This will open the incision you've just made, and the innards can now be removed easily.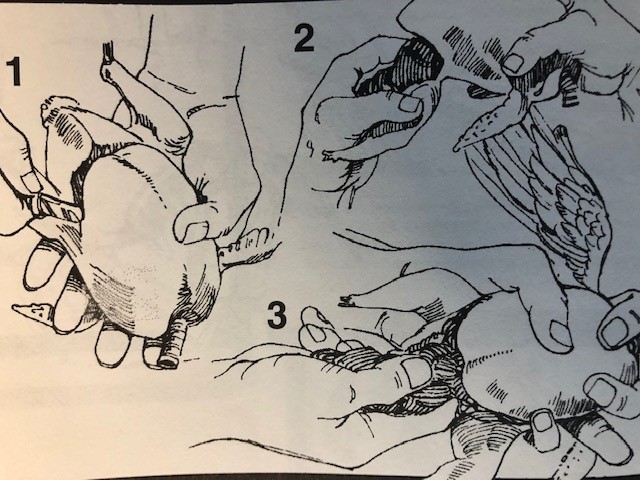 If the weather is cool, you may use a different method of field-dressing game birds. Cut behind the breast to one side of the vent. Insert your fingers and draw out the innards. In warm weather, the opening may have to be enlarged to cool the bird enough to avoid spoiling. Be certain to dry game birds well after cleaning. A roll of paper towels is useful for cleaning out and drying the body cavity after the innards have been removed. 
Once home, one technique to simplify the removal of down and pin feathers from waterfowl is scalding the birds in hot paraffin wax. First, melt three cakes of paraffin wax in six quarts of hot water. After removing the wings, dunk the birds, one at a time, into the hot wax mixture. When cooled, you can peel the wax right off to remove pin feathers, down, and any remaining feathers. 
Birds must be quickly cooled or their meat will spoil. Do not pile birds together in a bag or box if you can avoid it; instead, spread the birds out so air can circulate between them. Some hunters prefer hanging their birds for two to three days to cure them before freezing. Others freeze their birds immediately after cleaning and washing them. If your birds are heavily "shot up"--which can happen with shotgun hunting--soak them overnight in a salt solution to remove any blood before freezing the birds for storage.