Until recently, the closest I had ever gotten to firing a gun was shooting nerf darts. Although I'd become very good at aiming little bits of foam, I was interested in checking the real thing out. When I saw the Keystone Shooting Center opened outside of Pittsburgh, I grabbed my gun-enthusiast friend and dragged him along with me.
Right away, I was surprised by what I saw—Keystone looked more like a mountain lodge than a gun range. As we pulled up, the building caught my friend's attention as well, as he is used to shooting in a gravel pit.
It was totally unlike what I had pictured a gun range to be. Huge windows let a flood of light into the entryway, and exposed wooden trusses made everything look warm and inviting. I expected I would feel intimidated walking into a massive room with hundreds of guns on display, but instead I felt completely at ease. When I visited, the range had just wrapped up hosting a business meeting. I wondered what it was about Keystone that let me feel so comfortable, so I spoke to two of the gun range's designers, Jonathan Golli and Chris Sciulli of AE7 Architects and Planners.
"The traditional firing range or gun club in Pennsylvania is rural, it's exclusive." Golli said. "We wanted an inclusive destination—nonthreatening, everyone's invited. We wanted it to be about firearm safety, good shooting techniques, how to handle a firearm for people that may be intimidated by your standard gun store."
"Designing gun ranges to a higher standard makes guests of all backgrounds and experience levels feel more welcome," Sciulli added.
Keystone is an example of what some now call a "guntry club," a trend that has been growing in popularity. These luxury gun ranges offer a host of amenities that go beyond what the traditional range usually offers. Keystone, for example, features a members' lounge, two classrooms, an interactive training simulation room, a gun valet and 24 shooting lanes. The members' lounge even has an espresso machine, a fireplace and World War II memorabilia from the owner's personal collection.
Not only was Keystone built to appeal to new shooters like me, but also veterans, wheelchair users, law enforcement and families. They offer everything from certification training for police to classes for kids to classes taught by and for women.
To ensure this openness, everything about the shooting center had to be carefully designed to be inclusive and unintimidating. Golli and Sciulli's team, for instance, took sound design quite seriously. Twenty-four lanes lay just behind a back wall, but I walked into a relatively quiet retail area. I could see people shooting through a window into one of the bays, but could hardly hear them.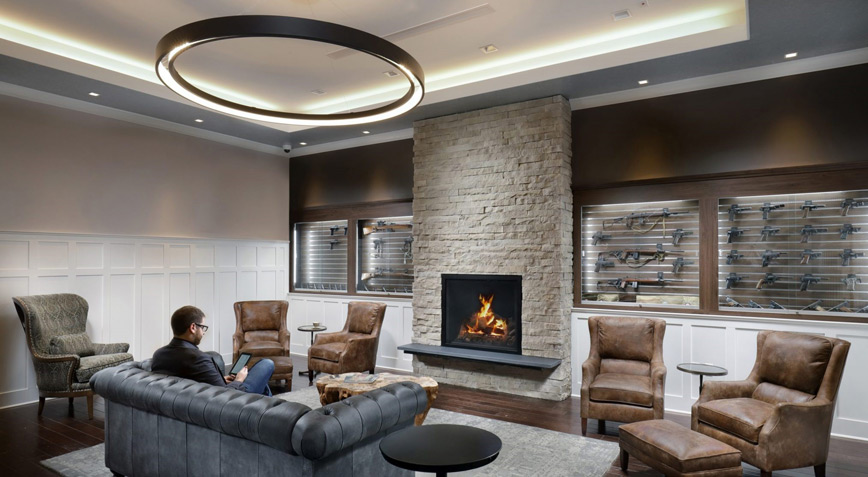 "This goes a long way toward making it less intimidating," Golli said. "When you're standing there in retail, you could look through bulletproof glass and see who's shooting. You could see that's what it's like in there."
Imagining a more welcoming shooting center meant rethinking many of the building's details, like grates in the floor to catch bullet casings. Usually, if a range even has this feature, grates are placed directly under where the shooter stands. At Keystone, however, the grates are positioned farther forward so shooters stand on solid ground. This may seem like an arbitrary adjustment, but it allows for a more comfortable experience for someone who has a prosthetic limb or even someone shooting in heels.
The architects also explained how a lighter, warmer color scheme and a clean interior had impacted my experience of the space. A tough, rugged environment might appeal to some people, but it could also deter someone like me who is already unsure if they belong. The team aimed for a "rustic modern" look, so the space is state of the art while still feeling homey.
"The owners are patriots, and they're very dedicated to our liberties and freedom," said Golli. "They all served, and now they're very involved with small business, and they wanted to bring a product to market that will set new standards for retail and sportsmanship of firearms."
By redefining what a gun range is, places like Keystone tap into the increasingly diverse market of potential shooters. It's also testament to the impact of simple design decisions in helping someone who has never touched a gun before feel welcomed into the world of shooting sports in a safe, fun way.


Photos by Ed Rombout. Courtesy AE7 Architects and Planners.