by
posted on January 2, 2014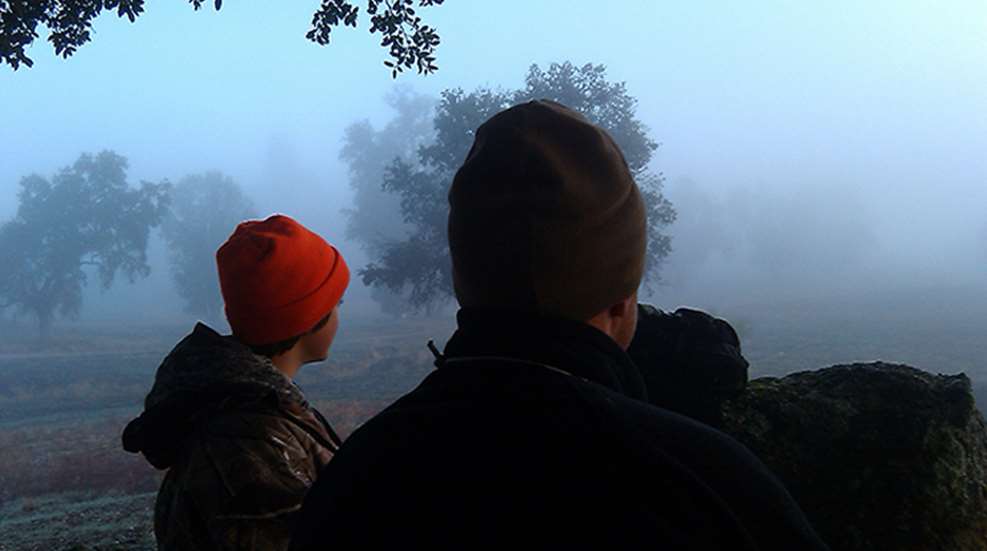 Dad was in Iraq, and it was my first hunting season. "No hunting again," I feared. It reminded me of the three years we had been stationed in Okinawa, Japan (my dad is a U.S. Marine). In Okinawa there was no hunting. Now at age 12, and finally living in the USA, I could not believe it when my dad got orders to go to war! My dad regretted missing my first hunting season as much as I did. Little did I know, in Iraq my dad was researching every hunting opportunity available to us in California (his next duty station). During Dad's research he found out that Tule elk make California their home and that, being military, he and I had a good chance of getting a tag.
I was elated when my Dad returned from Iraq safely. We quickly began to hunt and enjoyed many adventures, but in the two years that ensued, I did not draw an elk tag. I decided to apply for a muzzleloader hunt. Neither my dad nor I had ever hunted with a muzzleloader. I hadn't even shot one. So we started on the journey of figuring out the different blackpowder equipment. Once we figured out which gun, we had to research what combination of powder and bullet to use. During trips to the range we found the right mix and sighted-in. Finally, we were ready for the hunt. It was time to wait, and count down the days.
After many weeks, the hunt came! The highlight of the briefing with the Game Warden was when he told us where he had seen a 9x9 bull. I went back to our room knowing exactly where I was going in the morning.
Opening day, Saturday: We drove directly to the meadow where the huge elk was spotted. As I crested over a hill, I spotted a gigantic elk staring directly at me! I quickly lay down and crawled back down the hill until I could barely see him. Then, I spotted a second bull with him. On the military bases, they restrict the hunting areas, and the elk know it. Therefore, the elk I was gawking at was in the restricted area. So, I had no other choice but to lie and wait for the elk to cross the boundary into my area. The waiting game began.
Dad had previously lectured me saying, "Don't get excited, do not look at the antlers, just think about all of the meat." During the waiting, my dad spotted a third elk. Two were nine by nine, or bigger, and the smallest was a six by six. After a second eternity passed, they started walking towards the boundary and my dad whispered to me that the one in the middle appeared to be biggest. I was in the perfect position as the first one crossed the boundary between life and death.
Finally, after what seemed like hours of waiting, the second stepped across the line, broadside at 100 yards! I was trying not to get excited when Dad whispered, "Don't get excited." Of course my heart then started beating like crazy! After my heart rate receded, I put my sights on the elk and squeezed the trigger, "POP!"
I couldn't believe it-the primer had fired, but had not ignited the powder. It was a nightmare. My dad pulled the primer off and silently slid another one on. Once again, Dad whispered, "Don't get excited," and once again my heart started beating like crazy. For the second time, I put my sights on the mammoth, beautiful beast and squeezed the trigger praying the whole time, "God, please help it to fire."
"POP!"
There are no words to describe the disappointment and disgust I felt at that moment. My dad again slid off the primer and put on a third. By this time the elk had moved out of view, so my dad ran back to the truck to get the tools to try and fix my gun.
During Dad's gunsmithing operation, I enlightened him about what happened to my pulse when he said "Don't get excited." He assured me he wouldn't do it again. By the time the operation had ceased, the elk had walked back into the safe area. We watched them until they walked into the kill area and then we planned our route of attack.
Stalking our way through a ditch, we popped up by a log to use as a rest, but the elk were 200 yards away. I wanted to be closer. We hopped back into the ditch and popped up, this time behind a fallen oak tree. I wormed my way through the mess of branches, trying not to break any, and finally got into a comfortable position using the oak tree as a rest. I aimed and this time..."BOOM!"
I was ecstatic-it actually fired and Dad hadn't told me not to get excited! As the smoke cleared, I saw three bulls staring at me.
Dad whispered "Which one did you shoot?"
"The one in the middle," I retorted.
"Well, you didn't hit him," reported Dad.
We never figured out why I missed. Was the barrel loose from the smithing operation? Had I misjudged the range and shot under him? All we know for sure is that after they smelled the powder, the bulls high-tailed it to safety. Still in shock, we thought back over the inefficiency of the muzzleloader. Dad and I discussed the Civil War. We couldn't imagine having such gun problems when we were in the midst of battle.
We left that area and went to another section, where we spotted three bulls. We stalked the elk inside of 150 yards three times, but each time they spooked. Later we saw a herd of about 30 elk, only 100 yards away. I hopped out of the truck, but I couldn't stalk close enough; there were just too many eyes in a herd of 30. We finally caught up to the herd bull by running, but he was quartering away at 130 yards fast. I decided not to take the shot.
The next morning, Sunday, we were back where we had seen the three musketeers (our nickname for the three mammoth bulls from the day before), but they had moved on. Disappointedly, I realized there is no "redo" in hunting, like there is in video games. "If the gun had only shot the first time," was continually torturing our thoughts.
Astonishingly, later that rainy day we spotted elk lying down in a field. Dad and I surreptitiously snuck down a river to where we thought the elk were. I crawled my way to a log and used it as a rest. Waiting, the bull finally stood up, a spike standing broadside at 50 yards. I chose to hold out for something bigger; after all, we had seen two 9x9's.
The colossal bull still haunted me, so once again we ventured into the opening-day meadow, and met with no success. It was Tuesday and I was starting to worry. We only had five days left of hunting. I replayed over and over two memories: first, the huge nine by nine bull, second, I wondered if I should have taken that shot at the bull quartering away.
I was exhausted after four arduous days of hunting. I was having a hard time staying awake while Dad drove the perimeter road. At least it was hard, until Dad said, "There's a huge bull staring at us on the skyline." I quickly scanned the skyline, and there was a huge bull staring at us! We drove around a bend so he could not see us. I sprang out of the truck and slid a primer on. Then, we quietly and stealthily snuck up the hill. But once we arrived at the place where the elk had been, there was no elk.
"Did the elk run into the no-shoot area? Did he catch our scent? The wind was swirling at our backs," I pondered the predicament. Finally, Dad spotted him lying down 100 yards from us, one ridge over. I kneeled down, but I was still shaky. My awesome father went on his hands and knees and let me rest the gun on his back. I couldn't really tell how big he was so I looked through my binoculars and noticed that he was standing broadside! Questions were flying through my mind, "How big is he? Is the gun going to work? Don't miss this time." I snapped the gun into place and squeezed the trigger. Smoke flew out of the barrel and I heard the sweet "boom-slap," as I saw the elk take off running. I noticed a blood spot on his shoulder.
With my hands shaking uncontrollably, I started the task of reloading. After loading I went up to Dad, who thankfully had remembered not to say, "Don't get excited" this time. Walking to where I thought the elk was when I shot it, I noticed a trail leading into a ditch.
There he was! After all of my questions on how big he would be, he was a seven by seven! I am appreciative for what I learned and for the breathtaking experience. I would like to thank God and my family for all their help and support, and the Game Wardens for their assistance and advice!  I learned the randomness of hunting, how different the habits of distinctive species are, and how much patience and prayer is involved. I had the opportunity to successfully stalk within 200 yards of bull elk eight different times...and inside of 100 yards four times.  Witnessing all the unique animals, getting a beautiful elk, the awesome experience and spending guy time with my dad made for an unforgettable hunt.
By Caleb Hubbell, Age 15