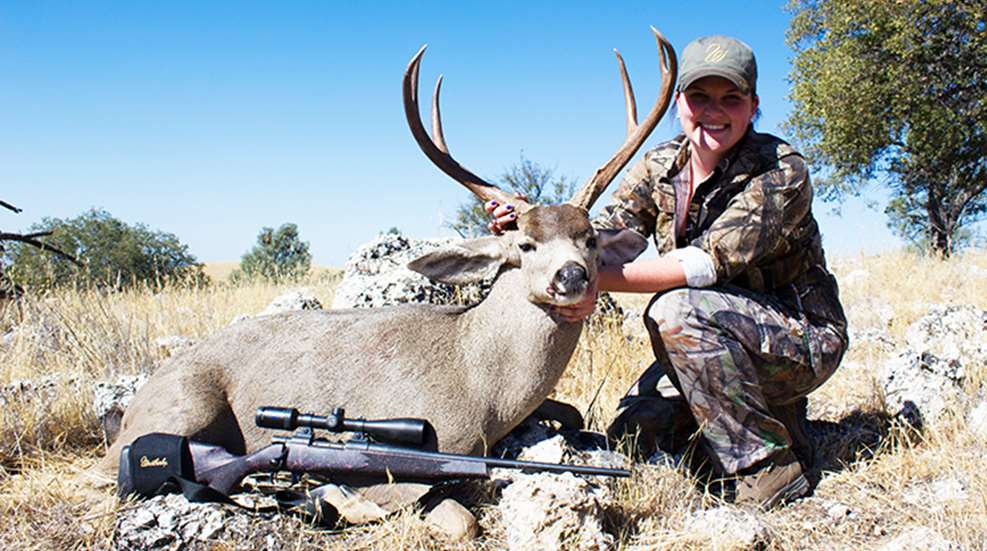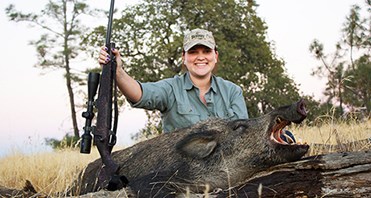 I always had preconceived ideas of what California was like, and what it's people must be like. Lucky for me, and as often happens in my life, the stereotypes in my head were smashed to smithereens. When I landed at San Luis Obispo airport and headed out to Camp 5 Outfitters in Paso Robles with the effervescent Mike Shwiebert of Weatherby Inc., I quickly realized that the central coast of California, though currently very dry because of a drought, is breathtaking.
The rolling hills that were brown during the day turned gold as the sun set each night. Standing atop one hill glassing another in the early morning light looking for blacktails, I felt bigger than my body. As someone who goes about my day-to-day life just happily chuggin' along, another cog in the machine, it's an honor to go on a trip like this that makes you stop and really be present in the moment, apart of something bigger than yourself; the fabric of nature.
I flew in my hunting clothes, got to the lodge to change my shoes and started scouting immediately. We saw lots of does and many smaller bucks, coyotes three hills off, a random goat and a ton of cows; no pigs and no blacktail bucks. We tried to get on one big hog, but he fled over a hilltop before we could get close enough to setup. Right before last light we finally spotted a big feral hog rooting around under a tree, pretty oblivious to our presence. From the moment we spotted him to the moment I shot him felt like seconds. I got the crosshairs on him and shot without over thinking it. For some reason I felt really comfortable with the Weatherby-X Vanguard GH2, and he went down immediately. I was shocked, speechless and shaking. This was a big porker with huge teeth. I had never seen one, let alone shot one, in my life. What a rush!
The next day we were up at the crack of dawn and back at it, this time more glassing and more help. My guide, Doug Roth, called in his buddy Don, the local taxidermist, to help us cover more land since we were hunting private ranches that added up to about 40,000 acres. By about midday we were finally spotting some bucks that were sporting some more impressive head gear. We set up on one buck that was standing next to a doe bedded down under a tree, but the tree limbs were covering them and I couldn't get a clear shot.
Don informed us that a big buck was following a doe not 200 yards over the hill from where we were. We decided to check it out and found the buck bedded in the shade of an oak with his new girlfriend. We setup in the sun, realized it was too hot and that we had time to move into the shade of a tree closer to the blacktail. After inching forward and setting up again Mike tried to get the buck to stand to no avail; this guy wasn't going anywhere. I had to make the decision whether to wait him out or take the shot. It was going to be a difficult shot to make, and with the way I was shaking I wasn't sure I would be successful. The last thing I wanted to do was injure him, so I waited.
About 20 minutes went by, which felt like much longer considering the inner dialogue I had going on in my head. I kept going back and forth about whether to just take the shot. Finally I realized if I kept it up I was going to completely psych myself out and by the time he stood up I wouldn't even make the shot, so I went for it. And I'm glad I did, because he stood up and fell right back down again. I've never shot a buck, and I wasn't sure what a good-sized blacktail is, but apparently this buck was something to write home about.
I couldn't have asked for a better hunt! I had the pleasure of meeting some really wonderful people, added a few more 'firsts' to the list and experienced a different part of the country.
Stay tuned for my break-down of having to field dress my first deer. It's funny; I promise!