by
posted on February 7, 2017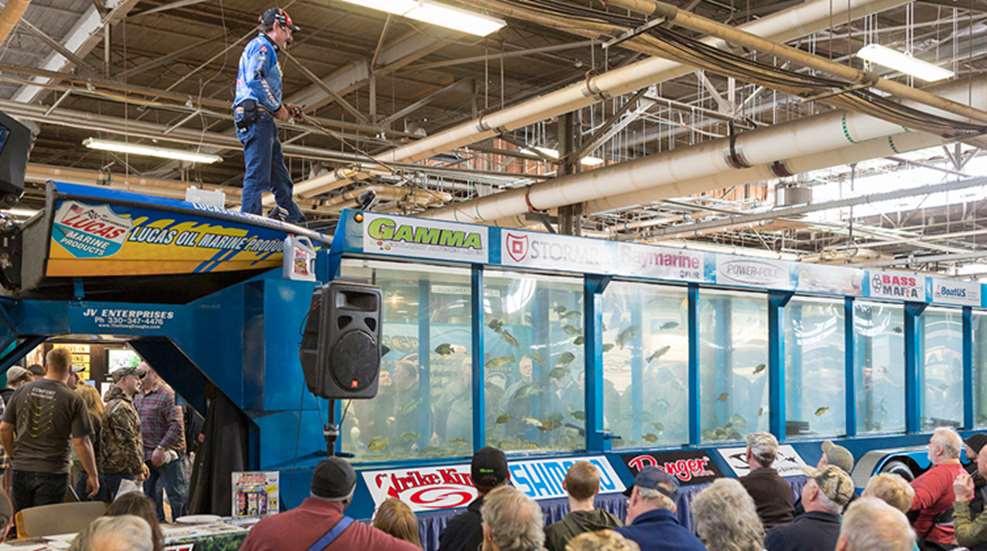 The 2017 Great American Outdoor Show (GAOS) is officially underway in Harrisburg, Pennsylvania at the Farm Show Complex—and if you haven't already planned your trip to the world's largest consumer outdoor show, you still have time! Open February 4-12, the GAOS features over 1,000 exhibitors covering 650,000 square feet of exhibit hall space and a jam-packed schedule guaranteeing fun for all ages. Here are just a few of the many great things to do while at the show this week.

1. 3D Bowhunter Challenge
Test your skills at the 3D Bowhunter Challenge on the 30-shot course, which includes a range of 3D targets at distances up to 50 yards. Based on age and skill level, there are 17 different classes to compete in, ranging from Cubs (ages 12 & under) to Masters (ages 60 & over), along with both male- and female-specific classes. The top qualifiers from each day in each class will advance to the finals—and are invited back to compete in the finals for free! The course takes about an hour and a half to complete and pre-registration is available to guarantee you a spot in line, but walk-ins are also welcome. For more information or to register for the 3D Bowhunter Challenge, click here.

2. DockDogs
The world's premier canine aquatics competition, DockDogs, taking place in the large arena from Saturday Feb. 4 through Wednesday Feb. 8., is open to spectators and is always a big hit for the entire family. DockDog events include Big Air Wave, Extreme Vertical and Speed Retrieve. Think your four-legged friend has what it takes to compete? Canines of any breed, size or shape are welcomed to compete in one, two or all three events! Click here to check out the DockDogs schedule or to register your dog to compete.

3. Eddie Eagle Kid Zone
New this year, the Eddie Eagle Kid Zone is focused on teaching children what to do if they come across an unsupervised firearm through Eddie's simple message of "If you see a gun…STOP! Don't Touch. Run Away. Tell a Grown up." Activities include Eddie's photo booth, Eddie's basketball challenge, face painting, wildlife identification, a ring toss and crafts for kids to enjoy while learning Eddie's important safety message. "The Eddie Eagle Kid Zone is a must see if you're visiting the GAOS and have young children. If you bring them with you to the show, they can participate in fun challenges and receive cool prizes," said Eric Lipp, National Manager of the NRA Community Outreach Program. "If you decide to leave the little ones at home you can still stop by and grab materials to bring home to them."

4. Seminars and Demonstrations
The 2017 GAOS will feature more than 200 seminars and demonstrations throughout the week that cover a multitude of topics. Want to learn more about picking the best handgun for women? Check out "Handgun Fit, Function and Making Educated Decisions for Women." Love to hunt? Mark Peterson discusses the application process for big-game tags in western states during his "Applying for and Drawing the Highest Quality Big Game Tags in the Country" seminar on Saturday, Feb. 11. Have you always wanted to learn to cook wild game? "The Art of Cooking Venison with Chef Albert Wutsch," located in the Cooking Demo Area, would be a great one to check out! To see the full list of seminars and demonstrations, click here.

5. NRA Country Concert
Tickets are going fast for the NRA Country Concert featuring Dustin Lynch, Granger Smith, Earl Dibbles Jr. and special guest Tara Thompson on Saturday Feb. 11 at 7 p.m. All previous NRA Country concerts have sold out, therefore it would be a good idea to purchase tickets sooner rather than later. No need to wait in line to get great seats, either—reserved seating is available this year! Tickets start at $35 and if you purchase a Pit Access ticket ($75) you will receive a NRA Country Hat, Koozie and NRA Country compilation CD. For more information or to purchase tickets, click here.