by
posted on August 20, 2019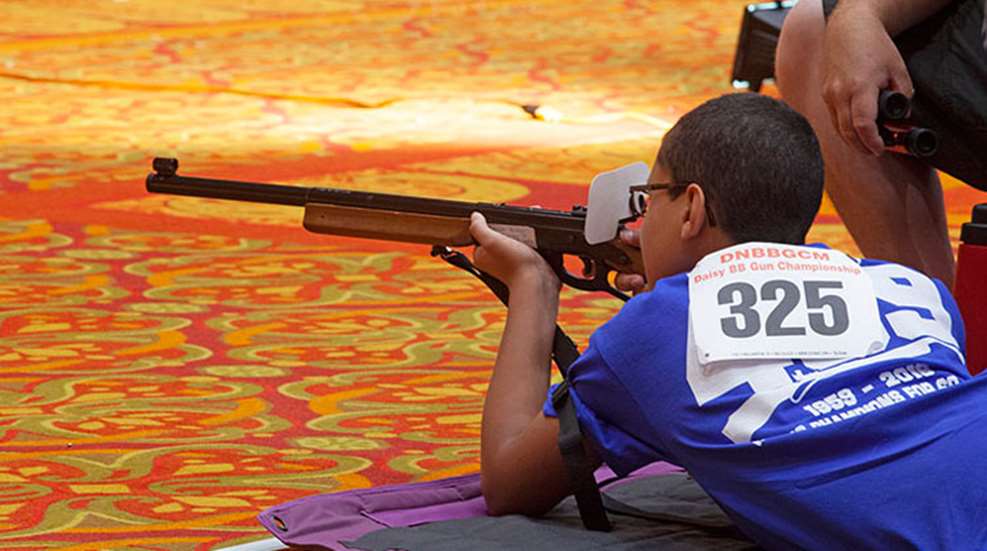 The top-place finishers in the 2019 Daisy Nationals last month made headlines, but according to the parents, participants and the coaches, every youngster who qualified for the prestigious event won something more important than a title—they claimed top honors in skills and attitudes that will serve them well in school and later in life. In celebration of National Shooting Sports Month, here's a glimpse of the firing-line lessons overlooked in the leader-board results.
1. Focus
Holding the attention of youngsters is more challenging today than ever before. Whether it's smart phones, video games or social media, there's always competition when focus should be on schoolwork or another task.
JoAnn Hodge—whose 15-year-old has been shooting in the program since he was 8—explains, "It's a great program. It creates focus, discipline and a lot of memories...Since he's started shooting it, he's able to concentrate better." Part of that may be attributable to getting older, although one of the most valuable lessons he's taking away from the firing line is obvious when asked how he reacts after a bad shot. "Just keep shooting," Isaiah Hodge explained. "Concentrate on what is in your sights."
That approach is already paying dividends. His mother said his grades have improved and the amount of time he spends in front of the television has dropped noticeably.
Rhonda Hudgens—whose 12-year-old daughter is the only person in her public school who shoots in competitions—said her daughter's airgun practice is an exercise in hyper focus. "I just think it's a great program," she said, adding, "It teaches respect, discipline and gun safety."
2. Tackling New Things
Hodge discovered shooting through Boy Scouts, but 15-year-old Becca Adair's journey into 5-meter, 4-position BB gun competition and road to the 2019 Daisy Nationals started differently. Her mom signed her up without her knowledge when she was 13.
Her mother, Laura Adair, explained, "She's very smart, but when it came to a new concept, she would get frustrated and say she couldn't do it. But I haven't seen that in the last couple years."
When asked about making the bold move she said, "I just knew of the program and knew some people who really enjoyed it. As a parent you have to make a choice initially." Mike Adair, her father said it's worth it, because, "At the very least you learn gun safety, and that's important."
As for their daughter's reaction, Becca said, "I like it," adding, "It's not just for guys. Some of the best shooters on the team are girls."
Her approach when she doesn't quite hit the target? "Keep breathing," she said. "Focus on the next shot because it (the bad one) is already on paper and you can't do anything about it."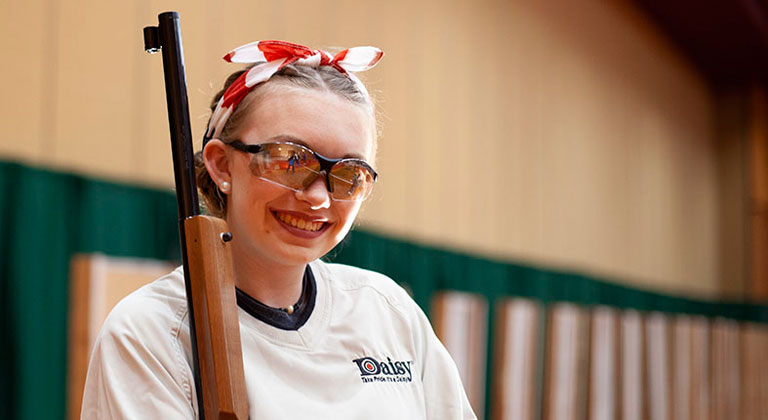 3. Responsibility
Denise Ferguson takes her 13-year-old granddaughter to practice and matches, and also points out how her grades have improved since she signed up two years ago. The conversation quickly turns to a different benefit, though.
"She's really picky about her guns," she said. When packing them away or preparing for a trip, "Everything has to be in a specific spot," and "her room is the same way."
4. Teamwork, Confidence, Friendship
Shannon Childress—one of the parent/coaches and a disabled veteran—acknowledges the heightened awareness about safety, focus and discipline improved at the firing line, but he also knows there's another critical skill honed during competitions. "For BB gun, it's one of those unique sports that is an individual and team event at the same time."
Encouraging other shooters, sharing information, solving challenges and more help build team success. After 22 years with the United States Marine Corps and multiple deployments, he understands the power and skills required to work as a team—whether standing on the front line of freedom or organized to tackle a major school or work project.
Twelve-year-old Kinsey Beecham has learned discipline and the fundaments of gun safety, according to her father Levi, although he quickly points out another program asset. "We've met a lot of good people here," he said. Kinsey was already a straight A student, but studying for the firearm test that's part of a Daisy National score was done in her spare time, fundamentals that her father is thankful will remain with her for life.
"It's a good community," Childress said confirming Beecham's observation. "I've seen kids in the program mature…settle down," he added about the benefits for the shooters. "The individuals inherit confidence." 
5. Fun
If it all sounds a little too stuffy for a youngster, this year's participants have a different story. "It's a lot of fun." Isaiah Hodge summarized. "You'll meet new friends and you'll have a good time." Hudgens said her daughter, "loves to shoot and compete." No youngster interviewed said they were bored. Those "aging out" (too old to compete again in 2020), were not happy they would not be coming back, and each indicated they were moving up to another type of shooting competition. They all wanted to keep shooting.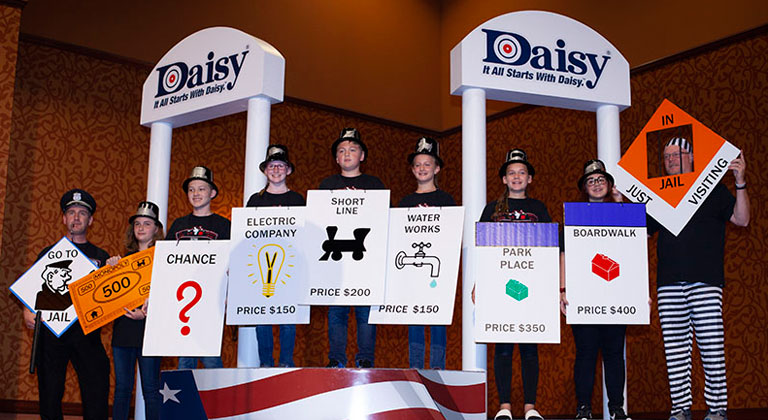 The parents shared the sentiment. Beecham said, "Get your kid off the couch and do something," Beecham said. Mike Adair advised, "Find your local 4-H and try it." In the meantime, visit the Daisy Nationals webpage for more details.
*Full results of the match are found here, and as always, NRA Family interviews with the young marksmen were conducted in the presence of a parent, guardian or coach to ensure their right to privacy and safety.