I'm a fan of revolvers, and one of my favorite wheelguns is my Ruger SP101. That five-shot .357 Magnum is simple to operate, easy to maintain and makes a great carry gun. The only complaint I had with the gun was the grip. It was well constructed, but the angle made it hard to conceal with my favorite holster. The solution to the problem was to swap out the grips on that gun or find something else to carry. I chose to do the former, and installed a pair of rosewood laminate grips on the Ruger. The process cost me about $85, the gun looks better and feels better in my hand, and the whole process of swapping out the old grips for the new ones took about five minutes and required nothing more than a flathead screwdriver.
I'm not particularly mechanically inclined, but grip exchanges are so basic they don't begin to fall under the term "gunsmithing." There are several simple mechanical and cosmetic upgrades you can do to your firearm to make it look, feel and shoot better, and you don't have to have an engineering degree to complete any of them. In fact, most of these upgrades take under 10 minutes and only a few require special tools. If you're looking to dress up your rifle, shotgun or handgun, here are five easy things you (yes, you!) can do to make your gun look and perform better.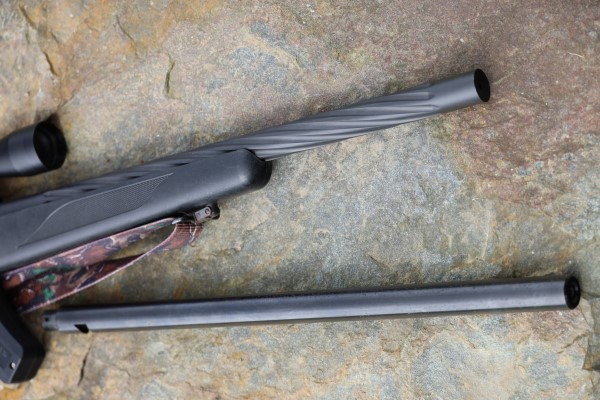 1. Barrel Changes
Depending upon the firearm, barrel changes can be as simple as disassembling the gun and dropping a new barrel on your favorite semiauto handgun. Glock, Smith &Wesson and other semiauto handguns offer plenty of aftermarket barrel options, and in some cases these new barrels significantly improve accuracy. Shotgun barrels are equally easy to swap out, and most of my upland and target guns have at least one spare barrel.
For example, I have a 20-gauge Winchester with both 24- and 28-inch barrels. When I'm hunting in dense cover I use the 24-inch barrel, but if I'm shooting passing doves or sporting clays I'll swap for the 28-inch pipe for a smoother swing. Recently, I upgraded my Ruger 10/22 factory barrel to an E.R. Shaw helical fluted barrel and the improvement in looks and accuracy made this affordable, simple upgrade well worth the time and money.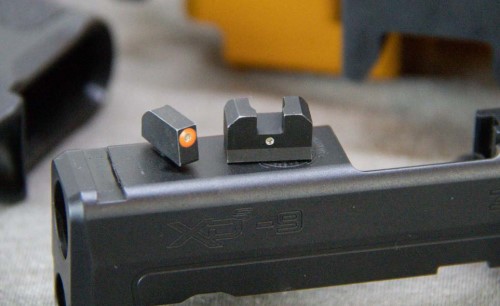 2. Swapping Iron Sights
The first step toward upgrading your iron sights is to determine how they're affixed to your firearm. Some are screwed into the receiver or barrel, and those are very simple to remove. A few, like Glock front sights, require a special tool. Most pistol sights, however, are dovetailed into the slide. They can usually be removed with a simple non-marring punch and hammer, but sight pushing tools like the Wheeler Armorer's Handgun Sight Tool simplify the process and allow for precise adjustments. There are a number of good aftermarket sights available, and many of them are quite affordable. Inserting the sight may require a bit of filing and some Loc-Tite, but this is a fast, simple, affordable upgrade.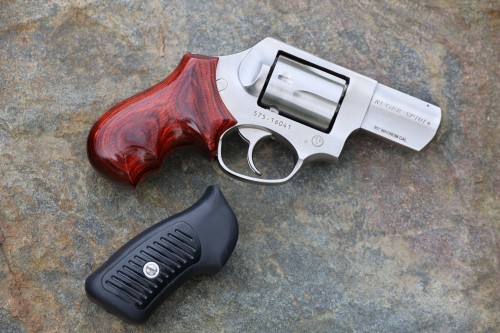 3. Grip/Stock Changes
Grips exchanges like the one I did on my Ruger are a simple way to improve the look of your gun in a short amount of time. In most cases, removing the factory grips requires a screwdriver or hex wrench and can be done in a few minutes. Once the old grips are removed, they can be replaced with wood, rubber or G10 laminate models depending upon the look and feel you prefer. Rifle and shotgun stocks are also easy to upgrade, though rifle stocks may require bedding and inletting depending upon the model. I swapped the stock on my 10/22 and it fit perfectly without any modifications, and I've switched out walnut grips on my shotguns for more durable polymer stocks—and vice-versa.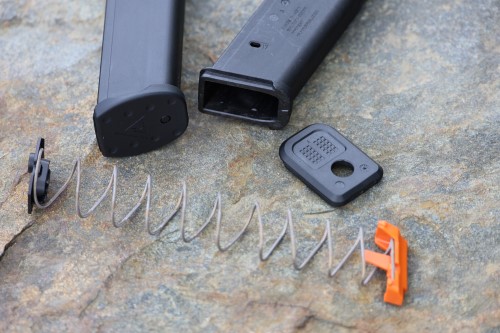 4. Magazine Improvements
Magazines are extremely simple devices. Most pistol magazines are comprised of a base plate (also called a base pad or floor plate), an internal spring with a follower on top and an exterior box. What many new gun owners don't know is that magazines play a vital role in the proper function of your gun and are therefore worthy of attention. In many cases, disassembling a magazine requires nothing more than pressing up on a button that attaches the base plate and spring. Elevating the button allows you to slide the base plate off the magazine—when you do so, be prepared to catch the spring as it expands!
Leaving magazines loaded can, over time, weaken springs, and the solution to a weak spring is to replace it with a newer, stronger one. I also change out the standard base plates on my pistols for tactical bases. The reason? Tactical base plates have extra weight, which ensures they drop free from the gun when released, and they're generally larger than standard base plates so you can easily grab them and rip them from the gun if they don't fall free during a reload.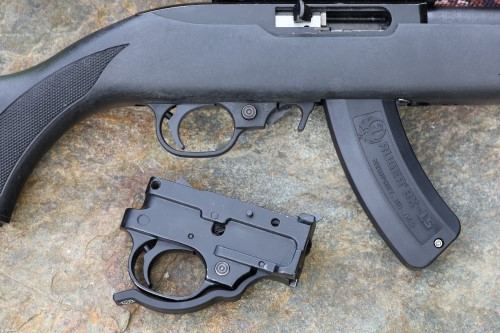 5. Trigger Group
Many rimfire rifles like Ruger's 10/22 have trigger groups that can be removed from the gun by pulling pins that run longitudinally through the receiver. This makes it easy to upgrade your standard factory trigger for something that's a bit better, and the process is simple and quite affordable. By replacing the standard factory trigger in my Ruger 10/22 rifle with the company's BX-Trigger, I reduced trigger pull weight by half, and that led to better accuracy. Swapping out the trigger group in your rifle or shotgun costs $100 or less, and doesn't require anything but a simple punch in most cases, but this five-minute fix can really improve the performance of your gun. 
Editor's Note: Looking for some step-by-step how-to articles on how to do all of the above? Keep an eye on this space for more to come!