by
posted on December 4, 2017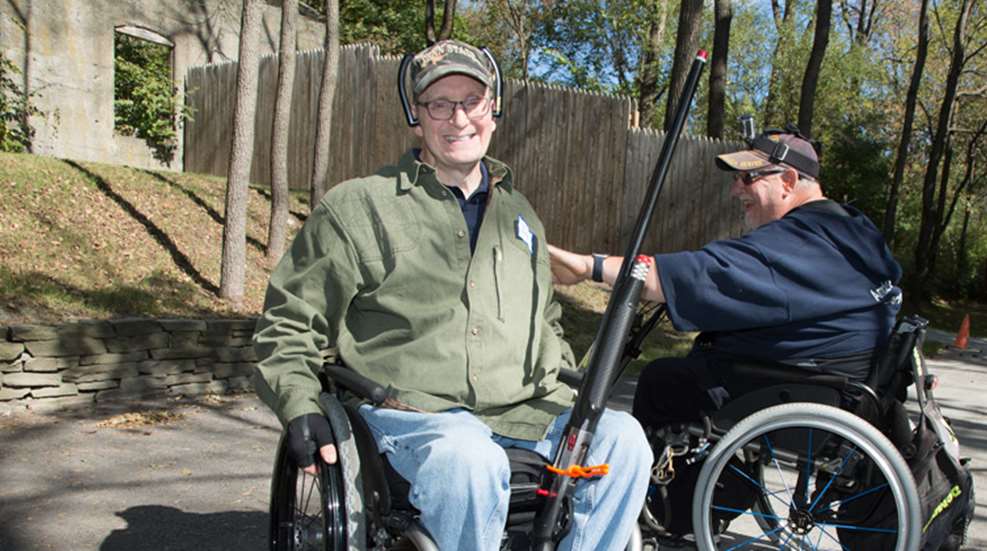 One of the most important things we can do as supporters of the Second Amendment is to reach out to everyone who is interested in exploring this fundamental human right, including and especially those who are facing physical challenges. As we know, the disabled are at elevated risk of being targeted by criminals, but there's more to it than that. Being able to participate in adaptive sports such as target shooting offers a tremendous boost to the spirit as well as a way to connect with others who face similar challenges. That's why the National Disability Awareness Shoot (NDAS), held biannually at the beautiful Lehigh Valley Sporting Clays (LVSC) facility, is so important to the future of the Right to Keep and Bear Arms. The brainchild of Bill Bachenberg, Chairman of NRA's Disabled Shooting Sports Committee, NDAS is a biannual event designed to raise awareness of, and funding for, the adaptive shooting sports. Held October 1 – 2, the third NDAS was a tremendous success. Said Bachenberg, "What we want is to promote outreach to other organizations that serve the physically challenged as well as equipment manufacturers to get them involved. We need to let them know that the shooting sports are another form of sports recreation and therapy. We also want to build awareness for the range owners and the businesses out there that their products and services can and do work to improve the lives of people with physical challenges."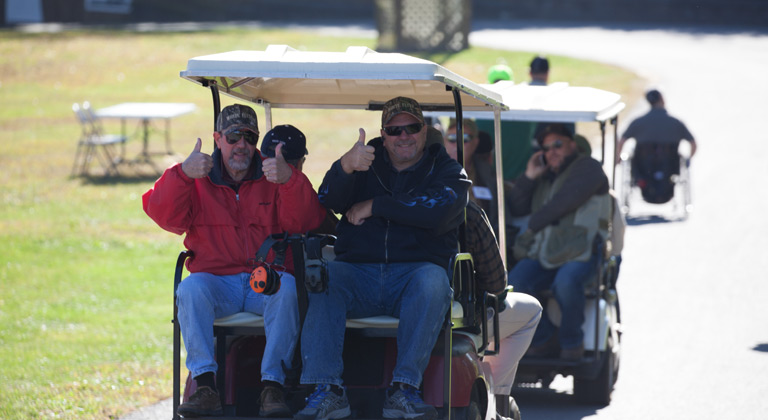 The first day of the event kicked off with dozens of attendees, supporters and families hitting the LVSC for a free fun shoot—including loaner shotguns and free shells donated by Rio Ammunition and targets by White Flyer. The shotgun stations were hosted by Krieghoff International, Griffin & Howe, Caesar Guerini, Beretta USA, Fabarm USA and Breda USA. No experience? No problem: Three-time Super Bowl champion, NRA Board Member and College Football Hall of Fame inductee Dave Butz (pictured above, right) conducted a first-time/beginner sporting clays clinic.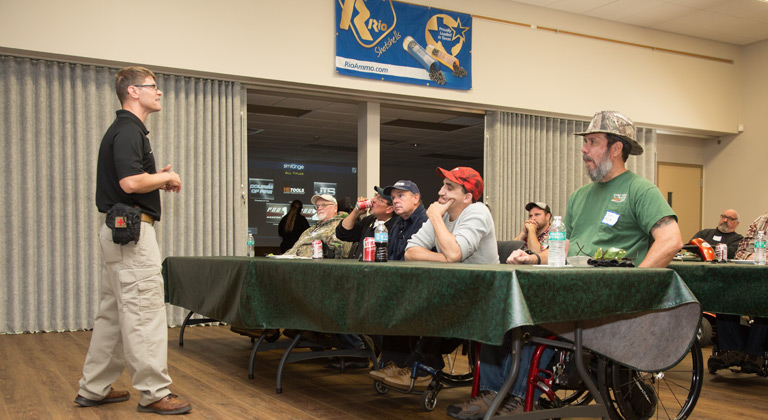 Later in the afternoon, NRA's Adaptive Shooting Programs manager Dr. Joe Logar presented the "Wheelchair Concealed Carry Clinic."
"We're here to learn from everyone as well as teach," smiled Logar. "Everyone's challenge is different." It can be a bit of a thorny problem, noted Logar; depending on the nature of their physical challenge, concealed-carry permit holders often must make trade-offs between the most convenient carry method and the ability to keep their CCW firearm secure.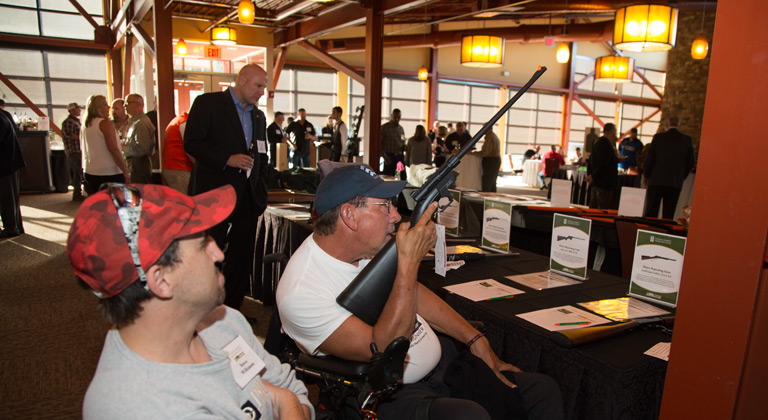 The National Disability Awareness Shoot hit high gear later that evening at Bear Creek Mountain Resort with a silent auction. With dozens of awesome auction items from donors like Henry Repeating Arms, Krieghoff, Beretta, Springfield Armory, Smith & Wesson, Eric Trump and much more, NDAS attendees bid for some truly envy-worthy prizes.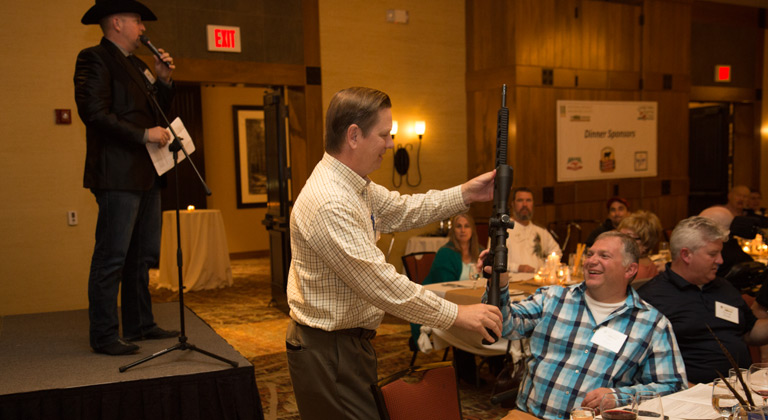 Next up for the lucky NDAS attendees? A gala dinner. Sponsored by Certified Angus Beef, A-Treat Beverages and WiSH Vineyards, the delicious nine-course meal allowed plenty of time for a "traditional" auction. As a gifted auctioneer tested the limits of human speech, guests bid and bid again for prizes such as a Montana dream vacation, Ruger AR-556 with Nightforce scope, an exclusive Sporting Clays Adventure for four and a one-of-a-kind Richard Childress weekend racing package for two.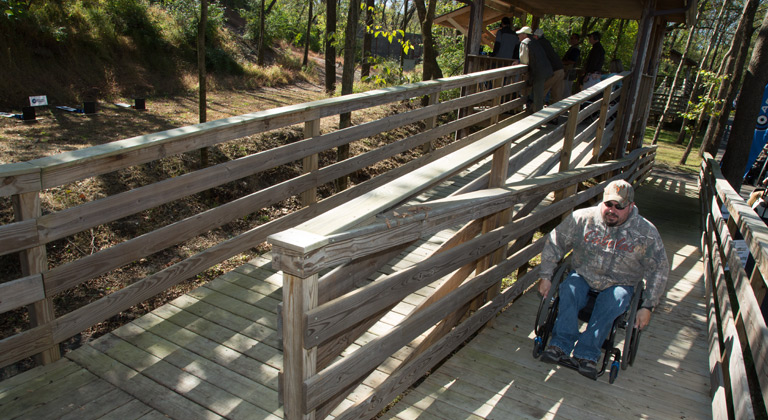 The following morning, the Disability Awareness Shoot began in earnest. Lehigh Valley Sporting Clays is an ideal facility for an event of this type—and that's by design. As of this writing, only one shooting station at LVSC isn't wheelchair accessible (and it will be soon). Says attendee Steve Wilkinson, "I heard about LVSC through a rehab facility called The Good Shepherd and started attending the monthly fun shoots. I love it—you couldn't ask for a better place. I had been to other ranges before my accident, and this is the best I've ever gone to."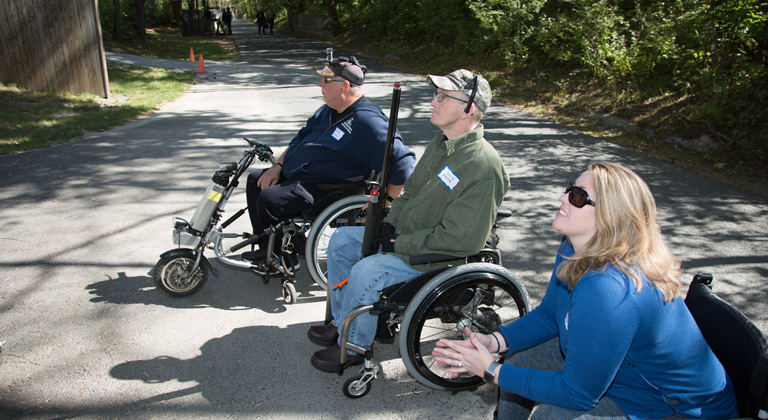 Bachenberg noted that although the event wasn't originally conceptualized as a family activity, it became one more or less by default. "We'd invite physically challenged people out for a fun shoot, the participants' whole families would come out—and all of a sudden they're all shooting together."
USA Shooting's Bob Foth concurred. "Shooting is an adaptive sport that you can play alongside and with able-bodied family and friends."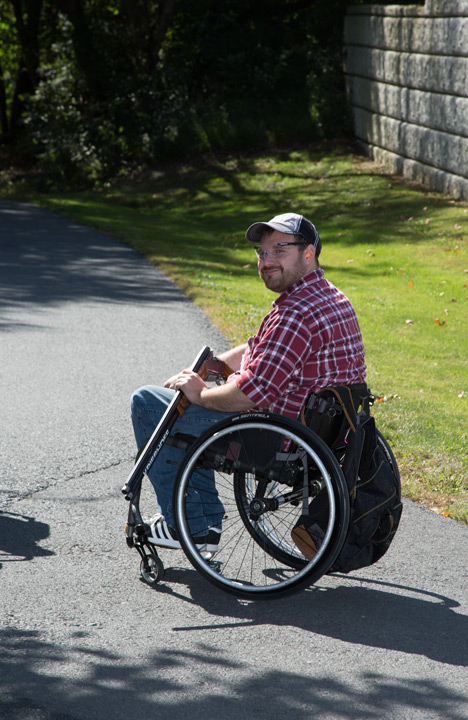 Foth's comment was echoed time and again by the event's disabled shooters.
"Adaptive sports like shooting really helped save me from falling into depression after my accident," said NDAS attendee Tyler Ryan. "They helped me focus on the things I can do instead of the things I can't."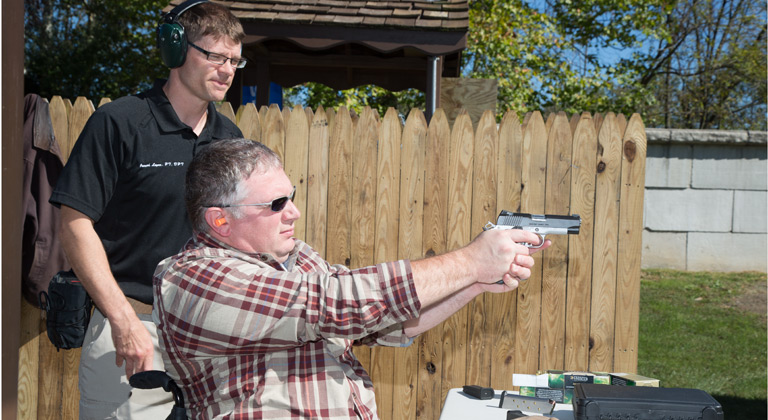 Although LVSC is, as its name suggests, primarily a shotgun-sports venue, the event also featured a handgun clinic hosted by SIG Sauer and Kimber. Dr. Logar and a number of NRA Headquarters' Education and Training Department were on hand to coach the attendees as they explored their capabilities with a variety of pistols.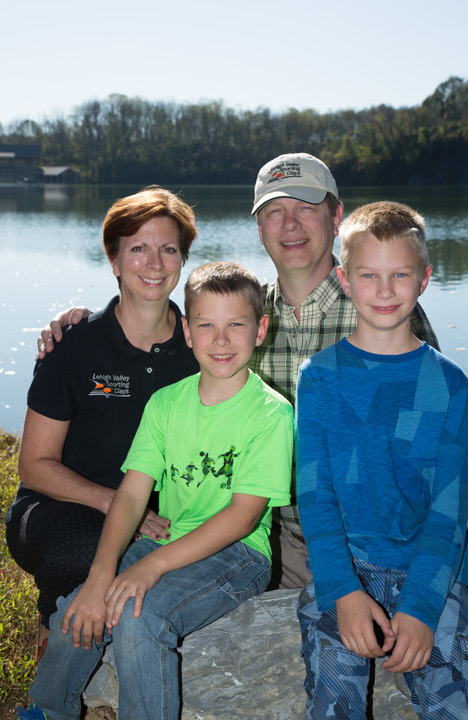 NDAS co-founder Bill Bachenberg, pictured here with wife Laura and twins Hunter and Chase, acknowledges that raising awareness is a great start, but calls upon able-bodied shooters to do more. "The shooting sports are another form of sports recreation and therapy… we, as shooters, should do our best to invite the physically challenged to join us on the range, and to guide them when they do."
Would you like to get involved? Read more about the National Disability Awareness Shoot here.