by
posted on May 31, 2017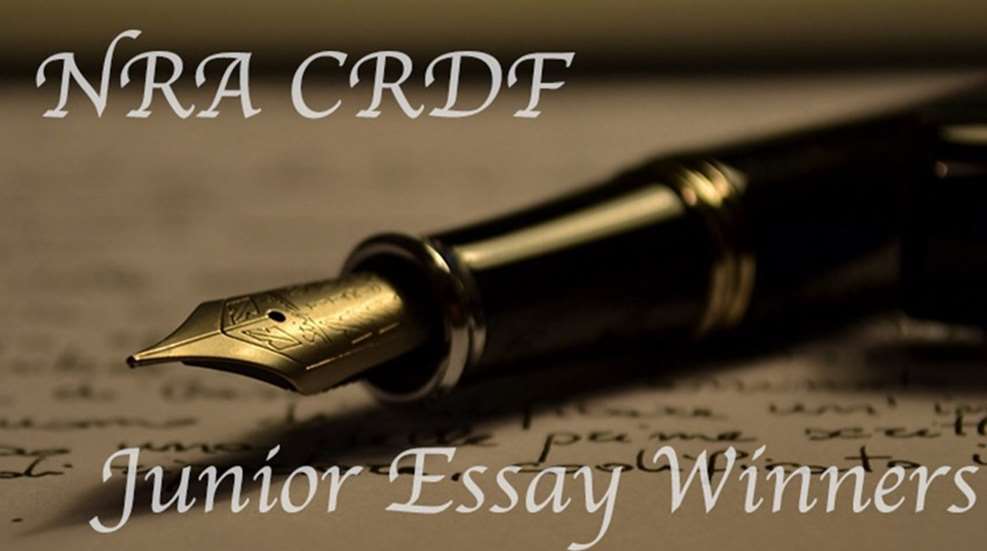 Each year, the NRA Civil Rights Defense Fund (CRDF) sponsors its Youth Essay Contest. Students from kindergarten to their senior year of high school (including home-schoolers) compete for cash prizes: $1,000 for first place, $600 for second, $200 for third and $100 for honorable mention. The 2016 contest saw hundreds of entries, all centered on the theme, "What Does the Second Amendment Mean to You?" Although evaluating the essays is a pleasure for NRA staff, choosing the winners is tough because there are just so many wonderful entries from talented, knowledgeable kids. Therefore it's with great pleasure that we announce the winners in the Junior category, which is open to students from grade 8 and below. A hearty round of congratulations go to:

1. First Place: Nicco Schuler, Age 8
"The Second Amendment means everything to me. I feel we should have the right to carry a gun and protect ourselves. The Second Amendment saved my brother's life.

My brother Austin was married this summer and bought a house in St. Cloud, MN. He and his wife invited us over for supper to see the new house. My parents and I were excited to decorate his house for Halloween and work on winterizing his house, he lives 2 hours away, so it is a long drive. The first week of October, the night before the get together, my brother decided to go to Walmart with his wife to buy pizzas and pies for the family get together at his house. When they were done shopping and walking to their car, a man approached them dragging a metal baseball bat and asked them if they have ever been hit in the head with a bat. My brother thought the man was telling a bad joke and said, No and my brother walked away from him. The man dragging the bat followed them through the parking lot towards their car. The man picked up his bat to hit my brother in the had. My brother reacted quickly and pulled out his gun and and yelled at the man to back up and drop the bat! The man eventually dropped the bat and ran away. My brother's wife called 911. The police found the man and arrested him. I am thankful my brother has his conceal and carry permit..."

2. Second Place: Lauren Bradshaw, Age 11
"As a pastime, my sister and I enjoy target shooting with our father at the shooting range and attending gun shows. When shooting as a family, we spend quality time together. Shooting has taught me concentration and discipline. I enjoy shooting and the powerful feeling I experience every time I pull the trigger. As it is rather untraditional, shooting as a girl makes me feel particularly empowered and confident. In addition, although I do not hunt, I have an aunt and uncle who do, and I respect that they chose to use their Second Amendment rights that way..."

3. Third Place: Noah Michael Smith, Age 13
"When I think about the Second Amendment and how it applies to our lives as citizens, I see three clear applications: First, the Second Amendment in response to tyranny—when the government controls the means of self-defense or revolt; second, the Second Amendment in response to foreign or domestic invaders—when police are not present at the time of need; and third, the Second Amendment in response to criminal activity, and the dangers of government taking sole responsibility for protecting citizens instead of the citizens protecting themselves..."

4. Honorable Mention: Ashlyn (Christina) Elwood, Age 12
"So, what does the Second Amendment mean to me? Protection for teachers, students and anyone else in a learning environment. In the right hands, guns re powerful weapons that can save innocent citizens' lives. Guns can protect students without them having to wonder about whether they are safe at their own schools. When every minute counts, there is no time to spare. We need to make sure we have a way to protect each other, and that is what the Second Amendment allows us to do."

The 2017 NRA CRDF Youth Essay Contest is already in full swing! Click here for more details and to download an entry form. 

For the Senior Essay Contest Winners, click here!