by
posted on January 30, 2023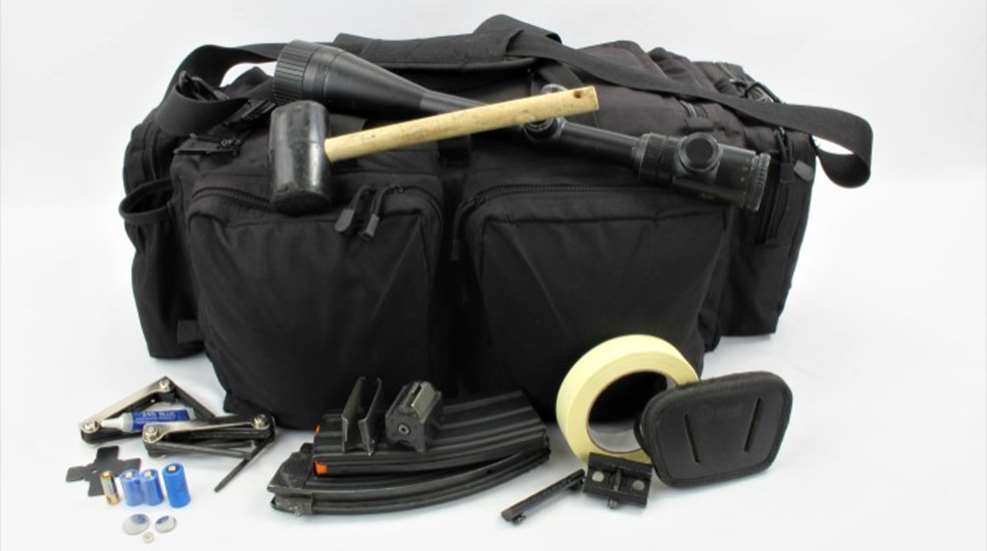 So you bought a gun and probably read a handful of great articles on some general items to carry in your range bag. Likely you've come up with the most obvious gear like eye and ear protection, a chamber flag, a screwdriver, and maybe a staple gun…I wish that was all that you could ever need. During my career as a firearms instructor, I have found myself in many a "man I wish I had a _____" situation. So many, in fact, that the tiny .30-caliber ammo can that I used to carry morphed into a 12-compartment duffle bag. Each piece of kit in there came from genuine experience, and I'd like to share my top 10 overlooked range bag items for those who haven't found themselves in these situations…yet.
1. A rubber mallet
Guns jam, period. Sometimes clearing them is something as simple as "tap-rack-bang," and sometimes it involves beating the action open. After the second time (I don't learn fast) that I had to pound an AR-15's charging handle back to clear a "round over bolt" scenario, I stopped at the dollar store and grabbed one of these invaluable tools. Not only do they deliver that blow that you are looking for, they generally don't mar finishes either.
2. An old scope
On more than one occasion I've had an optic fail in the middle of a range session. If you shoot long enough, you, too, will experience this, regardless of how much you spent on your glass. My brain has failed once or twice too and I've taken a rifle to the range that I could have sworn came with iron sights. Once you wind up with a scope that is no longer in active service, stick it in a sock and put it in a safe place in your range bag. If nothing else, it serves as a highly portable spotter.
3. Common magazines
Do you store your gun with a magazine in it? If so, do you it religiously? Hey, nobody is perfect, so it's not a bad idea to keep spares of common magazines on hand, especially if you already have extras. That list might include one for an AR-15, AK-47, Glock 17 and 10/22. In a normal market that is hardly a $50 investment, and it also covers you in case the one you brought with you fails.
4. Universal holster
There's a little bit of the same rationale at play here. If you are training with a gun that you don't carry, there is always the chance of forgetting the holster. Not only that, but holsters do indeed break as well. It doesn't happen often, but you can bet your bottom dollar that if it does happen, it will happen when you are training. Having a universal holster leaves you with a backup plan should your main rig fail.
5. Weird batteries
Sure, you might have some AAs or AAAs in your bag, but what about batteries for products like pistol sights, flashlights, or rangefinders? I learned this one sitting in a field in the middle of nowhere on a prairie dog hunt with a pair of dead rangefinder binos in my lap. While they are less common "in the real world," 2032, 1632, cr123a, cr2, and 2025 style batteries are very common in shooting accessories. There are even handy kits out there that include a few of these in a blister pack.
6. Weird tools
Oh, you'll need that Phillips head screwdriver, don't worry. You'll also likely need metric Allen wrenches, standard Allen wrenches and of course Torx bits. These types of screws are used to mount the lion's share of scopes and red dots, so it's a good idea to have the tools needed to tighten them on hand. There are easy-to-carry sets out there that fold in like a Swiss army knife to keep everything together and organized.
7. Thread Locker
Hey, if it got loose once, it'll get loose again! Semi-permanent thread locker will ensure that screws that work themselves loose through vibration and heat stay put during each shooting session, so what better time to apply it than when it's already showing signs of deficiency? Before doing so just check with your owner's manuel to make sure that it won't hurt anything.
8. Choke Wrench
Did you show up at the range to shoot some slugs? Not so fast. If you have the wrong choke in, you might damage your gun or even hurt yourself. I've had enough students show up with the wrong choke installed to realize that I need to carry one of these handy tools with me. Many of them can accommodate both 12- and 20-gauge barrels, making it effortless to change chokes in the field or tighten them should (when) they become loose.
9. Bipod adapters
This term has taken many different shapes over the years. In the 80's it simply meant sling stud. Today bipods can attach to your gun not only via sling stud but through MLOK, Keymod, ARCA or Picatinny rail. There are adapters out there that convert nearly every one of these mounting systems to another and it pays to have them in your bag. Of them all, I've found MLOK to Stud and MLOK to Picatinny to be the most common, and for less than $10 you can pack one of each away.
10. Masking Tape
Masking tape has a plethora of uses on the range once you start incorporating it into your routine. For starters, it's a cheap way to extend target life. It also allows you to see if you're developing any patterns, like flinching. This feedback is lost if you constantly change targets and throw them in the trash. Masking tape also makes the perfect label, as it is gentle on most finishes and removable. I like using it to mark elevation corrections on optics, or even for labeling when the last time I cleaned something was. If nothing else it can be used to hang targets if/when your stapler fails.
As time goes on each shooter will figure out what is important to them and the guns that they shoot. If you stick to a certain firearm or sport your bag might be very small and purpose-built; whereas the family patriarch might be lugging around "gear for five" that spans across every discipline. Regardless of your situation, we all will invariably find ourselves stuck at the range without something useful and learn a lesson. Just be careful, because lessons equal ounces and ounces equal pounds!