by
posted on July 5, 2018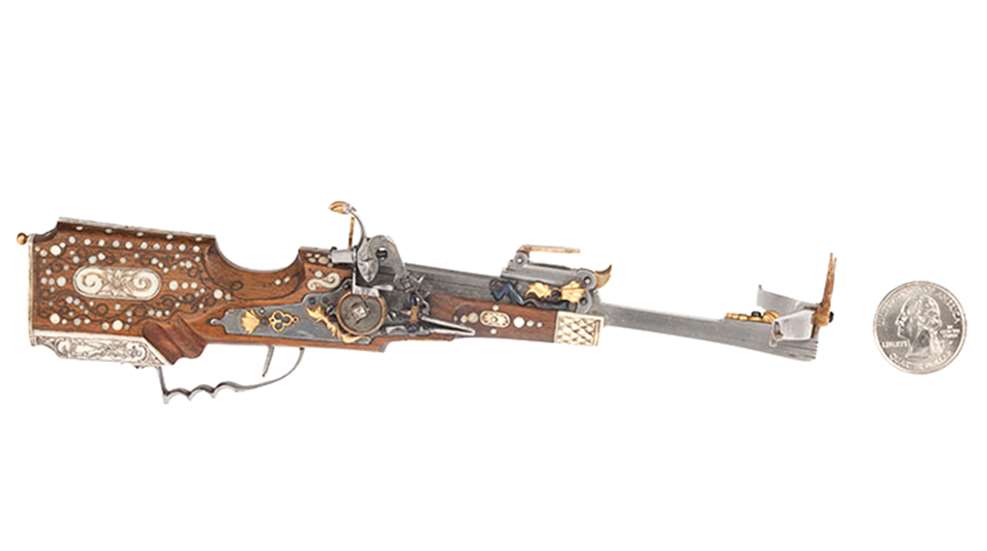 One of the most interesting areas of American gun collecting involves miniature firearms, where a major collection worth many thousands of dollars can easily fit inside a lunch box...and sometimes the best of historical designs can be nicely rendered in quarter-scale. At major gun shows across the country, in addition to the usual full-sized rifles, pistols and shotguns, some collectors exhibit the finest in smaller firepower packages—miniature guns.
NRA's National Firearms Museum recently won part of the "international arms race" (in small scale) by assembling a group of 16 amazing wheellock miniatures. Fit to equip a down-sized platoon, these intriguing small arms range from a fine combination rifle built into a crossbow, a wheellock revolver capable of discharging seven shots, a medieval axe/gun, a breechloading pistol and several ball-butted pistols. There's even one princely pistol built completely out of 14-karat gold!
Just as with the originals, the embellishment of these diminutive arms includes ivory and bone, while gold, silver and bronze highlights are everywhere. In olden days, fine wheellock guns like these were expensive enough that they could only be owned by royalty and nobles. The master gunsmiths that built these pint-sized miniatures did so to show they could provide the same craftsmanship in a smaller package. Journeyman gunsmiths often honed their skills by making miniatures for their final projects as they left their master's shop, reasoning also that the smaller size piece was far easier to transport as they made their way to new employment.
Thanks to lender Kennith Whichard, the wonders of the wheellock mechanism are now on display in the NRA's National Firearms Museum galleries. The wheellock is an early ignition system that worked much like today's Bic lighters. To give an idea of scale, some of the items in this miniature wheellock collection could be concealed underneath a Matchbox car, and a hand-held Nintendo could create enough shade to shelter several items. With some good arranging, most of this collection could be concealed under an issue of A magazine!
During the 1600s, the wheellock design was really the "cutting edge" of arms technology. Our miniature collection also includes unusual pieces like firearms combined with supplemental cleavers, axes or halberds. Given the single-shot capability that most guns of the day had, one can see that having an additional combat feature like an axe on the gun really wasn't a bad idea.
Got an interest in collecting miniature arms? Contact NRA's Gun Collector Programs at (703) 267-1600.
NRA's National Firearms Museum
Imagine being surrounded by thousands of guns of every historical period, in a magical place where you can see just about any kind of firearm you ever saw on television or at the movies. There is such a place in reality and it's called the National Firearms Museum. When you visit NRA headquarters in Fairfax, Va., the museum galleries are just the beginning of your tour.
The 6,000-gun museum collection began with the founding of the National Rifle Association itself, just after the Civil War ended. Of course, many of the guns in the collection go back centuries earlier. The oldest firearm in America—a crude European handcannon—is there to greet you. Pilgrim John Alden's well-worn carbine from the good ship Mayflower isn't far away and you can see guns that were used in the early colonies and the American Revolution. Guns that were there at the Alamo, Gettysburg and Iwo Jima are represented in the expansive exhibit cases. Interested in guns for hunting? From African big-game safaris to whitetail deer hunting to waterfowling, those guns are in displays for the finding.
Guns from competitive shooting—the age of the schuetzenfest, matches at Creedmoor, Sea Girt and Camp Perry—are also here. Pieces that were used by Annie Oakley, President Theodore Roosevelt, Buffalo Bill, John Wesley Hardin and many others are all there in the galleries. Roughly half the museum's extensive collection is on exhibit at any given time.
And it's free. No admission charge. Where else can you spend a day wandering through history, told through the barrel of a gun?  The museum's gift shop also gives visitors the chance to leave with a bit of that history. From blackpowder pistols, T-shirts, books, toys...the Museum store has it all. Plan your visit today by checking out the museum website, e-mailing [email protected] or calling (703) 267-1600. Come see the museum at 11250 Waples Mill Road, Fairfax, VA 22030.