by
posted on October 25, 2018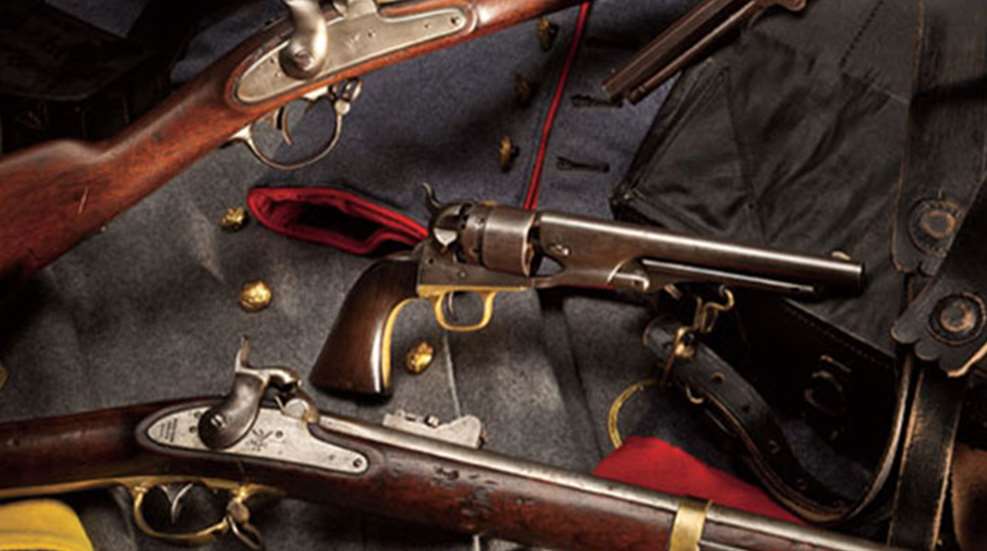 One hundred fifty years ago, the United States was a country rapidly splitting in two, with both North and South quickly moving to acquire arms for the inevitable conflict. It has been said that in any war, the first battles are often waged with the arms of the last war, and sadly the American Civil War was to be no different. Both the Union and the Confederacy had only the tools of the past war immediately available as they first came to conflict.
Filling arsenals from Maine to Florida were leftover muskets from the Mexican War, flintlocks or altered flintlocks dating back to the War of 1812, somewhat updated rifled percussion muskets and a few percussion rifles. Only a few breechloaders, like the flintlock and percussion Hall rifles and carbines, were available, but with less than 50,000 produced in total, these more modern arms were definitely a small minority in the arsenal racks. For Southern states, annual allotments of outmoded arms, grudgingly granted to governor requests from federal authorities, were the only means of filling their arsenal racks.
The Federal government had established two major arms-making centers, Springfield National Armory in Massachusetts and Harpers Ferry National Armory in what was then Virginia. The North's center in Springfield, Mass., was located in a developed region where many manufacturing industries could be easily supported by waterpower; in fact, the stretch of real estate extending from Springfield up north to Hartford, Conn., came to be called "Gun Valley" for the number of gun makers that set up shop. But further south, the limited regional manufacturing base made Harpers Ferry's role as a major arms-making center that much more significant.
Examining just what products were available from both these arms centers and the many domestic firms that joined in the "arms race" reveals the scope of what was to come. Here are some of the many arms represented in a divided country that would come to play an important part in the conflict. Representative of the thousands of arms that saw service in the first year of the war, these pieces of history are on display in the NRA's National Firearms Museum in Fairfax, Va. The museum's Civil War gallery even encompasses a recreated Union arms factory that displays a Smith & Wesson rifling machine that was used during the war years, and an antebellum Confederate parlor that showcases many rare collector pieces. To learn more about the museum, visit us at www.nramuseum.com.

US Model 1842 Percussion Musket
Manufactured at both Harpers Ferry and at Springfield Armory, this .69-caliber muzzleloader was likely the most commonly encountered long arm for any soldier on either side as hostilities commenced. About 175,000 were built in the North, and about 100,000 came into being at Harpers Ferry. As the first fully interchangeable-parts musket, this was also the first U.S. military long arm to be made at both national armories.

Colt Model 1851 and 1860 Percussion Revolvers
Widely popular following the exploits of the first Colt Paterson, Walker and Dragoon handguns used on the Texas frontier and during the California Gold Rush, Colt revolvers came in a variety of sizes and calibers. Navy models in .36 caliber and Army versions in .44 caliber were to propel Colt to the forefront of military orders. Samuel Colt's marketing expertise was legend, extending even to engraving a nautical battle scene on the cylinders of his revolvers. By 1861, hundreds of thousands of Colt revolvers were in existence and newly minted officers or avid volunteers were quick to privately purchase sidearms if they had not already been gifted presentation pieces from family or hometown admirers. One engraved M1851 with ivory grip panels on loan to the NRA National Firearms Museum (NFM) collection was given by Colt to the governor of Connecticut.

US Model 1841 Percussion Rifle
While built only at one of the national armories, Harpers Ferry, and also by several contractors located north of the Mason-Dixon line, this .54-caliber rifled long arm had proven its worth with Mississippi troops commanded by Jefferson Davis in the Mexican War. Yet just over 70,000 Mississippi rifles were on hand in 1861. A South Carolina contract for 1,000 rifles made by the Palmetto Armory in Columbia, S.C., was one of the few independent orders produced in the South, fulfilled using machinery bought from Tryon of Philadelphia.

US Model 1861 Percussion Rifle-Musket
Streamlined for rapid wartime production by eliminating the Maynard primer compartment on the lockplate, this .58-caliber percussion gun came to be one of the most widely used arms of the American Civil War. Over one million Model 1861-type rifle-muskets were produced at Springfield Armory and a host of private contractors, with Springfield Armory contributing about 265,000 examples. Confederate copies of both the 1855 and 1861 rifle-muskets were built in Richmond, Va., using captured machinery from Harpers Ferry Armory.

Sharps Model 1853 "John Brown" Carbine
Among the hundreds of breechloading Sharps carbines, some shipped from abolitionist societies in New England to Kansas settlers (in crates marked "Bibles"), was a group of 200 carbines that came into the hands of the revolutionary John Brown. Smuggling these carbines back east to a farm in Maryland in 1859, Brown's small group of followers attempted to seize Harpers Ferry Armory. One of the .52-caliber carbines involved in this unsuccessful insurrection is displayed in the National Firearms Museum and was the first firearm purchased for the museum collection. In 1861, many of these captured Sharps carbines were then issued to Union cavalry units.

Smith & Wesson No. 1, First Issue Revolver
The first American rimfire cartridge revolver, this seven-shot repeater was a popular choice for many individuals going off to war who had decided to equip themselves with a compact and reliable handgun that used waterproof metallic cartridges. This small .22-caliber revolver was presented to Colonel H. D. "Mad Harry" Townsend of the 1st Cavalry near Fairfax Courthouse on July 15, 1861. On that date, Union and Confederate forces were maneuvering towards one of the first major battles of the war at Manassas, Va., just a few miles down the road.

US Model 1855 Percussion Rifle-Musket
Built at both Harpers Ferry and Springfield, this .58-caliber long arm was the first American shoulder arm designed to utilize the conical Minié bullet. Less than 60,000 examples were built. Production at Harpers Ferry came to an abrupt end in 1861 as its Union garrison, realizing the danger this resource represented by its location for potential Southern capture and utilization, attempted to burn the armory and destroy its machinery. In addition to using percussion caps, this muzzleloader could also be fired employing a coiled strip of Maynard tape primers held in a lockplate compartment. (These Maynard primers were the forerunners of the paper caps still used in toys today.)