by
posted on May 10, 2018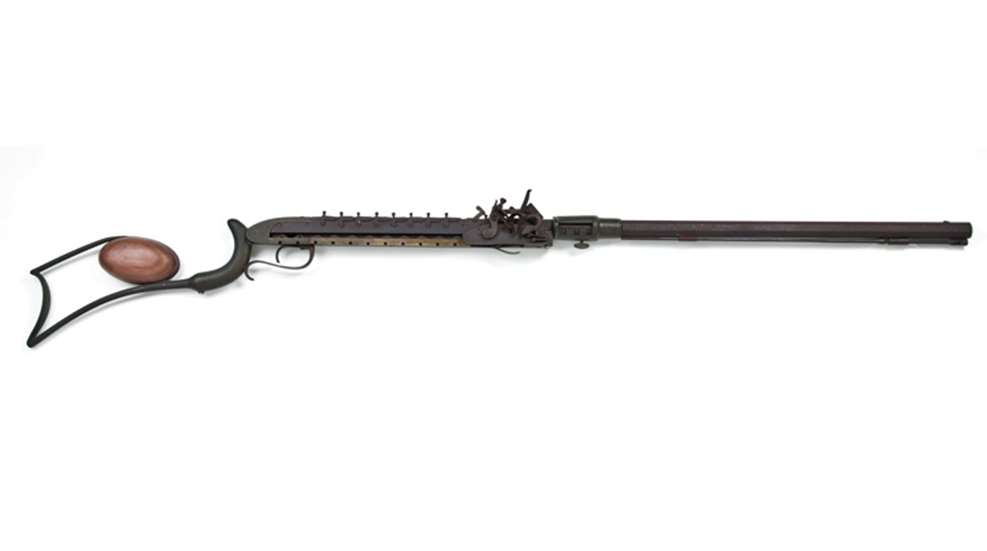 The Isaiah Jennings repeating flintlock rifle is unusual, but it's proof positive that 200 years ago Americans were able to envision and create multi-shot rifles. This rare gun,which was on loan to the NRA National Firearms Museum from Mr. Ellis Joubert, is one of the most unusual repeating firearms ever to be manufactured in the United States. This repeating flintlock rifle from 1821 was built with a detachable skeleton-type shoulder stock as well as a removable 21-inch octagonal barrel. The Jennings rifle was capable of firing 12 shots without reloading. This multi-shot arm was loaded with a dozen superimposed bullets and alternating powder charges, each placed one on top on another down the bore, and was fitted with 12 individual touchholes, each also being equipped with a swivel cover.
In firing, the first charge towards the barrel was discharged first, and then the movable lockplate was pulled back to the next swivel cover position. The .44 caliber and reduced powder space in this rifle may have meant it was intended to utilize hollowed-out projectiles with the powder charge placed inside the bullet itself.
This intriguing transitional rifle, which bridged technology to cartridge repeaters, bears serial number 1.