by
posted on May 24, 2018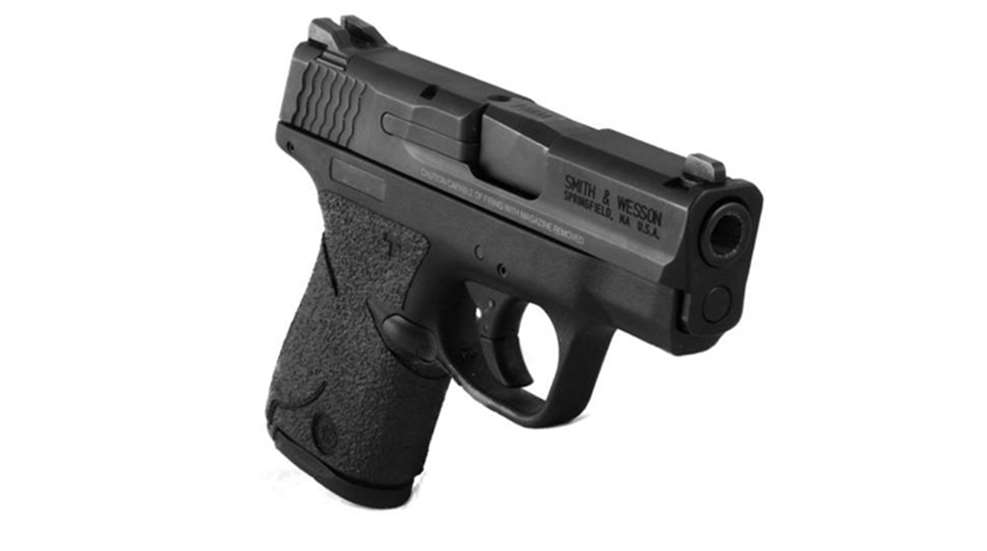 Innovation in the firearms industry is often born of necessity, and such is the case with Talon Grips. In both hot and cold weather conditions, many polymer handgun grips become slick, even slippery. To remedy the situation, for years law enforcement officers, military personnel, competitive shooters and savvy recreational shooters applied pieces of skateboard tape to their pistol handles to improve the grip.
But such tape was developed to adhere to wood, not polymer, so the results were often less than desirable...the tape would eventually peel off, leaving a sticky residue mess behind. Founded in 2009, Talon Grips solved this problem by developing a patented, inexpensive, one-piece, paper-thin grip that's easily installed over the existing grip of a handgun by the firearm owner. Today, the company offers grips for more than 300 models of handguns from over 40 manufacturers.
"Our grips are of two types," said Adam Spector, marketing and operations director for Talon. "The granulate grips, similar to fine sandpaper, are made from a silicon-carbide material. The second grip—our most popular, comprising about 75 percent of sales—is made of rubber."
Both grip styles are backed with a proprietary, pressure-sensitive adhesive made to stick well to polymer and not leave a sticky residue when removed. Even handguns with good factory-installed grips can benefit from Talon Grips, as they cover more surface area than the original factory grips.  
"We guarantee our grips for 90 days, but realistically expect from one to three years of service from them," said Spector. "The key to getting that extended wear is doing a good job with the installation.
"First, clean the grip area of your gun well with the alcohol swab we provide to remove any dirt or oil, then let the alcohol evaporate completely before beginning the installation. It helps to do a dry-run of fitting the grip to the gun with the backing covering the adhesive still attached. This step will familiarize you with the grip, so that when you remove the backing and begin the installation you'll know where things should ultimately line up."
Another tip that Spector mentioned is to remove only half of the backing at a time. In other words, peel off the left side, fold the backing out of the way, and begin the wrap. Then, after fitting one half of the grip, remove the backing from the remaining half and complete the job. The adhesive is forgiving, so if you happen to get off center you can pull the grip off and start again.
"Once the grip is in place on the gun, heat it to the temperature of a warm cup of coffee, about 120 degrees Fahrenheit, then press on it firmly," said Spector. "You can use either a heat gun or a hair dryer, but a hair dryer is safer because a heat gun could accidentally overheat the grip. Repeat this step of heating and firmly pressing the grip into place at least three times to get a good fit and strong bond. This process activates the adhesive, making it less viscous, allowing it to sink into the microscopic nooks and crannies of the gun's polymer."
Spector cautioned that getting gun oil on or under a Talon grip could cause it to detach from the gun. He also said to keep any CLPs (cleaner, lubricant, protector) away from the grips.
I first learned of Talon Grips about a year ago after seeing them on a buddy's pistol, so I decided to try a set on my carry gun, a Smith & Wesson 9mm Performance Center Shield. I ordered the grips from the Talon website (www.talongungrips.com), for $17.99. An immediate email response confirming my order said to expect receipt within 10 business days via the U.S. Postal Service, but the order arrived sooner.
I'm a bit of a perfectionist, so wanting to do the installation correctly I watched the helpful videos on the company website, as well as a few on YouTube, before beginning. I also read over the instructions printed on the back of the packing slip. By the way, a hand-written note thanking me for my order was on the packing slip, which I thought was a nice personal touch.  
Less than 0.5 millimeters thick, I found that the Talon Grip added significant purchase (hold) to my Shield, with only a slight increase in bulk. I actually found the added thickness helpful, as the Shield had always felt a tad narrow or "thin" in my hand. The bottom line is that I'm very pleased with my new Talon Grips. They do everything the company says they will and look good, too. There are even matching grips available for extended magazines, priced at just $1.99.
Talon Grips are 100 percent American-made; designed, cut and mailed from Steamboat Springs, Colorado. "We're a very small, family-owned and operated company with just eight employees," concluded Spector. "And we like doing business the old-fashioned way, one-on-one with our customers. We pride ourselves in excellent service, so if you have a question contact us."
Want to improve your handgun shooting? Get a grip…a Talon Grip!