by
posted on May 18, 2018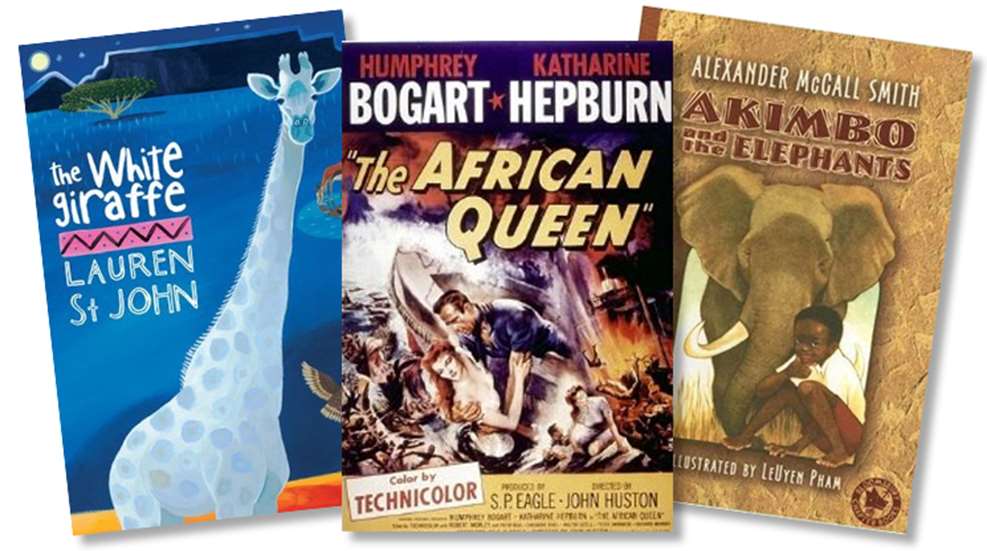 Safaris have always held a certain fascination-not just for those who go on safaris, but for the armchair adventurer, too. Of course, the things that fascinate us are the very things that make the most interesting books and movies. So it is only natural that safari-themed books and movies have proven so popular over the years.
If you've already been on a safari, the books and movies listed below will bring back the excitement of the hunt. If you haven't, the same list will allow you to experience the thrills and chills of a safari in your own home, in your own time-and at a fraction of the cost. Of course, this list contains only a handful of the safari-themed books and movies out there, but it will get you started. Happy trails!
SAFARI-THEMED BOOKS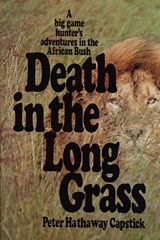 Death in the Long Grass/By Peter Capstick
In Death in the Long Grass, professional hunter and writer Peter Capstick relates his experiences in the African bush-sometimes hair-raising, sometimes funny, and always interesting and informative.
Danger is everywhere as Capstick leads safaris through lion country, encounters a crazed and charging bull elephant, witnesses the death of a colleague and seeks cover during an elephant stampede. You'll get up close and personal with all manner of African wildlife, from silent and deadly mamba snakes, to watchful and hungry crocodiles, leopards, wild dogs, rhinos and more. You'll also get to meet the African native peoples through the eyes of a man who respected and admired them.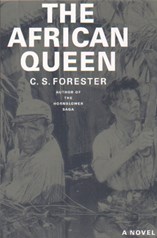 The African Queen / By C.S. Forester
In The African Queen, which is set in Africa at the beginning of World War I, an English missionary wants to avenge the death of her missionary brother at the hands of the Nazis. To that end, she persuades the down-and-out captain of the steam launch "African Queen" to take her down a central African river, where they will launch a strike against a German ship. The uncomfortable and dangerous journey is filled with heat and humidity, mosquitoes and malaria, crocodiles and hippos, bullets and fighting. In short, there's something for everybody in the way of excitement.
First published in 1935, The African Queen was eventually made into a movie by the same name, starring Humphrey Bogart and Katherine Hepburn (also listed in the section on safari-themed movies).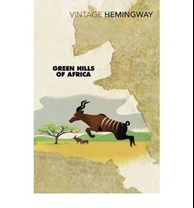 Green Hills of Africa/By Ernest Hemingway
Green Hills of Africa is a non-fiction account of the author'smonth-long East African safari with his wife, Pauline, in 1933. Known primarily for his works of fiction, Hemingway's safari experiences read like a novel. His love of big-game hunting comes through loud and clear as he recounts the thrill andthe beauty of the chase and the primitive feeling of the kill-as does his appreciation for the wonders of the African landscape and his concern that man might upset the delicate balance found there.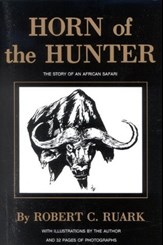 Horn of the Hunter/By Robert Ruark
Writer and big-game hunter Robert Ruark records the adventures and misadventures of a nine-week African safari in Horn of the Hunter. It was the early 1950s, and the author and his wife, Virginia, traveled to British East Africa (now Kenya and Tanzania). Guided by professional hunter Harry Selby, they set out by Jeep on what would be Ruark's first, but definitely not his last, African adventure.
This is no romanticized account. Ruark shares both the successes and the failures of his safari, not to mention the discomforts (insects, getting lost, scorpions and snakes, etc.) found along the way. What makes this book so appealingis that the author has no trouble finding the humor in their situation, nor in poking good-natured fun at himself and his companions.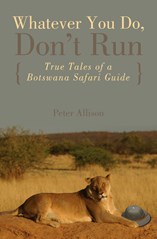 Whatever You Do, Don't Run: True Tales of a Botswana Safari Guide/By Peter Allison
At age 19, when he found work as a safari guide, Australian-born Peter Allison set out for Africa for what he thought would be a year-long experience. Thirteen years later, he was still at it. Whatever You Do, Don't Run is Allison's sometimeslaugh-out-loud account of life in the bush, and the unexpected turns along the way. Read about the quirks of Allison's paying customers as well as the guides themselves and about swimming with the elephants, a python that mistook theauthor for dinner, mice infestations and other safari adventures and misadventures.
SAFARI-THEMED BOOKS FOR YOUNGER READERS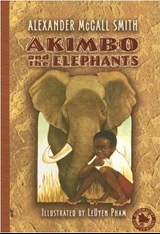 Akimbo and the Elephants (ages 7-10)/By Alexander McCall Smith
Ten-year-old Akimbo lives on an African game preserve with his father, the head ranger. In Akimbo and the Elephants, one of a series of chapter books by the author, Akimbo and his father come upon a dead elephant. Nearby is her livingcalf, which has been left to die by ivory poachers-those who kill elephants illegally so they can harvest and sell their tusks.
When the authorities are unable to catch the culprits, Akimbo comes up with a daring plan of his own, putting himself in harm's way to stop the poachers and save the elephants.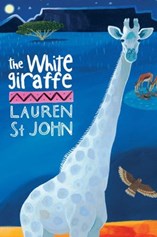 The White Giraffe (ages 9-12) / By Lauren St. John
Martine Allen's eleventh birthday turns out to be one of the worst days of her life when her parents are killed in a house fire. Sent to an African wildlife preserve to live with a grandmother she didn't even know she had, Martine is struck by the woman's unwelcoming manner and her strangeness.
As the young girl adapts to her new home and new school in a foreign country, she hears about the white giraffe living on the preserve. Her grandmother assures her the white giraffe is merely a legend, but late one night, as Martine peers out of her bedroom window, she locks eyes with the beautiful creature. What's going on here, anyway?
SAFARI-THEMED MOVIES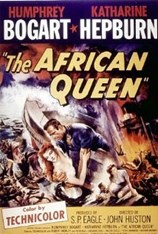 The African Queen (1951)
The African Queen, starring Humphrey Bogart and Katherine Hepburn, is adapted from C.S. Forester's 1935 book of the same name-with a little extra excitement thrown in for good measure. The action takes place in Africa at the beginning of World War I, when an English missionary sets out to avenge the death of hermissionary brother at the hands of the Nazis. To that end, she persuades the down-and-out captain of the steam launch "African Queen" to take her down a central African river, where they plan to launch a strike against the Germans.
Filmed on location in the Congo, the cinematography showcases the beauty and the dangers of the area.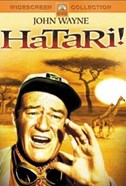 Hatari (1962)
In Hatari, featuring John Wayne, a group of professional hunters travel around Africa, capturing animals for zoos. A female photographer from a Swiss zoo promises her zoo will buy most of the animals they capture that season if she is allowed to go along. The movie was filmed in Tanzania, and the chase and capture scenes are amazing-particularly so if you know that almost all of them involved the actual cast, not stunt doubles.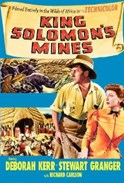 King Solomon's Mines (1950)
King Solomon's Mines is set and shot in Africa and stars Stewart Granger and Deborah Kerr. The plot revolves around an English woman who persuades a skilled hunter and safari guide to help find her husband, who disappeared while searching for King Solomon's mines in Africa. It's a dangerous expedition through unforgiving country that features encounters with hostile natives, plenty of wild critters, and a grass fire and animal stampede that threatens to take out the tiny band of travelers. Small wonder that this film was the number two box-office draw in the year of its release.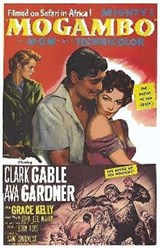 Mogambo (1953)
Mogambo was another top-grossing safari film of the early 1950s and starred Clark Gable, Ava Gardner and Grace Kelly. Game hunter Victor Marswell (Gable), who captures animals for zoos and circuses, finds himself leading a safari into the Kenyan wilds with an American showgirl, an anthropologist and his bored wife. The plan is to find gorillas for the anthropologist's research, but the women are more interested in their attractive guide. Gorilla country, however, has a way of claiming their attention as the group chases after wild animals and tries to escape from hostile natives while traveling through the lush, but harsh, jungle.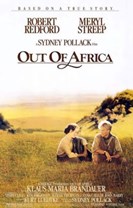 Out of Africa (1985)
Out of Africa, starring Meryl Streep and Robert Redford, is about a Danish woman in a marriage of convenience who moves to Africa to start a coffee plantation. The film begins in 1913 with the departure for Kenya and ends in 1931 with her return to Denmark. Along the way, she struggles to keep the coffee plantation running despite a mostly absent spouse, tries to better relations with the local natives, and travels on safaris with a noted big-game hunter and adventurer.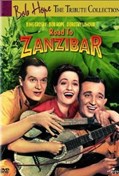 Road to Zanzibar (1941)
If you want a safari movie that's a little less serious, The Road to Zanzibar-which is a spoof on the jungle adventure films popular at the time-may be just the ticket. Bob Hope and Bing Crosby play boyhood pals who work at a South African carnival. When their sideshow act causes a fire that burns down the entire carnival, the two beat a hasty retreat. Misadventure seems to follow them, however. The two get caught in a phony diamond mine scam, get tricked into financing a safari, and eventually land themselves in even hotter water when they stumble into an encampment of hungry natives.