If there's anything better than winning free stuff, most of us would be hard-pressed to say what that might be. This month, October 2018, seems to be replete with opportunities to do just that...so we're offering a list of four cool gun and gear giveaways that just so happened to have come over the transom today. Of course, this isn't a comprehensive list of the giveaways that many guns and gear manufacturers are offering this month, and only one of them is sponsored by the NRA. Let's start with that one: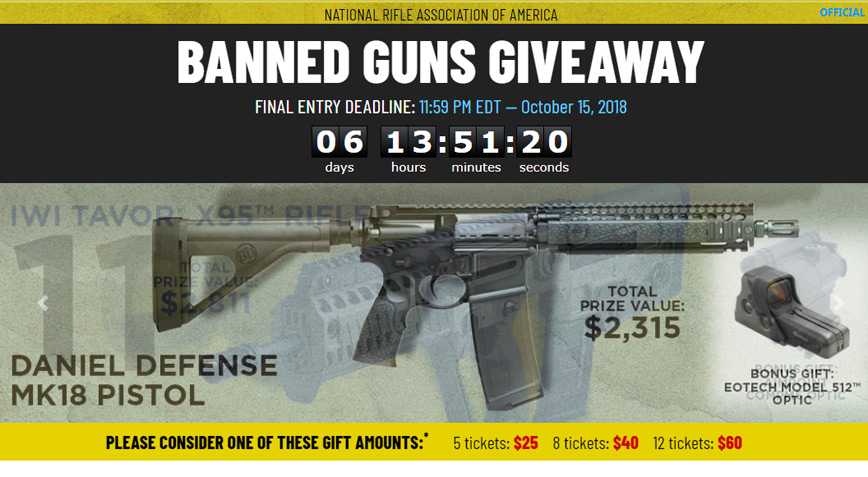 1. The NRA Banned Guns Giveaway

The NRA Banned Guns Giveaway is exactly what it sounds like: a chance to win guns that the anti-gun forces have tried (unsuccessfully, thanks to NRA Members!) to ban. There are 12 firearms from which to choose, and each comes with a special bonus gift such as a red-dot sight or a gift card to purchase accessories for your "banned gun." Entering is simple and fun; all you need to do is
visit this website and follow the instructions for a chance to win one (or even all 12) of these awesome guns
.
Here's the part where I'll admit that I fibbed a bit when I said this one had "just come in over the transom." It's actually been going on for a little while, and it's coming to a close in just a few days. The deadline for entry on the NRA Banned Guns Giveaway is October 15...so don't wait!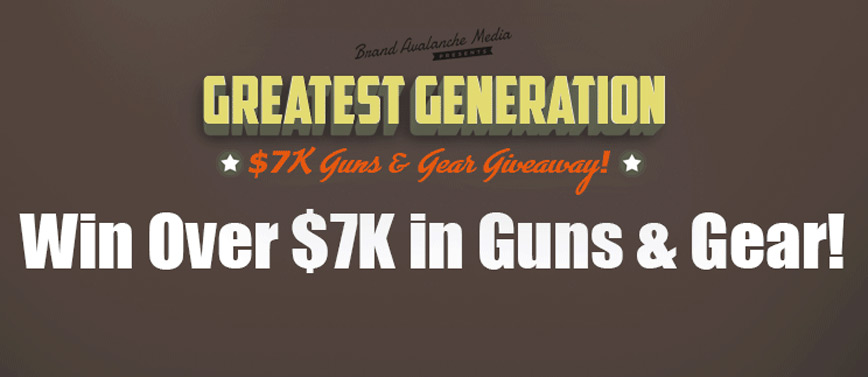 2. The Greatest Generation of Guns & Gear Giveaway
Here's an interesting giveaway for all you World War II history buffs: a giveaway based on what "The Greatest Generation," e.g., the Americans who fought in World War II and Korea, might have carried onto (or...ahem...recovered from) the battlefield. They're giving away a
Springfield
M1A rifle as well as a 1911 handgun, and a selection of high-end hunting gear and clothing from
Jagdhund
. This giveaway will be going on until October 25;
click here to enter
.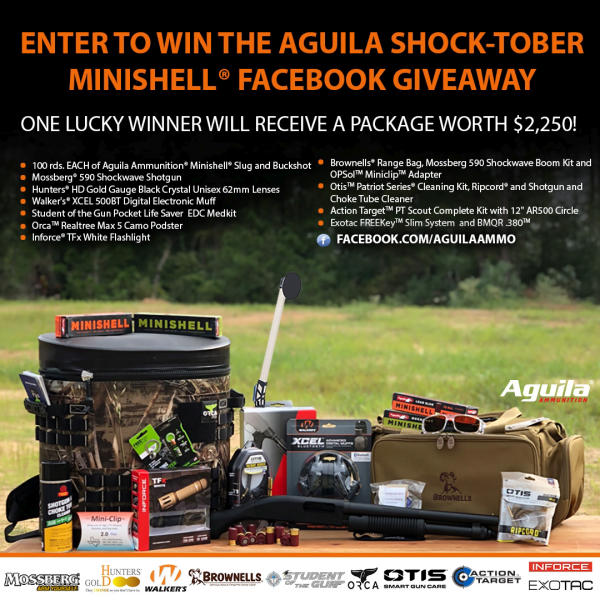 3. The Aguila Shock-tober Sweepstakes

If the news of the
Mossberg Shockwave
sent a shiver up your spine, then no doubt the news that
Aguila
, maker of the 
MiniShell
, is sponsoring a Shock-tober Sweepstakes that offers you the chance to win one of the former and a bunch of the latter. According to our friends at Aguila, t
o be entered to win the sweepstakes, participants must visit Aguila on 
Facebook
 (or the other participating companies on social media). Sweepstakes details and rules can be found at 
https://woobox.com/nozufu
. The winner will be announced on November 8th, 2018.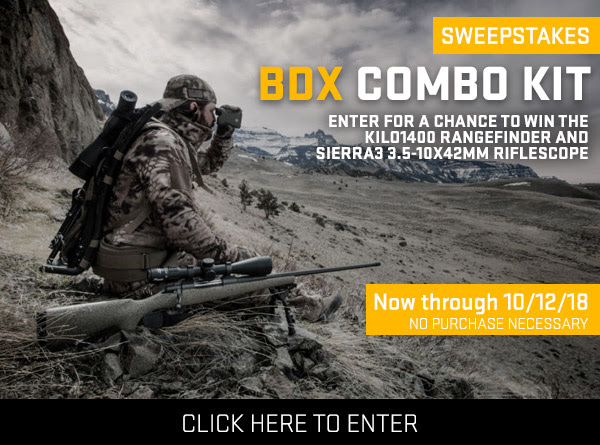 4. The SIG Sauer October BDX Combo Kit Sweepstakes

Here's another one that's ending soon (Friday, October 12...yikes!). This sweepstakes, sponsored by SIG Sauer Electro-Optics, 
T is your chance to upgrade your hunting gear and enter to win the award-winning SIG SAUER Electro-Optics Ballistic Data Xchange Combo Kit. BDX is a rangefinder and riflescope system that uses your ballistics, environmental conditions and Bluetooth to illuminate the exact holdover dot. You can register today for the BDX Combo Kit sweepstakes by visiting 
sigsauer.com/promotions
 

now through Friday, October 12, 2018.