by
Evan Brune, Associate Editor, Shooting Illustrated
posted on September 8, 2017
The "Alien" franchise of horror/sci-fi is one of the more iconic film series of the last few decades, and it's also one of the reasons why I hate horror movies. Traditionally, horror-movie plots hinge pretty heavily on poor planning and decision-making, and that's not what we're about here at NRA Family.
So, let's get our situational readiness on. Aliens are lurking on the surface of Earth, and facehuggers prowl the alleyways of Detroit and other major cities, looking to nab unwitting passersby. I, for one, am perfectly content to invest a sizeable amount of money into a kit that keeps my sternum from exploding on a dining room table à la the original Alien, so let's get to it.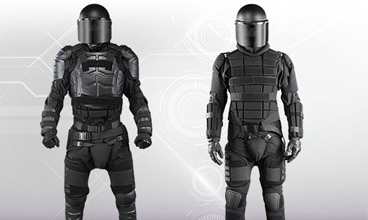 1. Damascus Gear Imperial Riot Control Kit
OK, so here's what bugs me about "Alien." The aliens can only reproduce through these facehugger things. This seemingly requires a face (I know, shocker), so if humans make their faces unhuggable, then the problem can't multiply, right? Enter the Imperial Riot Control Kit from Damascus Gear.
I know what you're thinking. Immediately, we have a series crossover issue. How can we protect ourselves from aliens while looking like a Death Star control technician from Star Wars? It'll ruin all chances of winning the Comic-Con Cosplay contest! Well, darn your continuity issues, I'm trying to keep my chest from exploding, and the full-face shield of the Imperial kit seems to be the best bet at staving that off. Find dealers here.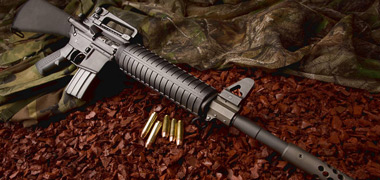 2. Alexander Arms .50 Beowulf Tactical
In a world filled with xenomorphs, it's inevitable that armed citizens are going to get some trigger time. Time to put on our thinking caps. What is the best civilian-legal alien-hunting rifle on the market today? I'm gonna go with something that throws a half-inch, brass-wrapped ball of defiance downrange at 1,300 miles per hour. So, for that, we'll go to Alexander Arms and its .50 Beowulf.
The .50 Beowulf can be used with any standard AR-15 lower, so it isn't particularly specialized. The round produces as much as 2,878 foot-pounds of energy at the muzzle. Used as a car-stopping round overseas, the Beowulf is starting to gain popularity as a bear- and moose-hunting cartridge in America. So, yeah, I'll take it to stop an alien. Find it here.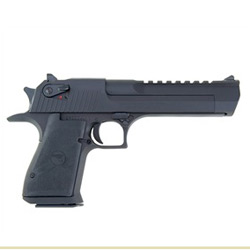 3. Magnum Research Desert Eagle .50 AE
Every good battle rifle needs a good sidearm pairing, and it just makes sense to stick with a .50-caliber bullet for continuity's sake. For that, we'll go to the Magnum Research Desert Eagle in .50 Action Express.
Let's be honest, though. If you're going to a sidearm in a battle against hordes of aliens and/or Predators, odds are you're pretty well finished. So, at this point, it's more of an image thing. If you're gonna go down, somehow it's just better to finish out life dual-wielding a pair of 5-pound fire-belching fifties while shrieking the lyrics to the latest Deathklok album. Tell me I'm wrong. Available here.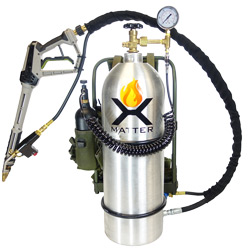 4. Throwflame X15 Flamethrower
So, there really are few rules in this EDC series of ours. However, one solid guideline is that everything we talk about must be available for purchase to regular, law-abiding civilians. Initially, I thought that a flamethrower would be a must-have in this kit for facehugger clean-up purposes, but those aren't available to mere civilians. Right? Wrong.
Yes, you can purchase a no-bull, ready-to-roll flammenwerfer (it werfs flammen!) with a credit card and an internet connection. God, I love this country.

Lead image istockphoto/Brendan Hunter