by
Evan Brune, Associate Editor, Shooting Illustrated
posted on August 25, 2017
The film "Highlander," following the story of immortal Scottish warrior Connor MacLeod, didn't meet with much success in its initial box-office opening, but the film later garnered attention as a cult classic and inspired a following, as well as the widespread meme-ology that involves the use of the film's trademark phrase, "There can be only one."
Well, for the purposes of this article, we're going to say that there can be more than one Highlander out there. With a huge market for blades, guns and other gear to explore, we found the must-have items for any enthusiast looking to pull off the perfect "Highlander" persona and maybe even prepare for battle against Kurgan himself.
1. Cold Steel Mizutori Katana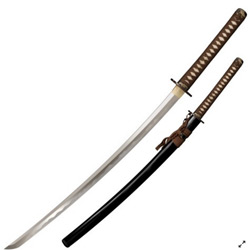 A quick Google search will turn up countless Connor MacLeod katana replicas on the market, but those cheap knock-offs aren't battle ready, and frankly, a real highlander wouldn't dare be seen without a sword capable of holding its own against Kurgan. Enter the Cold Steel Mizutori Katana, which is inspired by the design and construction of Japanese katanas used in Samurai warfare. The sword is perfectly balanced and built from high-strength 1095 carbon steel and features the differential Hamon clay-tempered finish found on traditional Japanese battle swords. At $769.99, you're definitely paying a premium, but this ultimate blade is worth every penny. You can buy it here.
2. CRKT Shinbu Knife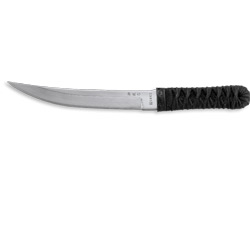 Every good highland warrior has a backup option, and the CRKT Shinbu is built from the ground up to be a fighting knife. In fact, the company claims that the Shinbu was designed specifically at the request of military troops overseas looking for an ideal hand-to-hand tool for house fighting. It doesn't get much more legit than that. The Shinbu is constructed with YK-30 high-carbon steel and comes equipped with a Kydex sheath that is designed to work with any MOLLE-compatible system, as well as standard belts, allowing it to be at your side whenever it's needed. For a high-quality blade designed and built from the ground up to be a close-quarters fighting knife you can count on, $350 is a bargain. Plus, you've been investing in the stock market since 1536, so money really isn't an issue at this point. Click here to purchase. 
3. Browning Outdoorsman Hatchet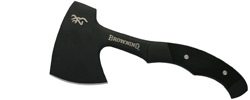 All right, let's get real here. As much as we say that this is all just for fun, there's always a chance that it might all be happening, that there is a "Prize" and that the Kurgan might be waiting right around the corner. Right? Well, if a final showdown between you and an immortal warrior is looming and a clean decapitation is all that's standing between you and being the "One," then it's probably a good idea to have the right tool for the job.
I know what you're thinking right now. We've already covered two blades. Why do we need a third? Well, buckle up, 'cause Uncle Evan is gonna learn you a thing. See, katanas and the Shinbu are great for slashing, but Kurgan-decapitation is more of a "chopping" chore. Trust me, I took a college course on it. So, what better tool to have than a Browning Outdoorsman Hatchet, which is specifically designed for chopping? I mean, is there really much difference between a hunk of wood and the leathery neck of an immortal demi-god? (Yes, that is a question I just got paid to ask. Get on my level.) Available here.
4. Murdoch Scottish Highlanders Pistol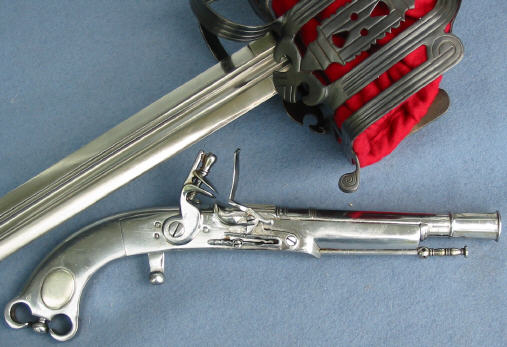 If you've been roaming around the Scottish highlands since the 1530s, chances are that you've picked up a few extras along the way. MacLeod had an entire antiques shop at his disposal, and I'm sure that, tucked away in the dusty corners of his kit box, there were a couple of these puppies: the Murdoch-style Scottish Highland pistol.
Why does an immortal warrior need a pistol? Well, the warrior may be immortal, but his blades sure aren't. If you're Connor MacLeod, then keeping your katana and Shinbu sharp for the ultimate showdown with Kurgan is the highest priority, so any lesser threats should be dispatched through other means. Immortal beings want to keep a low profile, and FFL background checks are more time-consuming paperwork to deal with, so a .52-caliber flintlock will have to do. Plus, it's classy...and available here. 
5. 5.11 Tactical Duty Kilt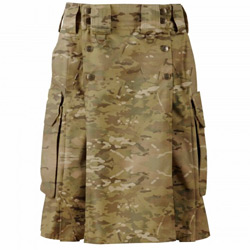 If you're outfitting yourself as a Scottish highland warrior, then I'm pretty sure it's illegal to wear anything but a kilt. However, we can't give up the tactical advantage, so the Tactical Duty Kilt from 5.11 Tactical is the only logical solution. The Tacti-kilt is made from high-strength ripstop fabric and provides a wide range of movement, ensuring that your fight with Kurgan won't be hamstrung by limited ability. Plus, the kilt features 1.75-inch belt loops that allow you to secure blades and pistols with ease. At $74.99, it's a bargain that completes the perfect "Highlander" EDC kit. You can get it here.