by
posted on November 9, 2016
The duct tape had failed me.
I realized this as I just barely managed to catch myself before I went face-first into the gravel road that surrounded the shooting range.
I've never been the most graceful woman
, and it certainly didn't help that my home repair on the cuffs of the too-long tactical pants I was wearing had apparently let the cuffs (and me) down. At 5 foot 5, I'm about average height for an American woman, but the problem was that the pants I had on were designed for an American
man
. Sadly, they were the only ones I could find in anything approximating my size, and I'd been sternly warned that I was going to need something tougher and more practical than blue jeans for the day's range exercises. 
Of course, when it comes to gear suitable for the range, there's more to it than the length of the inseam. Women's bodies are shaped differently than men's, and there's only so much you can do with needle, thread (and duct tape) to MacGyver your togs into something that works—let alone is flattering. The great news is that more and more manufacturers are getting the news that women are a
fast-growing demographic among shooters and hunters
. Although I'm certainly no expert on all things tactical, I'm frequently called upon to follow
real
experts around while they do their thing. Here's a quick rundown of some women's tactical wear that I've personally tried and that at least allowed me to keep up. Starting at the feet, we have:
1. Cabela's/Meindl Women's Perfekt Lady Hikers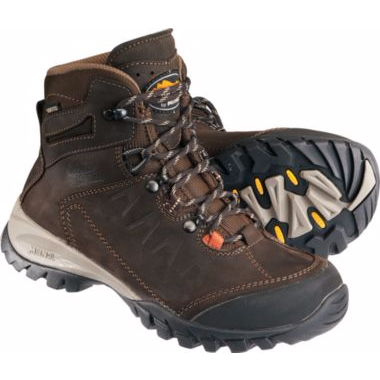 They're not black and they don't necessarily scream "tactical," but these ankle-height hiking boots from Cabela's have served me well while I tried to negotiate the Hunter Safety Trail
behind a bunch of 16-year-olds at the Whittington Center
and while
getting completely owned by Il Ling New at Gunsite
. The height offers plenty of stability to your ankles while you're trying not to skid off a steep gravel trail, while the Gore-Tex construction kept my feet dry in the middle of a sudden thunder/hailstorm. They're offered in a medium width, but I've noticed that the toe-box is broader than most women's sports shoes, which compensates for the way one's feet will "spread" a bit when one is carrying what feels like 20 pounds of camera equipment.
2. 5.11 Raven Range Tight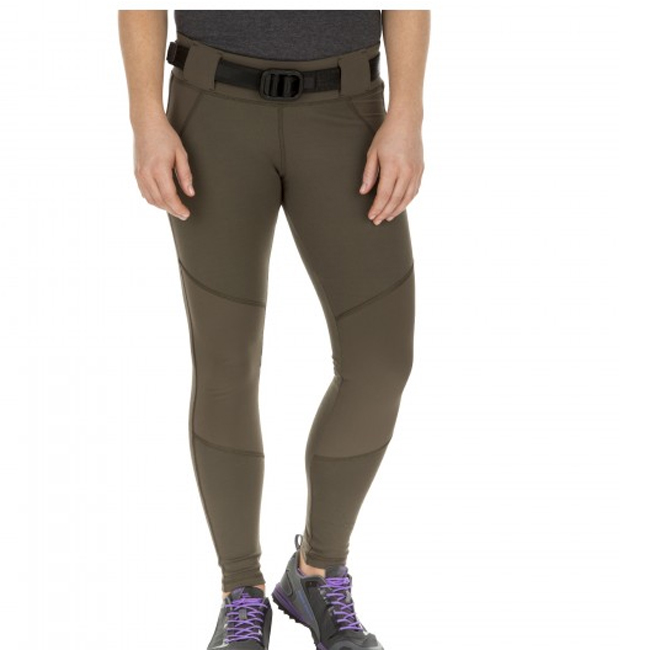 The minute
I saw these at the 2016 SHOT Show
, I knew I needed a pair. They may look like yoga pants, but they offer so much more: they've got a heavy, durable knit construction, belt loops so you can belt them and abrasion panels for your belt and holster. They're flattering, tough and they wick moisture, but they're also every bit as comfortable as you expect a yoga-inspired pant to be. The inseam is 26.5 inches, so if you're shorter they'll hit right at the ankle; if you're taller, higher on your calf. Either way, you won't trip on them. Since I've had them, my hip holster and I have slipped unnoticed among the soccer moms at the coffee shop, gone for long backcountry hikes and hit the range to zero in my rifle. (The only thing I
haven't
done, come to think of it, is yoga.) 
3. BLACKHAWK! Advanced Tactical Knee Pads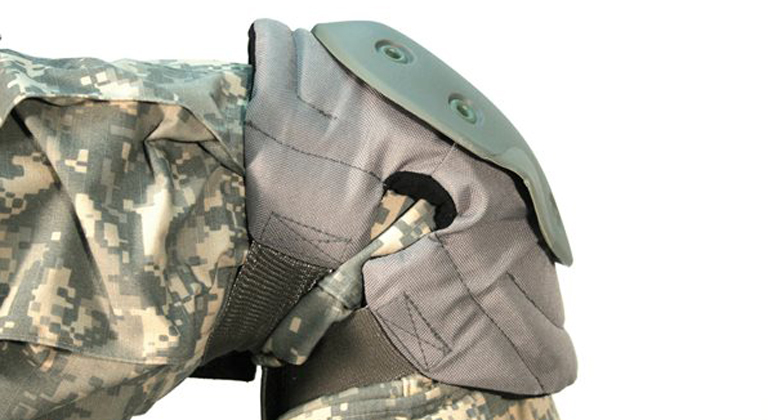 Admittedly, this one is kind of a cheat, because these kneepads are unisex. That said, if you're going to be doing any kind of shooting training that will involve you needing to get into the kneeling position, you are going to want these. Yes, even if it's at an indoor range
—they don't tend to be carpeted. They're tough, they're fully adjustable, and they'll protect your pants and your poor patellas as well. 
4. Galco CB3 Concealable Contour Belt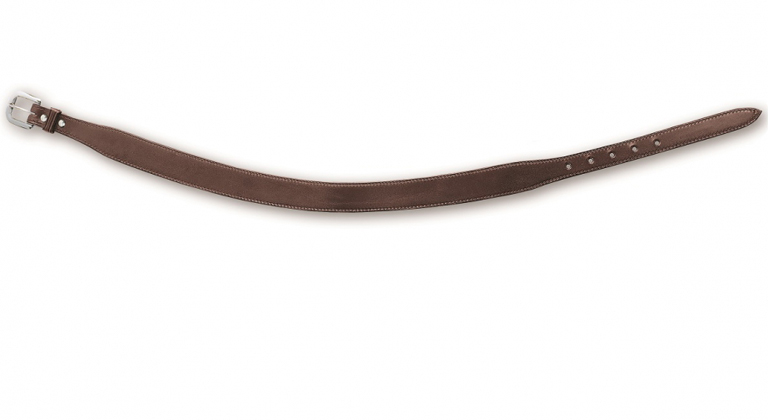 The first time I went to the range for shotgun training, I wore one of my own "fashion" belts. It lasted through about two hours' worth of having a shell bag hung from it, then started to split at the seams. The next time I went to the range for shotgun training, I wore a 1 and 1/2-inch Contour Belt from Galco Gunleather. The difference was night and day; this belt is made from iron-tough leather designed to support the weight of pretty much whatever gear you want to hang from it. But what I've really enjoyed is that this belt does better at a belt's primary function
—holding your pants up—than any other I've ever owned. The countour makes it so the belt is truly form-fitting, and my pants won't do that obnoxious thing where they slide down underneath the belt like I'm trying out for Ringling Bros. It comes in brown (shown) and black, and it's a little spendy, but mine has already survived five years of the worst I can throw at it so it's been worth every penny.


5. 5.11 Heartbreaker Flannel Shirt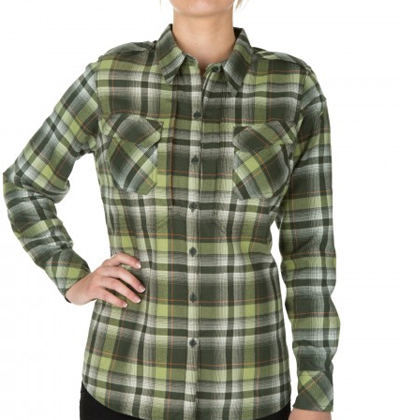 I'll go ahead and admit it: I didn't buy this shirt because I intended to wear it as tactical gear. I bought it because it was cute. But when it showed up, I quickly realized that the shirt offers some terrific features I'd overlooked:
pockets
. Hidden pockets. In-plain-sight pockets that actually snug closed with hook-and-loop, so you don't have to iron them flat. A pen pocket on the left sleeve. (Any men who may be reading this might not understand just how exciting it is to have functioning pockets. Any women reading this, please explain it to the men.) Plus, although the cut is flattering and feminine, it's roomy enough to skim over a hip, IWB or SOB holster as long as you leave it untucked. Finally,
mirabile dictu, 
it's a nice warm flannel that actually allowed me to turn off the space heater at my desk. 
6. ScotteVest Annie Jacket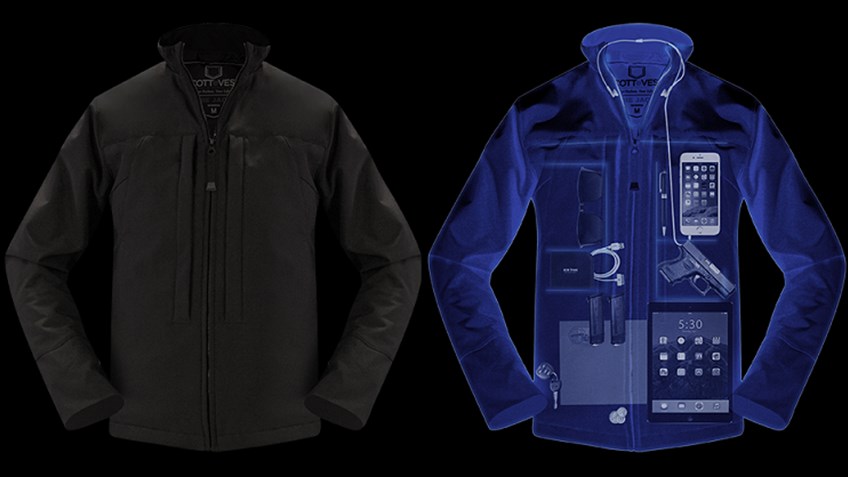 This is the only item on this list that I haven't personally had a chance to test, but American Rifleman's Kristen Voss gave it two thumbs up.
You can read her assessment here.
What are your favorite "utility" clothes? Tell us in the comments!