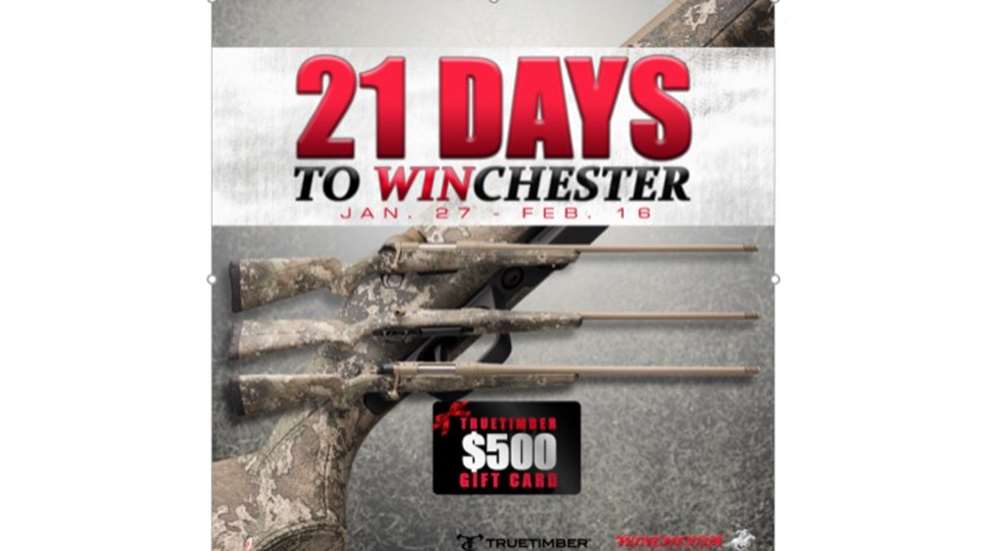 Want to win a Winchester XPR TrueTimber Strata MB bolt-action rifle? If you're asking yourself what a Winchester XPR TrueTimber Strata MB bolt-action rifle is, that's because the person who wins this giveaway will be one of the first people to get their hands on this brand-new XPR! The rifle is a variation from Winchester Repeating Arms, and it's so new that the first production models won't roll off the line until later this year. We'll tell you more about it in a moment...but first, here's how the giveaway works.

The giveaway is called "21 Days to WINChester," and it's the brainchild of Winchester Repeating Arms and TrueTimber. One lucky winner will be randomly selected at the end of the 21-day promotion period to win a Winchester XPR Strata MB in TrueTimber Strata camo and a $500 TrueTimber gift card. To enter, fans should visit TrueTimber.com/giveaway and fill out the online entry form. Promotion ends February 16, 2021.
"We are really excited to start the new year with this great giveaway alongside our friends from Winchester," said TrueTimber CEO Rusty Sellars. "Winchester has knocked it out of the park once again with this new XPR and we absolutely love it in our Strata camo pattern. Winchester has long been a trusted name in the industry for creating high-performance, reliable guns that are extremely popular with all kinds of hunters. We are thrilled to see the XPR Strata MB added to the long list of Winchester guns available in TrueTimber camo and we can't wait to crown a winner."

This giveaway is open to continental U.S. residents only and entrants must be age 21 or older. Other restrictions apply. For more information and additional coverage on the giveaway, fans are encouraged to follow the hashtag #21DaysToWINchester on the TrueTimber and Winchester social media pages. TrueTimber.com/giveaway

The XPR TrueTimber Strata MB is the latest variant of the wildly successful Winchester XPR long-range bolt-action rifle. It's available in about a dozen different models and chamberings, with a dizzying array of camouflage patterns and finishes to make it perfect for your sport. Our friends at American Rifleman TV created the definitive review video...watch it here!