by
Evan Brune, Associate Editor, Shooting Illustrated
posted on February 17, 2017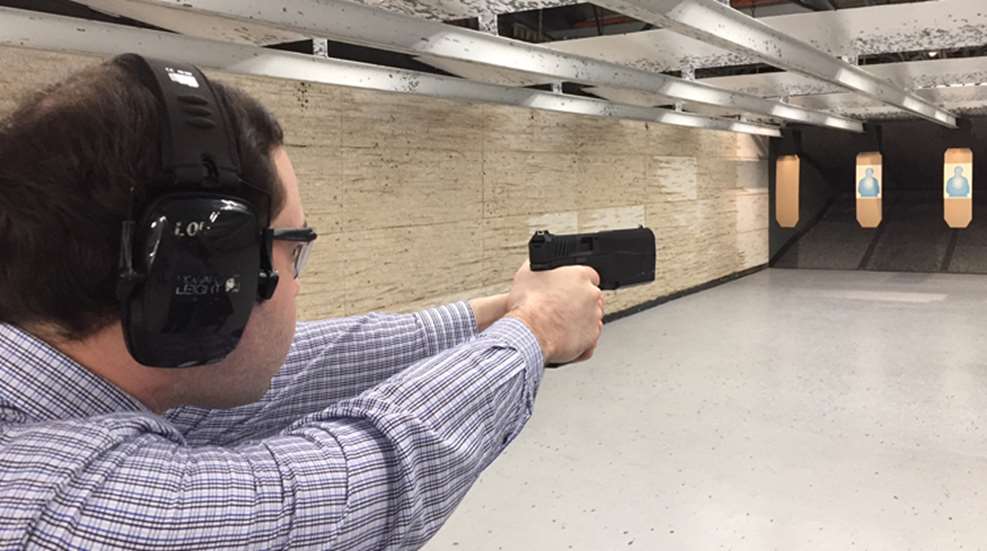 There doesn't seem to be much middle ground when it comes to opinions on Millennials, a generation which consists of people coming into adulthood in the early 21st century. To some, Millennials are tolerant, confident and blazing the way toward a new, better kind of world. To others, the generation is entitled, narcissistic, naïve and thin-skinned.
Whatever people think of Millennials, it's clear that they view the world a bit differently when it comes to guns. A 2015 Gallup poll found that 50 percent of 18-29-year-olds supported stricter gun laws, compared to 57 percent of 30-49-year-olds. Younger people are also less likely to support semi-automatic firearm bans and are more likely to support gun rights, according to the Washington Post.
So, what do Millennials see in shooting and gun ownership? Here are some reasons:
Fun
First and foremost, shooting is an incredible amount of fun. Contrary to popular opinion, getting a small bullet exactly in the bullseye of a target takes a great amount of skill and effort, and the skill and effort required only increases with distance, elevation, weather and other variables.
However, on the flip side, beginners can still garner a tremendous amount of satisfaction by getting their first few rounds on paper from several yards away. Unlike many hobbies, shooters can get instant rewards by setting up the sport on their own terms. Whether poking holes in a 2-liter soda bottle at 10 yards or putting a 6.5 Creedmoor round into the X from 1,000 yards away, there's always a grin, laugh and a cheer, no matter what.
Cost
Relatively speaking, shooting is one of the least expensive sports to get started in. For example, a new shooter can go to Cabela's and get a Savage Arms Model 64F semi-automatic rifle and 100 .22LR rounds for $150. Of course, there is no limit to how much individuals can spend on firearms and ammunition, but an up-front investment of $150 beats out most other sports. A good pair of running shoes costs more than that.
After just $150, you already have a rifle. An extended range session of 200 Winchester .22 rounds costs just $17. It would cost an adult more money for a 3D movie ticket at AMC Theaters ($17.69 as of February 2017) than to shoot 200 rounds of rimfire at the range.
With all of the college debt and budget woes impacting Millennials these days, an afternoon on the range with a .22 rifle doesn't look too bad, financially.
Community
Of course, shooters can have fun on their own, but it's even better when shooting with family, friends or gun club members. The shooting sports are full of kind, interested people who won't hesitate to lean over and ask about that pistol being pulled out of a range bag. Some of the greatest friendships are built on the range, whether it's some friendly ribbing over a missed shot or a collaborative cheer after watching a shaken soda bottle explode with a well-placed rimfire round.
Past the beginning stages, communities grow and get stronger. Gun clubs host friendly weekend shoots for friends to gather and test each other's skills. National competitions, such as IDPA, IPSC and 3-Gun, bring together like-minded folks who leave behind the dread and division of the world to get together and talk about rifles, courses of fire and big news in the firearms family.
Self-Defense
On a more serious note, police departments all around the country fight a never-ending battle against crime, and officers do an incredible job keeping the public safe, often at the expense of their own safety and lives.
Unfortunately, the reality is that law enforcement often arrives at the scene of a crime far too late to prevent victims from being robbed, assaulted or worse. The length of most assaults and robberies can be measured in seconds.
Assuming a victim has the ability to call 911 before or during an assault, average police response in the United States was recorded at 11 minutes in 2015. Some cities took even longer, such as the 20-minute average response time of New Orleans police or the Detroit police at 56 minutes.
While crime has been decreasing overall in the US, The Bureau of Justice Statistics recorded that 1 in 100 people in 2015 experienced some kind of violent crime. Thus, it behooves Millennials to reap the benefits of their right to self-defense and learn how to safely and effectively handle firearms in order to defend themselves and their families.
The shooting community offers a number of avenues for the new shooter, and there are resources available for those interested in learning more. The National Rifle Association offers a number of classes that help new shooters familiarize themselves with firearms and understand the basic principles behind self-defense and concealed carry.