by
posted on June 11, 2017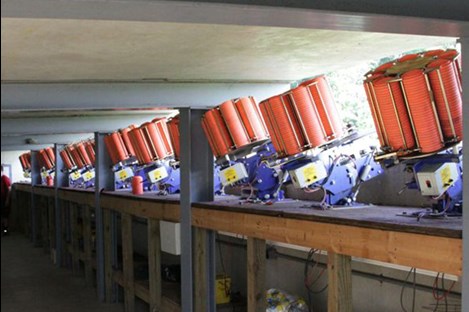 Nineteen-year-old Chris Wilkoski began his Bunker Trap career by standing atop and shooting from a picnic table at a local gun club. "We called it Hillbilly Bunker," he said, "because shooting from a picnic table behind two traps somewhat simulated Bunker Trap."
From those humble beginnings, Wilkoski has gone on to become a current member of the USA Junior National Shooting Team, as well as the USA World Shooting Team, specializing in Bunker Trap. Born and raised in Sunbury, Ohio, Chris now shoots and trains at the nearby Cardinal Center-where he no longer has to shoot from a picnic table.
Bunker Trap is similar to American Trap, but only in the general way a sports car is similar to a mini-van. In Bunker, also known as International Trap, there are five shooting stations. However, while an American trap house holds one oscillating trap machine, a bunker trap house contains 15 fixed traps. In other words, Bunker Trap machines do not oscillate.
At all five Bunker Trap shooting stations, a target is thrown from any of the three traps directly in front of a shooter. In addition, Bunker Trap targets fly at wider angles than American Trap, up to 45 degrees, and may also be thrown higher or lower. Each shooter gets the same targets during a round of 25, but does not know for sure in what sequence the targets will be thrown. The main difference between the two shotgun games, however, is target speed.
"An Amateur Trapshooting Association (ATA) clay target flies at 45 mph," said Wilkoski, "but a Bunker Trap clay target moves at 68 mph. That's quite a difference..."
I found out for myself just how much difference 23 miles per hour can make. After interviewing Chris for this story, I was taking a few photographs of him shooting when he offered to let me try a few targets. Using his shotgun, a Browning Citori over-under 12 gauge, I shot at two targets from each of the five shooting stations. And never touched even one.
"I think you were consistently behind all the targets," Chris said from his coaching position behind me. "See what I mean by the difference in speed?"
Another difference in Bunker Trap is that a shooter is allowed a second shot at the same target if he misses with the first. But those birds were moving so fast I was lucky to get off one shot, let alone two. All in all it was a truly humbling experience, making me appreciate the level of skill Wilkoski and other Bunker Trap shooters possess. And did I mention that Wilkoski's specialty during competition is doubles? In other words, he's shooting at two targets thrown at the same time!
Chris has several natural gifts that helped make him the exceptional shooter he's become. For instance, he has better than 20/20 vision, extremely quick reflexes and he's tall-six feet, four inches, to be exact. "My height gives me a slight edge because I can see the targets coming out of the bunker a split second sooner than shorter shooters," he said.
Asked what he enjoys most about the sport, Wilkoski mentioned the other Bunker Trap shooters he meets, as well as the international travel. "I'm only 19 years old," he said, "but I've already been to five countries outside America: Dubai, Cyprus, Peru, Germany and Spain." Wikoski is attending his first semester at Ohio State University this fall, studying criminal justice.
What Wilkoski emphasizes when beginning any of the shotgun sports, especially for young people, is proper gun fit. "If a shotgun doesn't fit a new shooter, and as a result every recoil hurts, he or she will obviously not like shooting very much. It's important to have a coach who understands that, and gets kids and new shooters started the right way."
Wilkoski also has a tip for experienced shotgun shooters. He said that once you are on the firing line, if you look down for any reason-say to load your shotgun-it will take at least 10 seconds for your eyes to fully refocus downrange. "So always allow enough time for your eyes to readjust before calling for a target," he said.
Bunker Trap is how the rest of the world shoots trap. If you think you're good at American Trap, and maybe getting a little bored with the game, give Bunker a try sometime. I guarantee you'll not break 25 straight. Bunker Trap ranges are not as numerous throughout the U.S. as American Trap fields, but keep in mind there are always plenty of picnic tables available.
W. H. "Chip" Gross (www.chipgross.com) is a veteran Ohio outdoors writer/photographer, recreational shooter and NRA member.