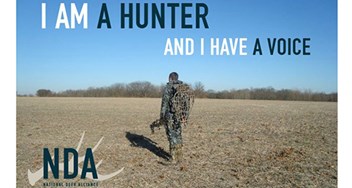 With the beginning of fall looming over the horizon, and the beginning of deer hunting season with it, many hunters have bucks on the brain, myself included. Deer hunting is by and large the most popular type of hunt Americans participate in. Annually, deer hunters spend about $12.4 billion. Yet according to the newly created National Deer Alliance (NDA), only 1 percent of 11 million deer hunters are affiliated with a national species conservation organization, compared to the 41 percent of 1.5 million duck hunters.
NDA's mission statement is as follows: To unite deer hunters like never before and harness this power to achieve positive outcomes for deer and deer hunting.
"Decisions are being made daily which affect deer and deer hunting," said Executive Director, National Deer Alliance Craig Dougherty. "The NDA will give hunters a seat at the table. Deer and deer hunting is too important to exclude hunters from the process of how deer are managed and the future of our hunting heritage."
The NDA hopes to unite and serve as the modern voice for the millions of deer hunters in the U.S. In support of this new organization, the Archery Trade Association (ATA) pledged $100,000. The pledge was made at the Quality Deer Management Association's (QDMA) convention in Athens, Ga.
"The need for a national umbrella deer organization that binds us all together, provides strength in numbers, and gives us the clout to make sure the rest of the world listens, understands and protects the deer resource is long overdue," said ATA CEO/President Jay McAninch. "For us, this group is critical. If there was ever an industry that's built on deer, it's ours."
For anyone thinking they don't need to join because their woods are chock-a-block full of deer and they're sitting pretty-that's all good and well-but it's better to guide the conversation rather than get down the road and realize you're not even a part of the conversation. And they have a killer newsletter with the latest news on deer from around the country, so check it out!
Visit NationalDeerAlliance.com for more information, or to join the alliance. It's free!
Check out the NDA's Facebook and Twitter pages as well.