by
posted on June 20, 2019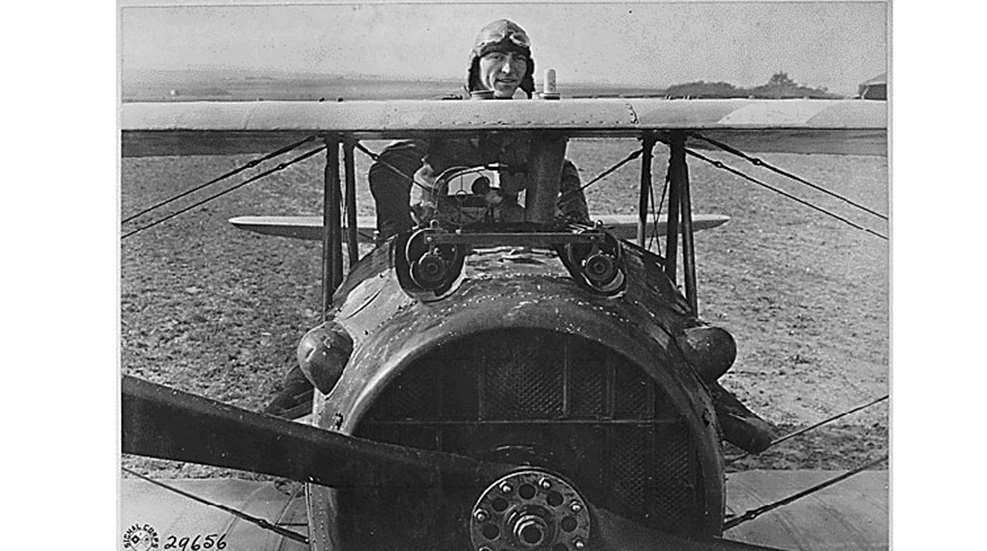 It was the beginning of the 20th Century, 100 years that would see more accelerated change in America than during any century of the past. In 1903, a pair of extraordinary brothers who owned a bicycle shop in Dayton, Ohio, proved to the world that man could fly. And within just a little more than a decade men were using that new technology to kill one another in something called a World War.
World War I (1914-1918) pitted the Allied Powers (England, France, Russia, Belgium, the United States and other nations) against the Central Powers (Germany, Austria-Hungary, the Ottoman Empire and Bulgaria), the fighting taking place in Europe. It was a hellish four years of trench warfare, poison-gas attacks and doughboys going over the top into no-man's land. Yet something never before seen was flying in the skies over the battlefields in addition to artillery shells: two-winged aeroplanes engaged in aerial combat known as dogfights.
Biplanes were fragile by today's standards. With one or two open-air cockpits, the fuselage and two sets of wings were constructed of a wooden frame covered with canvas fabric, not metal. The Germans flew Fokkers and Pfalzs. Allied Power flyers piloted Nieuports and Spads.
History now looks back on that era, when aviation was in its infancy, with romantic notions: dashing pilots wearing a leather helmet, goggles and a white scarf. But to the young men—most were in their early 20s—who actually flew those rickety planes in combat, it was a day-to-day, life-and-death struggle just to stay alive. To kill the enemy and not be killed. It required guts, determination, quick thinking, flying skills and marksmanship. And also a lot of luck.
On to that European stage stepped a tall, handsome young man from Columbus, Ohio, who seemed to possess a lot of luck: Eddie Rickenbacker. He was new to flying but not to speed and daring, as before the war he had been one of America's most celebrated racecar drivers. Eddie loved speed and seemed fearless. Crawling out of several car crashes, for the most part unscathed, he would simply jump into another fast car and continue racing.
Arriving in France in August of 1917 as part of the U.S. Army, Rickenbacker was eventually assigned to the 94th Aero Squadron, an air combat unit that he would one day command. He made his first solo flight after just two short flights with an instructor. Piloting a wide-winged Caudron trainer, Eddie admitted he was "scared to death…"
Upon attempting take off, the Caudron headed straight for a hangar, scattering nearby onlookers. But Eddie gradually eased back on the stick and the craft slowly lifted higher into the air. Then, after circling the field for several minutes, he faced the reality of making his first solo landing. "Flying is the second greatest thrill known to man," Eddie was fond of saying. "Landing is the first."  
When Rickenbacker's mother heard that he was learning to fly, she mailed him a quick letter from home containing this parental advice, "Be sure to fly slow, Edward, and close to the ground."
Eddie Rickenbacker proved a quick study. Learning from every mission he flew over enemy lines, he soon mastered the basic skills of dogfighting: keep your head on a swivel, the sun at your back, and attack enemy planes from above and behind. Of course, the Germans were attempting to do the same thing to him and other Allied pilots.
Rickenbacker's first confirmed "kill" was a German Pfalz. He slipped in behind the plane and, gaining on it, opened fire with his twin machine guns at 150 yards, watching tracer rounds cut into the tail then pierce the cockpit. The Pfalz plummeted from the sky and slammed into the ground a mile inside German territory.   
"I had no regrets over killing a fellow human being," Rickenbacker later wrote. "I do not believe that at that moment I even considered the matter. Like nearly all air fighters, I was an automaton behind the gun barrels of my plane."
Eddie Rickenbacker would go on to shoot down many more enemy planes during his military flying career, a total of 26 in all. By his count, he survived 134 aerial combat encounters.
It took five kills, confirmed by at least one other person in the air or on the ground who witnessed the event, to become an ace. By war's end, Rickenbacker was the top American pilot with the most kills, making him America's ace of aces, a title and honor that would precede him the rest of his life.
A German pilot who had many more kills during World War I than Rickenbacker was Manfred Von Richthofen, the infamous Red Baron; so-named because the nose of his plane and that of his squadron, known as "The Flying Circus," was painted red. Richthofen is credited with shooting down an incredible 80 Allied planes before he himself was shot down and killed over Vaux-sur-Somme, France, on April 21, 1918, just seven months before the end of the war.
Following World War I, Eddie Rickenbacker returned to civilian life in the United States, marrying Adelaide Frost and eventually adopting two sons, Bill and David. But even though Eddie was now a family man, he never lost his passion for car racing and aviation. He became the owner of the Indianapolis Speedway (today known as the Indianapolis Motor Speedway, home of the annual Indy 500), as well as president and general manager of Eastern Air Lines.
It was on one of his many business flights with Eastern that Eddie was involved in a tragic airplane crash on February 26, 1941. He was a passenger on a plane attempting an instrument landing at Atlanta, Georgia, on a foggy, rainy night. When the pilot, Captain James A. Perry, informed Eddie of the conditions at the airport, Rickenbacker said, "You're the pilot, do what you think best."
No one knows why the DC-3 crashed, speculation pointing to faulty instruments. Eight people were killed, three crew and five passengers, and eight were injured. Eddie suffered such serious injuries that he was hospitalized more than four months and would walk with a limp the rest of his life. But once again Rickenbacker luck prevailed...he had survived.
Later in life, Eddie Rickenbacker would survive yet another airplane crash. During World War II he was a civilian passenger aboard a military plane that ran out of gas while trying to locate a tiny refueling station in the Pacific Ocean and had to ditch. He and six other men spent 24 days in three small, rubber life rafts before being rescued. One of the men didn't make it, dying of exposure.
The terms "hero" and "larger than life" are used frequently today, almost casually, often describing men and women who have accomplished and endured far less during their lifetimes than Eddie Rickenbacker. A true American hero, he died at the age of 82 on July 23, 1973, of sudden heart failure.
Captain Eddie Rickenbacker—America's Ace of Aces—was honored with no less than three memorial services. The final resting place of his cremated ashes is next to his parents' graves at Greenlawn Cemetery in Columbus, Ohio.