by
posted on March 8, 2020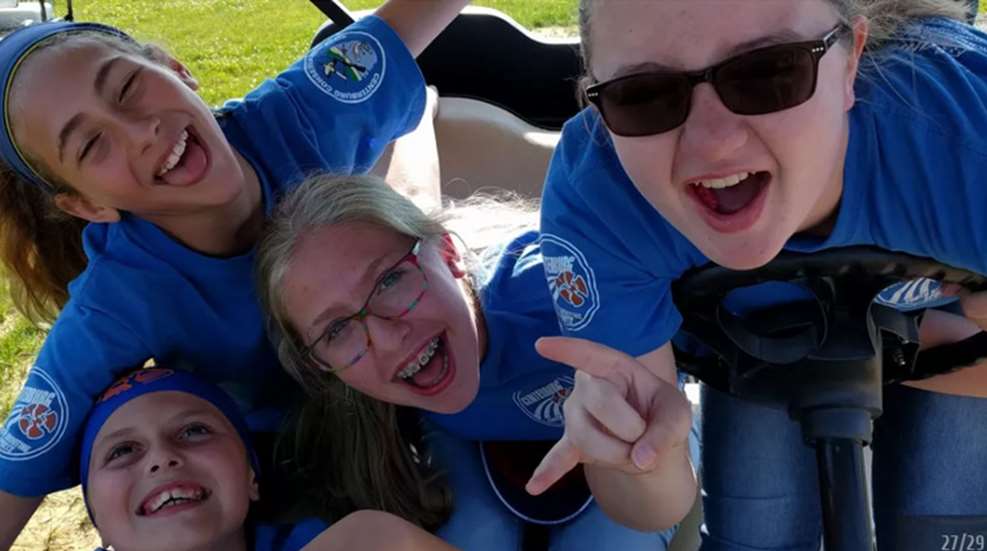 While some young people in America are choosing to spend their time protesting for stricter gun-control laws, other teens are busy having fun enjoying their Second Amendment freedoms. They're doing so by participating in youth shooting team sports, learning to properly and safely handle firearms while at the same time becoming better shots.   
One such team in Ohio is Centerburg Youth Shooting Sports. Located near the geographical center of the Buckeye State, the team was started in 2000 by local gunsmith Jim Eyster, and since 2009 has been coached by Rob Kinsella, assisted by Jack Matzel.
"Ohio has a long history of well-established youth shooting sports, particularly clay target programs," said Kinsella. "There are currently about 30 active youth teams in Ohio organized through the Ohio State Trapshooting Association (OSTA). Some of the teams are as small as four or five shooters, while others have as many as 50 shooters or more. Both boys and girls in grades four through 12 participate, and they compete in the national Scholastic Clay Target Program (SCTP)."
Kinsella, a lifelong shooter himself, said that what he enjoys most about coaching young shooters is what happens off the shooting line. "For example," he said, "as a coach you're not only teaching young people how to safely handle a firearm and shoot accurately, you are also helping them learn and develop life skills, building character. All shooters have good days and bad days on the range, and we try to teach the kids how to handle those extremes. Sure, as a team we want to win; but our motto has always been: Shooter first, win second."
During the past few years, the Centerburg Youth Shooting Sports club has added a .22 rifle, .22 pistol and centerfire pistol program, competing in the national Scholastic Action Shooting Program (SASP). 
"Competitive recreational shooting is not inexpensive," said Kinsella, "especially for families on a tight budget, so obtaining team sponsors is important." That said, Kinsella wanted to give a shout-out of thanks to the following supporters of the Centerburg team: Mid-Ohio Friends of the NRA, Knox County (Ohio) Pheasants Forever, Midway USA Foundation and the Centerburg Conservation Club.
One of Centerburg's young shooters is Rylan Baker, age 13, who joined the team when he was just seven. Asked what he enjoys most about team shooting sports, his answer was somewhat surprising. "I like the challenge, but I'm not a highly competitive person," he said. "What I enjoy most is hanging out with the other team members and having fun, just shooting."
Competitive shooting has kindled big dreams for Rylan. He says that following high school he'd like to join the military—Air Force or Army—and possibly one day become an Olympic shooter. 
With the help of Rylan Baker, Centerburg shooting squads took both first and third places in the Intermediate Division of the SCTP National Championships last year. Centerburg will have a chance to defend its medals when the SCTP National Championships return to the sprawling Cardinal Shooting Center in Ohio this summer, July 14-21. 
Another national, youth-oriented clay target program working its way into Ohio and other states in recent years—a total of 19 states so far—is the USA High School Clay Target League. Begun in 2008 in Minnesota, the program bills itself as "the fastest growing and safest high school sport." Josh Kroells is the Ohio state coordinator.
"It's a nine-week spring shooting program designed to attract students to participate in the shooting sports while creating friendly competition among high schools," said Kroells. "Teams consist of a minimum of five kids, both boys and girls grades six through 12, and to participate all shooters must have a league-approved firearms safety certificate. There is no maximum size to a team, and everyone shoots every week. Unlike other school sports there are no bench warmers, including kids who are physically challenged."
The competition is virtual, meaning that teams shoot at their own local trap ranges, then upload their scores weekly via computer to the League's website, comparing themselves to other teams throughout the country. The only travel required is if a team chooses to attend their respective State Tournament. This year, for the first time, there will also be a National Championship shoot, scheduled for July 12-15 in Mason, Michigan. 
During the last decade, the USA High School Clay Target League has surged in numbers from just three schools and 30 kids to now more than 800 schools and nearly 22,000 student athletes. And the program continues to grow. The organization's priorities are safety, fun and marksmanship—in that order. If you'd like to form a team at your school, either as a shooter or a coach, go online to www.usaclaytarget.com for more information.   
American headlines may be full of negative news these days, but that's not all there is to the story. The positive news is that many young people—boys and girls, young men and young women—want to see the firearms heritage in our country continue, and are shooting to make that happen. May their tribe increase…