by
posted on March 3, 2020
For the last seven years Gamo USA has put on the largest small-game event in the nation, aptly named the Squirrel Master Classic. For those not familiar, the SMC is a two-day event involving some of the largest T.V. hunting personalities spanning across several different networks. Coupled with knowledgeable guides and world-class squirrel dogs, six teams take the luckiest 4H kids in the nation out on the hunt of a lifetime. This year I was lucky enough to receive my fifth consecutive invitation, and as always I was not disappointed.
Our event started off with the introduction of Gamo's newest line of air rifles, the Swarm Fusion 10X Gen 2 and our surprise guest--sports legend Bo Jackson. While Bo's professional sports career was quite impressive, even he took a backseat to the introduction of the new squirrel slayer. Built on the success of Gamo's original 10-shot break-barrel platform, the Gen 2 utilizes a new magazine system that is easier to fill and sits much lower, allowing for the return of "iron" sights. For these Gamo went with a click-adjustable rear sight and a fixed front sight that can be easily removed for use with an optic. Both sights house fiber optic rods, making them highly visible in the woods. Coupled with the included 3-9x scope, this creates a perfect package for nearly any style of small-game hunting, target shooting or competition.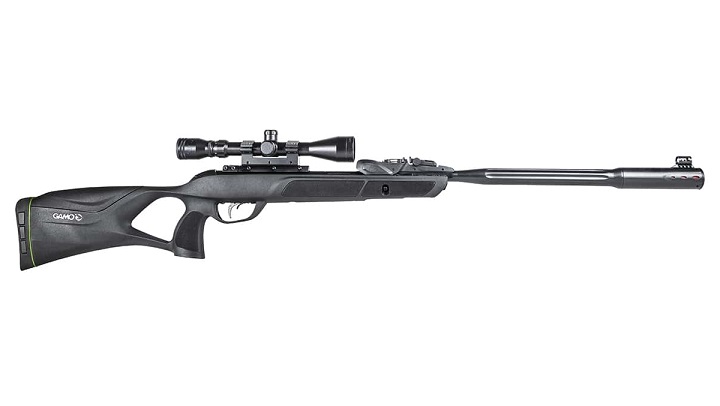 Before hitting the woods, we had a brief period to get a feel for our rifles as well as sight them in. I took this opportunity to upgrade my optic to a TRUGLO Intercept 3-9x24mm. While the included Gamo scope is adequate, let's just say that I'm starting to approach the age where my eyes appreciate an illuminated reticle. Once finished I joined my team and started our trek to the hunting grounds. For the second year in a row, I was graced to be on Team Raised Hunting led by David and Karen Holder, and this time complete with their sons Easton and Warren. Our dogs Gunner and Molly led the way, while we did our best to keep up with them to bring down whatever they treed. We had several one-shot harvests...the overall accuracy of these rifles was astonishing, as many of those squirrels were more than 40 feet above our heads.
Upon our return to camp, we turned in a bounty of 18 grey squirrels, tying us for second place with Team Bone Collector, led by Michael Waddell and putting us right on the heels of Team Buckmasters, led by Jackie Bushman (who somehow managed to pull in 31 squirrels). Over an amazing fried chicken dinner cooked up by the staff of the Southern Sportsman Hunting Lodge, we all kicked back and shared stories of our hunt and what we liked about the new rifle. A few hunters found that they actually preferred the open fiber-optic sights, as they allowed for fast target acquisition and the ability to spot a second squirrel while they were occupied with the first. Some of the folks with dexterity issues commented on how the rotating magazine cylinder now locks on its own as you advance it in order to refill it with pellets. After exchanging a few factual hunting occurrences, and more than a few downright lies, we retired in order to rest up for the main event.
Day two started off with the same folks grouping up and getting afield right at first light. Our team pulled in another 19 squirrels, leaving us with a total of 37, putting us in second place before the noon shooting competition. This year the shooting competition consisted of four legs that included a rigorous Daisy Red Ryder challenge, a hidden-target woods walk, a precision PCP challenge and, of course, the 4-H shooter showdown. Team Raised Hunting came in second on the Red Ryder Challenge, earning us 30 points to Team Realtree's 50. The Holder Family nabbed us an extra 23 "squirrels" with their first-place finish in the woods walk, while our 4-H'er, Trinity Sandoval, braved the freehand position and got us another eight. Yours truly was elected for the precision challenge and I turned in 100 percent, earning another six.
The event ended with a count of each teams' harvest as well as a dramatic tallying of competition points. While Jackie Bushman and Michael Waddell did their best to stuff as many frozen squirrels in their bags without getting caught, it didn't matter because we celebrated a new first-time champion this year, Team Realtree. While the second-place finish stung, the true insult to injury was watching my arch-nemesis Larry Case walk off with my trophy!
Of course, I kid and that is the true magic of the SMC, the relationships and the time spent together laughing and razzing each other both in the woods and at the lodge. Our dog handler, Victor Bridges, said something very profound on our first ride to the hunting grounds and that was, "I'm looking at it like a Baptist, I'm just here for the food and the fellowship." All time spent outdoors with friends and family is best served with that mindset, as it eliminates any stress and allows us to enjoy one another. If you haven't tried squirrel hunting, or are looking for a great way to introduce the family into the shooting sports the Gamo Swarm Fusion 10X Gen 2 is the perfect piece of equipment to do it without the recoil or noise associated with firing a shot. For more information visit GamoUSA.com.