When faced with a difficult task we are inclined to buckle down, put forth tremendous effort and apply maximum force. Everyone knows that guy whose most-used tool is his mallet. (I'm actually partial to the Dremel tool, but who's judging? Not me.) I have learned that relaxing the grip, applying a little finesse and working with the correct tool is often a winning combination. 

This concept is true for the ever popular Smith & Wesson M&P pistol. If you have one, and have taken it down for cleaning, then you know the trigger pivot pin is arguably the most difficult part of the pistol to reinstall. You may have tried to slave the trigger using a steel punch, undoubtedly choked up on said punch, and applied enough force to expose the veins in your forehead in an effort to elongate that pesky spring. I know because that is exactly what I did before learning this simple trick I will now share with you.

With the muzzle facing away, slave the trigger bar and trigger return spring from the right side using the S&W-provided disassembly tool. This tool is much better suited for this task than an inflexible steel punch. (I prefer to keep the provided tool pristine in the grip and have another strictly for doing work.  It is available for purchase at Brownells here.) Move your fingertips to the end of the punch and gently bend it back and forth. Use your left hand to gently apply pressure on the pin from the left side. Continue to articulate the M&P tool until the trigger pin is fully seated. It should take just a moment and very little effort. When performed correctly, it will look like this: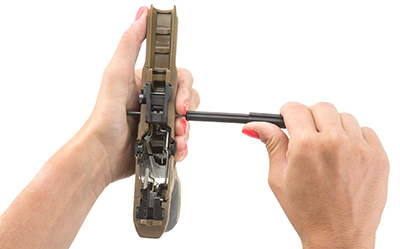 It is important to note that Smith & Wesson M&P pistol pins are removed from right to left and reinstalled from left to right. Leave in the sear housing assembly pin. There is no reason for the assembly to come out. If you suspect this area requires attention, seek assistance from a certified S&W armorer.

An armorer once told me, "Good armoring is about slaving and having the right tools." So, I encourage you to invest in the appropriate tools for your firearms, apply finesse and resist the temptation to use your mallet.