by
posted on January 20, 2020
Last year, Mossberg rocked the gun world with the introduction of their MC1sc, the company's first semi-auto handgun in a century, but the company isn't done innovating: The 2020 SHOT Show welcomes Mossberg's new generation, the MC2c (compact) 9mm pistol. This latest iteration of the Mossberg pistol was purpose-built from the ground up as a concealed-carry self-defense tool with all of the reliability and functionality of its "big brother," but boasting superior ergonomics, increased capacity and a choice of five initial offerings.

"The impetus behind the MC2c was that so many shooters were asking for the same basic fit and concealability, but with a step up in ammunition capacity, and an incrementally larger frame that makes it just that much easier to grasp properly," reported Mossberg's Linda Powell.

The MC2c is, obviously, quite compact--that's what the lower-case "c" stands for in its name--with a 3.9-inch barrel and an overall length of 7.1 inches. It's remarkably slim with a 1.1-inch width, and weighs in at 21 ounces unloaded. The MC2c uses a double-stack magazine that holds 13+1 with its (included) flush 13-round magazine, or a 15+1 capacity with its (included) coated-steel extended magazine. Although it's very likely that Mossberg will continue to roll out more models of the MC2c over the coming months, right now the first five models will include two frame variants (standard and cross-bolt safety); choice of slide finishes (black DLC-finished or bead-blasted stainless steel); and optional TRUGLO Tritium Pro Night sights.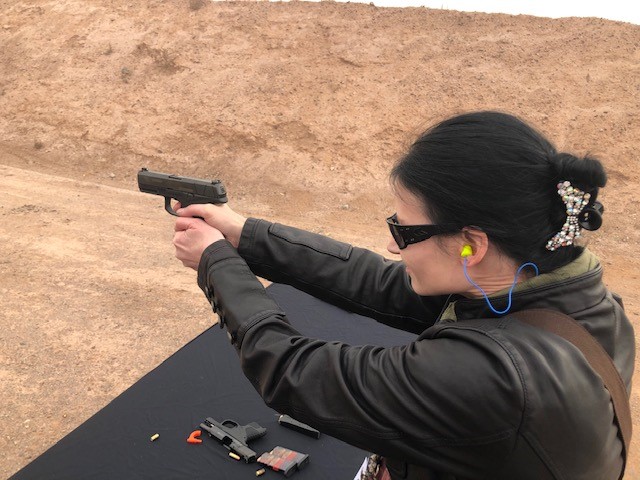 Like the MC1sc, the MC2c is eminently comfortable to shoot...only more so! The grip has an added palm swell and grip angle, like a 1911, and features Mossberg's signature aggressive texturing for a more confident, firm grip. The stainless-steel slide features aggressive multi-angle serrations that provide positive slide manipulation and MC2c pistols also have a reversible magazine release, located behind the trigger guard. Great news for lefties: Models are available with a cross-bolt safety, which is reversible for right- or left-handed shooters. Other standard features include dovetail-mounted, low-profile white 3-dot sights (drift adjustable); stainless steel barrel with cut-broached rifling and 1-in-16 twist rate with black DLC finish; front accessory rail; oversized trigger guard; and flat-profile trigger with integrated blade safety. Trigger features include short, tactile reset; reduced overtravel; and approximate 5.5-pound trigger pull weight.
The MC2c was also clearly designed for both safety and hard, everyday use. The frames are constructed of glass-reinforced polymer, which provides for high tensile strength and stiffness as well as high impact and chemical resistance. Integrated into the slide is the Mossberg STS (Safe Takedown System), which unlike does not require the user to pull the trigger to dissemble for routine cleaning or maintenance. 
The specifications and manufacturer's recommended prices are below! Want to learn more, or to locate a dealer? Go to www.mossberg.com.
 Mossberg MC2c Handgun Specifications:
 

ITEM

 

TYPE

 

CALIBER

 

CAPACITY

 

 

BARREL / SLIDE

FINISH

 

SIGHTS

 

OVERALL LENGTH

 

FRAME / FINISH

 

APPROX WEIGHT

 

MSRP

 

89012

 

Compact

Handgun

 

9mm

 

13+1

15+1

3.9 in

Stainless Steel     Black DLC

 

White

3-Dot

 

7.10 in

 

Glass-Reinforced Polymer

 

21 oz

 

$490

 

89014

Compact

Handgun / Cross-Bolt Safety

 

9mm

 

13+1

15+1

 

3.9 in

Stainless Steel     Black DLC

 

White

3-Dot

 

7.10 in

Glass-Reinforced Polymer

Reversible Cross-Bolt Safety

 

21 oz

 

$490

 

89016

Compact

Handgun

Night Sights

 

9mm

 

13+1

15+1

3.9 in

Stainless Steel     Black DLC

 

TRUGLO Tritium Pro

 

7.10 in

 

Glass-Reinforced Polymer

 

21 oz

 

$595

 

89020

 

Compact

Handgun

 

9mm

 

13+1

15+1

3.9 in

Black DLC – Barrel

Slide – Matte Stainless Steel

 

White

3-Dot

 

7.10 in

 

Glass-Reinforced Polymer

 

21 oz

 

$490

 

89018

Compact

Handgun / Cross-Bolt Safety

 

9mm

 

13+1

15+1

3.9 in

Black DLC – Barrel

Slide – Matte Stainless Steel

 

White

3-Dot

 

7.10 in

Glass-Reinforced Polymer

Reversible Cross-Bolt Safety

 

21 oz

 

$490