by
posted on January 23, 2020
Marlin
, the storied lever-action rifle company, is entering its fifteenth decade in operation this year--and going stronger than ever with exciting new twists on the 150-year-old technology for which they're justly famous. This year's
SHOT Show
served as a sort of sesquicentennial celebration (say that three times fast), but as it turns out, the cool birthday surprises are for us. Here are three cool new products from Marlin that we found at SHOT 2020...and one old one. 
1. The Marlin Dark 1895 in 2 New Pistol Calibers 
(pictured above)
Last year, the
wildly popular debut of the Marlin Dark series
--modern, practical and tactical lever-action rifles--proved that the lever gun is timeless technology. Initially offered in traditional lever-action rifle calibers like .45-70 Gov't., the 2020 line will include two new pistol calibers: .357 and .44 Magnum. As pistol-caliber carbine fans know, having the ability to feed both your handgun and rifle with the same ammunition is a real boon for home defenders and hunters. The versatile, hard-hitting .357 and .44 are excellent choices...and we suspect there may be more chamberings to come.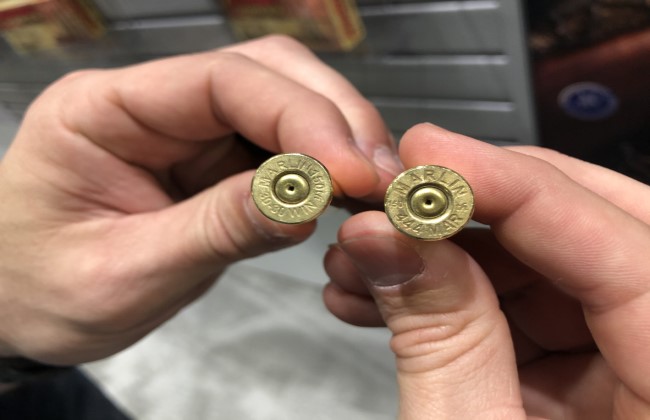 2. Marlin 150th Anniversary Ammunition
To mark its 150th, Marlin is introducing a limited run of Marlin 150th Anniversary Ammunition. Each one is headstamped with the Marlin name and anniversary date, making it a neat little collector's item as well as a great way to celebrate 150 years of all-American shooting. It's available in .22LR, .444 Marlin, .45-70, .30-30 and .35.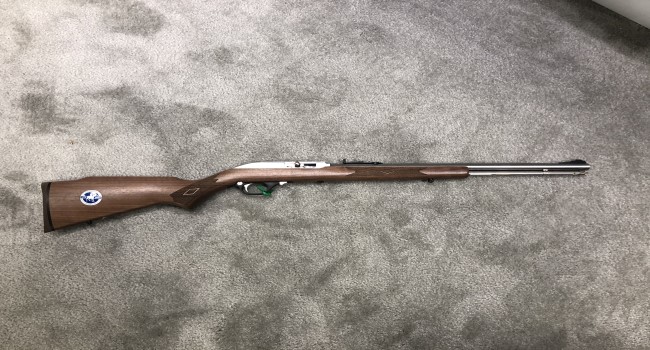 3. Marlin 150th Anniversary Model 60
If you love the classic Model 60, you'll love this beautiful new treatment in honor of Marlin's 150th. The above photo doesn't quite do it justice; the black walnut stock is exquisite, and the stainless steel furniture has a Cerakote coating that makes it nearly refractive in the right lighting. Available only in .22LR, it features a 150th-Anniversary coin inset into the stock and a special serial number. 
For all of the above 150th Anniversary Marlin products,
check out their anniversary page here
!
But wait...what about the "one old" product you were promised? Well, luckily for us, this year's booth featured some museum pieces...including this set of Marlin handcuffs. If you can't read the little sign, here's what it says: "During the years 1885-1888 and 1911-1915, Marlin manufactured and sold handcuffs. Many law enforcement agencies purchased them, including the Los Angeles, CA police. The bottle (or bottleneck) handcuffs were attachedu sing a swivel or a ring. For some time, Marlin manufactured handcuffs that were stamped for use by the Royal Canadian Mounted Police. These models are circa 1910-1916; on loan from Tom Johnson, Marlin Firearms Collectors Association."