by
posted on February 22, 2017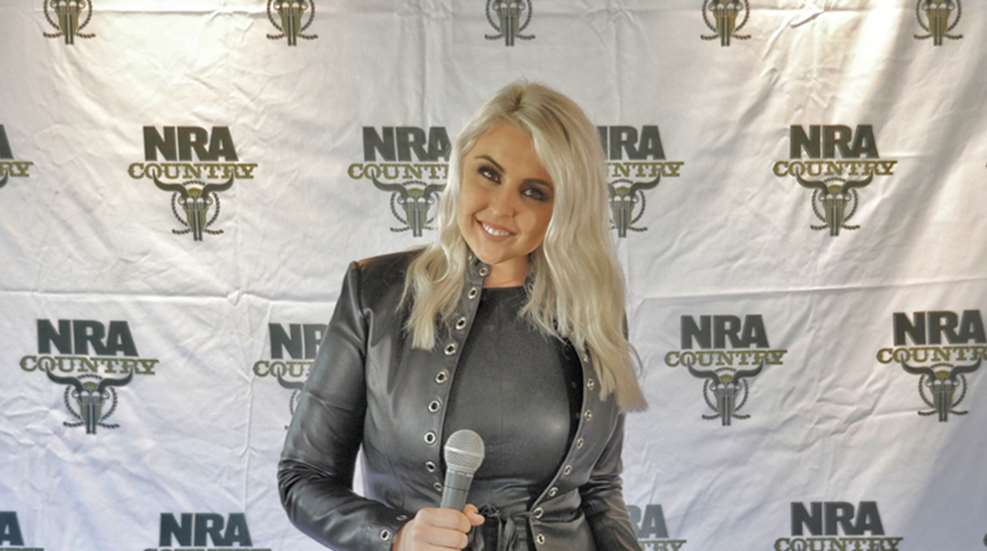 It's a perfect fit, a TV show that allows Morgan Mills to combine her love of country music with the outdoors, and in particular, the shooting sports. Meet the host of "On Location, NRA Country," Morgan Mills.


"I am in country music because it's who I am, it's where I come from, it's my family, it's how I was raised. I love writing my stories and my people's stories and performing them to connect with an audience," said Morgan. "Also, a part of my being and close to my heart is the outdoors. I come from a long line of faith-filled farmers, and learned a respect for the outdoors, hunting, my freedoms and the country lifestyle. It's important to me to carry on that heritage."


Before her Nashville days, Morgan liked shooting firearms at a range near Los Angeles. When she moved to Nashville seven years ago, she worked at Nashville Armory – selling firearms. She earned an NRA certification as a pistol instructor, and began teaching. "I was singing on the weekends and writing on the weekdays and heading to the range."


She continued, "Nashville is a melting pot of people and I thought I would be selling to dudes the whole time ... but that wasn't the case. Mothers and daughters, I was helping the young hipster crowds, famous country singers and songwriters, nurses, lawyers, doctors, teachers, businessmen and women. The list goes on. I was helping them protect themselves and their loved ones. There is something special about that to me, there is something special about the people here and this town." 


After moving to Nashville, she also discovered hunting: "I wanted to eat organic meat and learn more about conservation, which led to me guest hosting many hunting TV shows, and eventually writing the theme song for 'Universal Huntress TV' with Colt Ford." On her bucket hunting list, elk leads the pack. Why elk? "I think they're majestic creatures and I have had the meat and want more! I know it is a strenuous hunt and I love a challenge."


Morgan likes Nashville, because it is "gun friendly." She points to the popular NRA Annual Meetings held in Nashville in 2015. "It was the biggest event Music City Center has hosted to date. Almost 80,000 drew to Nashville's downtown for a taste of honky-tonks and firearms."


When asked about her newest venture, she said, "'On Location' is a show for the country music fan. It's a backstage pass that covers interviews with some of the biggest names in country music. You will get the latest news and events from around the country music and outdoor industries."


This might sound as if it's a typical personality-driven reality TV show, but Morgan disagrees. "We offer different content than other entertainment media covers. Yes, we chat about music and album releases, but we also talk about hunting seasons and favorite firearms." She reckons it is the only TV covering the mixture of country music and outdoor industries.

When she's not singing or working on the next show, she will work to qualify for NRA Rifle and Shotgun instructor certifications. She is "intrigued" with the 3-Gun world, and wants to return for a redo at Knob Creek on some machine guns soon.


Any new shooting, hunting or singing experiences augment her personality, as far as she's concerned, and make her more well-rounded.

"I believe people that love this kind of music are the same people that support our Second Amendment, our military, love their families and freedoms and celebrate American heritage and values," said Morgan. "This is the lifestyle and culture that I know and love and I know I am not the only one. Our goal is to give content that is engaging enough for everyone that celebrates this lifestyle to enjoy, especially the next generation of influencers." 

Editor's note: On Location is your backstage pass to everything that country music has to offer. Country singer and outdoor personality Morgan Mills will take you onto the red carpet for award shows, and on the road for exclusive interviews with some of the biggest names in country music. Plus, you'll get the latest on news and events from around the country music and outdoor industries.

Instagram: morganmillsmusic