Are you a woman who's interested in trying hunting? If so, there's a very cool event you should know about: the Hunt Like A Girl Contest. The chance to enter ends March 28, 2022, and as for the winner? She will experience an expenses-paid guided turkey hunt alongside Team Beretta athlete and six-time Olympic medalist (also, ahem, occasional contributor to NRA Family!) Kim Rhode. This extravaganza is set to take place at the turkey haven known as Midwest Whitetail Adventures in Clay Center, Kansas on April 21-25th.
This contest is a little specific! It's designed for the woman who is new to hunting or has never hunted before, and it's all about giving the lucky winner the chance to hunt with the all-female team from Shoot Like A Girl and Beretta, which is sponsoring this contest for the first time this year. The winning woman will receive a comprehensive turkey hunting gear package and transportation, meals, lodging and guide fees, as well as expert tips from women who remember their "first time" out hunting tom turkeys, too.
That's all exciting enough on its own, but when you add in the chance to meet Kim Rhode, it's the opportunity of a lifetime. Rhode is the the most decorated Olympic champion in the discipline of shooting sports, but she's also an avid sportswoman who frequently hunts both small and big game animals. (She's also a genuinely nice person who loves sharing her tips!)
To enter for a chance to win the hunting experience of a lifetime, entrants must complete the online requirements in their entirety. To be included in the contest, all submissions must be received by 11:59 p.m. on March 28, 2022. Entries with video submissions will be considered first.
While everyone is encouraged to enter and all entries will be considered, Shoot Like A Girl and Beretta are explicitly looking for an individual who is new to hunting or has never hunted before. The contest begins March 11, 2022, at 9:00 a.m. EST and ends March 28, 2022, at 11:59 p.m. EST. A winner will be selected following the conclusion of the entry window. The winner has three business days to respond to the selection email. Full terms and conditions are also available online at ShootLikeAGirl.com.
NRA Women Associate Editor Ashley Thess, who was a novice huntress herself in 2021, attended last year's Hunt Like a Girl event and was instantly hooked on turkey hunting. "All of the passion and effort that went into this event was plainly felt by everyone involved," enthused Thess.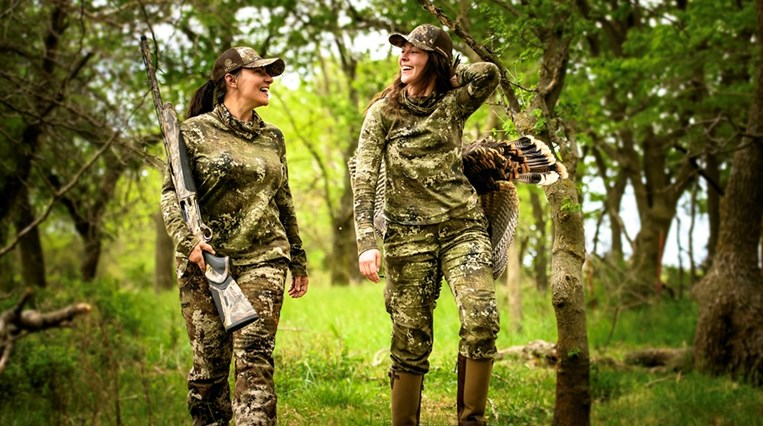 "We're excited to continue our partnership with Beretta to share a hunting experience with a fantastic group of women," Karen Butler, Founder and President of Shoot Like A Girl, said. "As we continue to offer experiences for new hunters, we work to enhance our mission of empowering women and building confidence in their abilities by bridging Beretta's lineage with our shared goal of encouraging women to embrace shooting sports and nurture a love of the outdoors."
If you missed out, despair not! This experience will be the first of three planned hunts this year. For more information, click here!