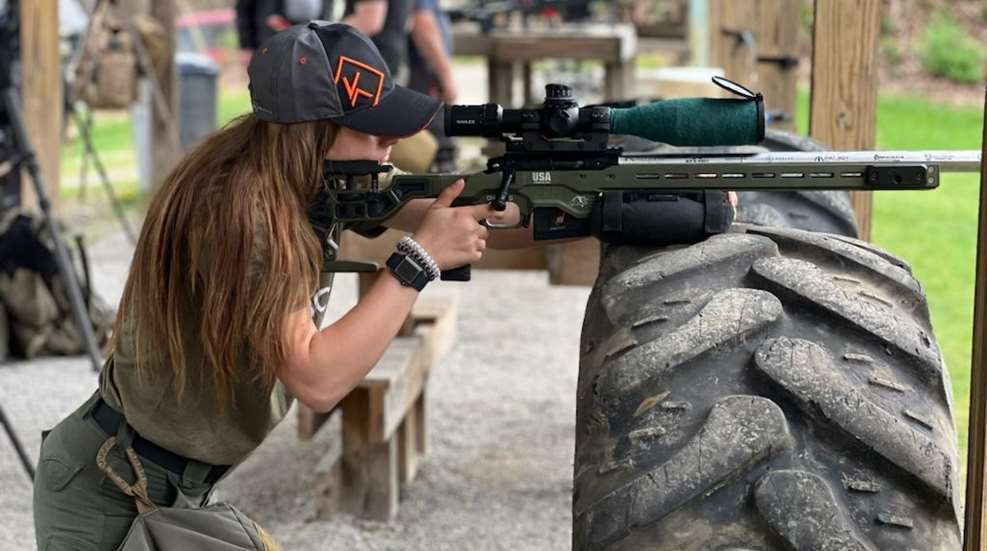 Two years to Team USA. No, that's not a misprint or an overstatement: Sixteen-year-old Dakota Wright first touched a .22LR two years ago, and she shot her first match six days later. Now, she's headed to Italy to represent the United States as part of the Ladies Precision Rifle Team.
Dakota started out shooting pistol, but soon tired of the same courses-of-fire of Steel Challenge. Once she tried rimfire precision rifle matches, she knew where she belonged. She has since switched to rimfire PRS-style shooting exclusively, attending two to three matches every weekend, totaling 145 matches over the past two years.
Dakota's father first got her involved in marksmanship, and he competes alongside her. She says spending time with her father is a significant part about what she loves about shooting. She also enjoys traveling and meeting new people.
"[Marksmanship] has shown me a brotherhood that I'm so happy to know of," she said. "This community is like no other and just full of amazing people. It's also taught me a side to marksmanship that's pretty interesting. Like for instance the game in which I play I think is 25% the rifle or ammo, 20% positioning, 50% mental, and 5% 'other'. With that said, the amount of thought and attention put into this sport is incredible and there's so much to learn from it."
Dakota encourages others to not be afraid to ask questions. It may take some time to learn the discipline and how it works for you, but it's fun and you will get it with some practice. She herself is a fantastic example of this …
As mentioned earlier, Dakota went from limited pistol experience to a Team USA member in two years. She made it to the last two PRS national finals and the 2023 NRL championship. She has several supportive sponsors including Kahles Optics, Rachel Precision, Fat Boy Tripod and MDT. She uses a RimX action with a Shilen barrel in an MDT ACC chassis with grip, cheek rest and bag rider. This gun is topped off with a Kahles 525i scope and Erik Cortina Tuner. She also uses a Fat Boy Tripod with SideChick, Armageddon Gear caddy, a Kestrel, LabRadar, Vortex rangefinder, binoculars, and assorted bag. Prepared for everything, Dakota also packs a variety of batteries, chamber flags, tools and parts.
After high school, Dakota aspires to join the military, hopefully the Army Marksmanship Unit, and attend college for Psychology and Sociology.