by
posted on May 20, 2015
It's beefy, but not chunky. Think the filet mignon of 1911s. Think hot summer weather and you're carrying a cool, lightweight mini-1911, chambered in .380 ACP. Think the Kimber Micro Carry.
Kimber sent me two versions of its micro carry gun to review, the Advocate (in purple) and the Crimson Carry (with a laser, of course). Hornady Manufacturing, Inc., and PHD Ammunition provided hundreds of rounds of ammo for a morning of testing, so I set up the Oehler 35P chronograph 6 feet from the muzzle and fired away, before stepping up to fire at targets in real-life scenarios. Kimber did not skimp on anything when it designed this model. Even though it is small, it exhibits the fine genetic traits of the Kimber 1911 line such as a lowered and flared ejection port, a beveled magazine and steel sights mounted on machined dovetails. The Micro also resembles its older family members, presenting a strong 1911 characteristic – especially when it comes to the thumb safety, slide and magazine releases.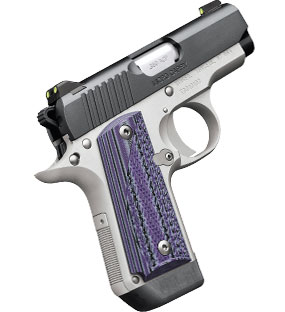 Just as with other Kimbers, the plunge trigger works like a dream, with a short and oh-so-smooth pull. This firearm weighs in just under 14 ounces, with a barrel length of 2.75 inches and twist rate of 16. Its matte black finished slide is machined from stainless steel, which is another reason it's a cool gun for hot-weather carry. All the Micro frames come constructed out of aluminum and finished in satin silver, and sights are made from steel, which means there's no plastic that can break off in a quick-draw moment.
Here's where the two versions I tested differ: The Advocate's sights are fixed night sights with bright white dots, compared to the Crimson Carry sights, which are fixed low profile, no dots. Both have a 3.9 radius. Micros come with flush-fitting six-round magazines, but you can purchase the extended 7-round magazine as an accessory. You only get one magazine with your purchase, which is one of the only drawbacks I can see with this gun. Standard issue should be two, so that you can carry this gun right out of the box without having to think about ordering another magazine immediately. Kimber sent me an extended magazine, and I found that given the dimensions of my hand that I could not manipulate a fast reload with it. It hung up in the palm of my hand. The standard magazine did not.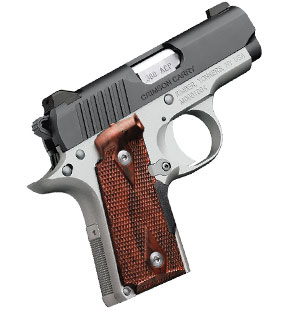 I mentioned the divine trigger, but let's examine it in detail. It is made of solid aluminum, match grade, with a 7-pound pull. The frame works with the trigger guard because it has been high cut, allowing room for larger trigger fingers to find the plunge trigger. This gun works for both small hands and larger ones (especially as a perfect backup gun). This is a gun designed for concealed carry, so most users won't take this gun to the range for target practice. However, should you wish to, the Micro Carry shoots with medium recoil and competently groups at 25 yards.When you grip the pistol, you'll enjoy both the Advocate's G10 grips and the Crimson Carry's rosewood, double diamond laser grips. My husband, a former competition pistol team member at the United States Air Force Academy, preferred the rosewood double diamond checkered grip feel to the Advocate's more pronounced checkering. I personally felt that the purple on the grips of the Advocate made a subtle, but feminine, statement. For those who prefer a more traditional look, the Advocate also comes in brown.
The Advocate receives Kimber's Carry Melt Treatment, which means it comes with rounded and blended edges, which reduces the snag factor considerably. Other similarities include these specifications:1. Height – 4.0 inches2. Length – 6.6 inches3. Recoil spring – 8.0 pounds4. Full-length guide rod5. Weight – 13.4 ounces
After checking the velocity of the ammunition provided, I moved to the range and worked separately with each gun from a pocket holster. The Crimson Carry model demanded a proper holster to accommodate the laser, of course. I had to work with the laser and sight it in at about 7 yards from the bench first, so it shot on target. (Always remember to sight in your laser, and instructions are included in the box with the gun.) Here's where it got fun. Practicing several types of drills for concealed carry, while standing, I shot again and again from the draw – at 3 feet and up to 21 feet – aiming center of mass and getting some fairly decent 3-to-4 inch group shots. Shooting one-handed, weak or strong hand, came easily, too.
I experienced no jams with any of this ammo, and what I really liked about it was the speed at which the gun came back into position for another and yet another shot. I'm all about the balance of a gun. It must feel equal front and back in my hand, and for me, this guns fulfills that requirement perfectly. Fans of the 1911 will appreciate the safety button, easily accessed by a right-handed shooter. Note: the Micro Raptor Stainless and Micro CDP are built with ambidextrous safety buttons. Each gun came zippered in a soft, padded carry case, with a special pocket for one magazine.
Advocate MSRP: $796 Crimson Carry MSRP: $911 Visit Kimber America.
Photo by Jason Baird