by
posted on May 14, 2015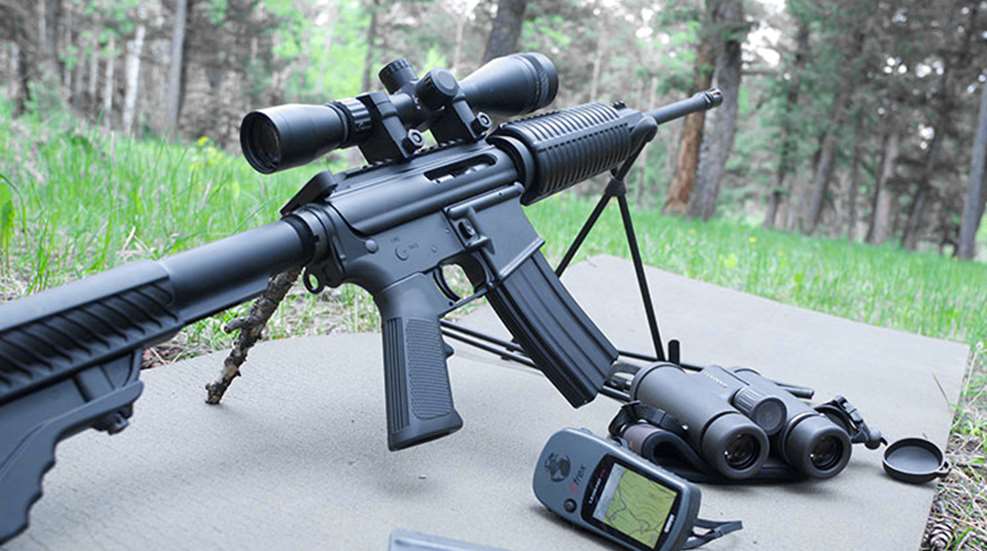 When I'm packing up my gear for a few hours of hunting coyotes, I typically reach for my bolt-action Sako. It's light and reliable, and I can shoot it well. But I recently had the opportunity to take DPMS' entry-level AR model, the Sportical, and put it through the wringer-and after all of the fun that I had with this rifle, not to mention witnessing its very reasonable level of accuracy, I have no doubt that my Sako will be left home the next time I'm after coyotes in the woods.
With a price tag of $719, DPMS' Sportical (half sport and half tactical) places ARs firmly in the grasp of predator hunters (as well as shooters looking for a plinking rifle) on almost any budget. Opening the box of this carbine-style AR is a real treat; you're first surrounded by the unforgettable smell of gun oil-one of my favorite scents in the world. Next, after your pick the Sportical up, you're sure to notice that the fit and finish of this rifle are excellent, as is the case with all DPMS rifles that I have seen. A cleaning kit and two 30-round magazines complete the package.
At first glance, you'll notice only one thing missing-sights. DPMS provides a Picatinny rail on both the upper receiver and gas block so you an add your choice of iron sights, a scope or other optic.
A closer inspection reveals that DPMS has removed the traditional dust cover, forward assist and brass deflector from the upper receiver of this rifle. This is a break from tradition, but I'm a fan of the clean, ultra-modern look. Considering this rifle's price point, I don't think you'll see anyone shedding any tears over the "missing" parts.
From Trunk to Hood
The lightweight, six-position buttstock features a curved, finger-grooved adjustment latch that allows for a length of pull from 10.5  to over 14 inches; my test sample moved smoothly and locked positively into each position after running it through its full range of motion a few times. This adjustable stock allows the rifle to "grow" with the shooter-which saves money over time-or for different members of the family to enjoy it.
Next up, both lightweight aluminum alloy upper and lower receivers are hard coat anodized to military specifications. In plain English, that means that you'll have to really work (or do lots and lots of shooting) to scratch them. After well over 1,000 rounds through this rifle it still looks great.
Just ahead of the receiver, the carbine-length GlacierGuard handguards are designed to handle temperatures of over 500 degrees-something not too many coyote hunters will ever have to worry about, but a bonus for plinkers and competitive shooters. The handguards boast 15 internal fins for heat dispersion and the same number of eternal ribs for an excellent grip.
The 16-inch lite contour barrel features six grooves and a right hand 1:9 twist, which will stabilize bullets with weights up to the mid-70s. The chrome-moly steel barrel is just over 0.6 inches in diameter, which is what I'd expect to find on an AR carbine.
For shooters new to the AR platform, this rifle's bare-bones configuration can, and should, be a major asset. It's basically a blank canvas that you can decide to dress up however you like. Think of it as an AR made-to-order for however you'd like to use it. Interested in hunting coyotes, foxes, and varmints? Add a scope, possibly a bipod or a set of shooting sticks, and you're golden. Is putting a few holes in some pop cans or bowling pins more your speed? Then add iron sights or a red-dot type optic. For the more adventurous, adding a quad-rail handguard is as simple as switching out the stock handguards should you want to add additional accessories.
On the Range
I had no failures of any kind with well over 1,000 rounds through this rifle. The trigger broke cleanly and predictably. Recoil, as with most ARs, went virtually unnoticed whether shooting from sandbags or offhand. With a Leupold Mark 2 4-12Xx40mm mounted on top, the unloaded Sportical weighed in at a very respectable 7.5 pounds.
I was in for a bit of a shock when I retrieved my test targets and tallied up a few measurements. Frankly, from an entry-level AR with a 16-inch light contour barrel, I wasn't expecting the level of accuracy that I found. I was pleasantly surprised to find that my test rifle loved the taste of the 60-grain V-Max offering from Black Hills; drilling five rounds into one ragged hole measuring just 0.875 inches. In fact, all of the ammunition I tested brought in no groups larger than 1.5 inches.
One of the accuracy secrets the folks at DPMS shared with me is that this rifle has a preference for Hornady's 75-grain TAP round. Unfortunately my test ammo in that flavor arrived too late for me to add it in to the mix.
With accuracy like this, the next time I leave the house for coyotes, I'll have no second thoughts about taking this rifle along for the hunt.
The Bottom Line
Overall, the Sportical is a well-balanced, reliable, expertly crafted and fun-to-shoot rifle that rises to your shoulder easily and comfortably, all for a very reasonable price. Whether you are at the range putting holes in paper or out in the woods howling for coyotes, you can't go wrong with DPMS' Sportical.
ACCURACY 
The average of five, five-shot groups fired at 100 yards from sandbags.
Load                                                                                            Result
Remington 50-grain Accutip-V Boat Tail                   1.5 inches
Federal 43-grain Spire Point                                           1.5 inches
Hornady 55-grain V-Max                                                  1 inch
Black Hills 60 grain V-Max                                              0.875/inch
5.56x45mm vs. .223 Remington: What's the Deal?
DPMS's Sportical is chambered in 5.56x45mm, not .223 Remington. While nearly all ammunition authorities will tell you that these two are nearly identical, they'll also tell you that they are not interchangeable.
According to Winchester Ammunition, the 5.56mm round, when loaded to military specifications, typically has higher velocity and chamber pressure than the .223 Remington.
The major difference between these two cartridges lies in the chamber's "leade"-or throat-the portion of the barrel directly in front of the chamber where the seated bullet sits before firing-leade in a .223 Remington is typically about half of the leade found in a 5.56mm chamber. To make a long story short: it's okay to fire .223 Remington ammo in a 5.56mm chamber. However, do not attempt to fire a 5.56mm cartridge in a .223 Remington chamber, as there is a chance of excessive pressure developing in the chamber.