by
posted on January 2, 2014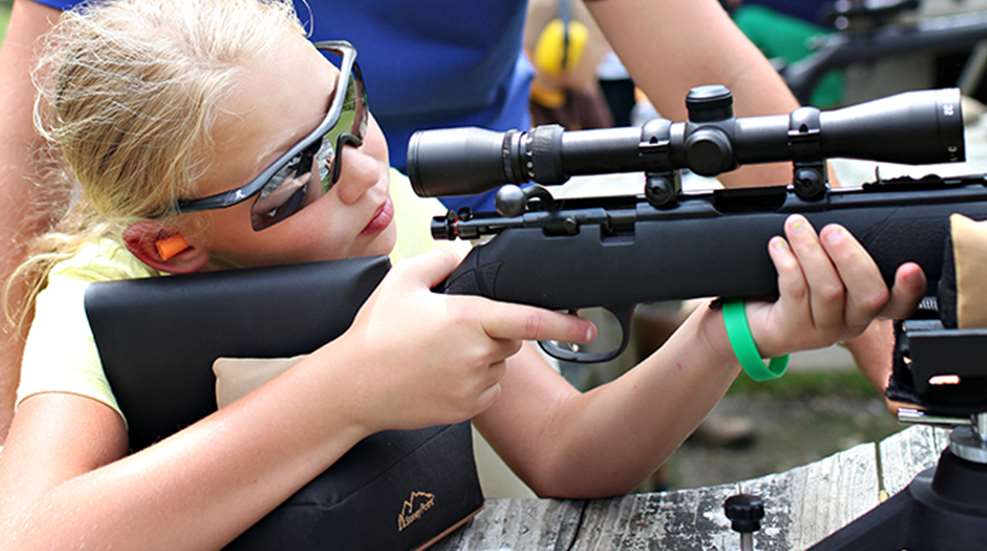 There's been a lot of talk about getting kids interested in shooting. Now, we're finally seeing firearms manufacturers getting serious about it. Several companies are offering firearms sized just for kids. Marlin has taken a very bold step in that direction. They've done things right with their new XT line of .22 rifles. These rifles are not just sized for kids; they're completely designed for kids.
Marlin took a different approach than many companies, which just put a shorter barrel on a rifle and cut the stock off a bit. Marlin engaged in a lengthy research program using real kids as test subjects. They looked at every aspect of a rifle in an effort to determine what they could do to make it more kid-friendly.
Their efforts paid off and in a big way. I got to see this first-hand at an event held at the Glade Springs Resort in West Virginia. Like many companies that launch a new firearm, Marlin invited several firearms journalists to come and see these new rifles. But this time, Marlin went a step further: They asked the writers to bring their kids.
This made perfect sense, because what better way to evaluate rifles sized specifically for kids than to let kids shoot them? Before the event got underway, the kids spent the morning riding horses. And then, when they arrived at the range, they got to meet the Marlin Man and his horse in person. The Marlin Man is the mounted cowboy Marlin has used as a logo for many years. He was brought to life for the kids at this event and he stirred the cowboy in everyone present.
The kids were turned loose on the range, which was staffed with Marlin employees and members of the West Virginia Division of Natural Resources. After two days of shooting thousands of rounds of .22 LR ammunition, the verdict was in: Marlin's XT 22 Youth rifles are winners. If you're a kid looking for your first rifle, this is the gun you need to tell your parents about.
Why? With young kids, rifle weight is a big issue. Young arms lack the strength to support an adult rifle—even a .22. And young arms get tired quickly. Marlin's XT 22 Youth rifles only weigh 4 pounds. Marlin also perfectly tuned these rifles so that the human interface aspect was suited to the humans (kids) that would be shooting them. Marlin addressed this in several ways.
First, by working with actual kids, they determined the best length of pull (LOP)—the distance from the trigger to the end of the buttstock—that would work with preteens. LOP on these rifles measures 11 inches. Then, they worked on the grip area to make it small enough for small hands to comfortably grasp.
Marlin didn't stop there. Many bolt-action .22 rifles have stiff actions, meaning they require strength to operate the bolt...strength many kids don't have yet. Sure, parents can work the bolt for them, but it's just as important for kids to learn firearm operation as it is for them to learn basic marksmanship skills. It only requires 4 pounds of effort to open the bolt on a Marlin XT 22Y rifle.
Another aspect that is critical when teaching any new shooter is the trigger. A good trigger is important even after initial instruction. It is the main point of interaction between the shooter and the rifle. Marlin went with their Pro-Fire Adjustable trigger on their XT Youth Rifles. This is a 2½-pound trigger with a center safety lever that must be fully depressed before the rifle will fire. These are consistent and crisp triggers.
Marlin's XT Youth line of .22 rifles consists of four different models; two are made with stainless steel and two of blued steel. Each version is available with a hardwood or synthetic stock. The wood-stocked rifles are single-shots and the synthetic-stocked rifles are repeaters. Repeaters come with a seven-shot detachable magazine. All XT rifles are equipped with adjustable fiber-optic open sights and are also grooved and drilled and tapped for scope mounts.
Suggested retail prices start at $219 for the wood-stocked, single-shot version and top out at $247 for the synthetic-stocked, stainless-steel repeater. Expect across-the-counter prices to be about 10 percent less. Based on the amount of ammunition these guns digested at the shooting event, you'll be passing this gun down to your brother or sister. They're well made.
With the new XT line of youth rifles, Marlin did not just cut down an existing rifle in an effort to make it fit a kid. Marlin actually shrank the rifle so that it was perfectly proportioned for a kid. It's like they pointed an incredible shrinking ray at one of their XT .22 rifles and hit a magic button.
An American Tradition
Marlin has been around since 1870, when John Marlin started the company in New Haven, Conn., manufacturing his own line of revolvers and derringers. One of the most respected .22 rifles ever manufactured was the Marlin model 39 lever-action that was used by the great exhibition shooter, Annie Oakley.
Marlin made its name with lever-action rifles. Their Model 336, chambered in .30-30 Win., might be one of the most commonly used deer rifles on the planet. But Marlin has always had a reputation for affordable .22 rifles that are rugged, dependable and accurate. The first real rifle I could call my own was a Marlin model 782. It's the rifle that taught me how to shoot. It was also the forerunner of the current XT line of .22 rifles now available from Marlin.
One thing's for sure, after almost 150 years Marlin is still making great guns that can be had at a fair price. They are an iconic American company that has withstood the test of time. And, as evidenced by the new XT line of youth rifles, Marlin is a trendsetter. It looks like all of my kids will learn to shoot like I did...with a Marlin.
Marlin Firearms
Model: XT 22YSR
Chambering: .22 Short, Long & Long Rifle
Capacity: Seven-shot detachable magazine or single-shot adapter
Action: Bolt-action
Trigger: Pro-Fire Adjustable
Stock: Black synthetic with 12-inch LOP
Barrel: 16 inch, Micro-Groove rifling (16 grooves) RH Twist.
Action/Barrel Material & Finish: Stainless steel
Sights: Adjustable fiber-optic rear sight with ramp front sight. Receiver grooved and drilled and tapped for scope bases.
Overall Length: 33 inches
Weight: 4 pounds
MSRP: $247.31