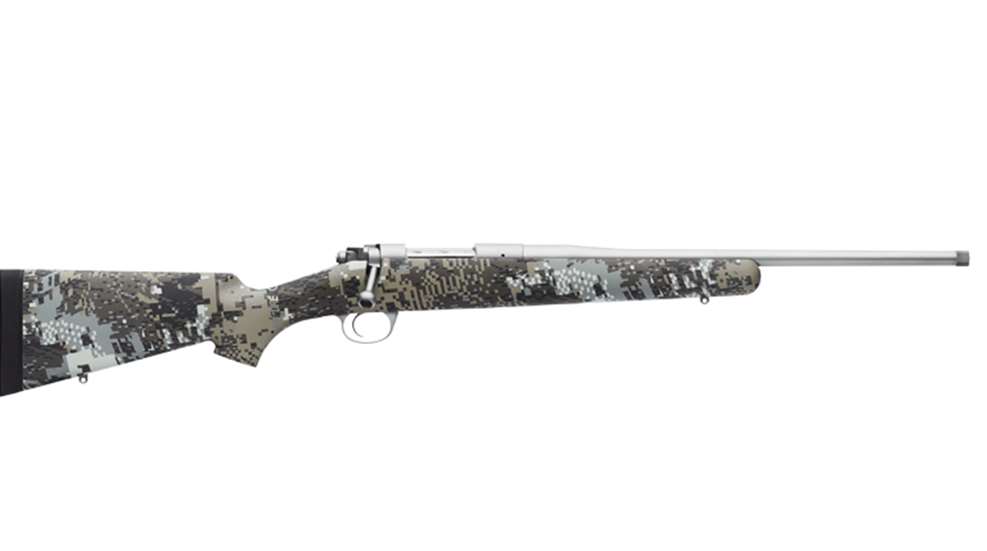 When your wife of 20 plus years decides she wants to hunt, it's your job to make sure she's outfitted appropriately. She'll need the usual good boots and warm camo clothes that fit her. She'll also need a reliable rifle that fits her too. Rifle fit is not just about size and weight. Other considerations include enough power to get the job done, without excessive recoil. The compact and light Kimber Adirondack seemed to be the fit my own wife, Drema, was looking for.
This was partly due to the fact the rifle tipped the scales at less than 5 pounds and measured right at a meter in length. But it was also because the Adirondack's threaded muzzle allowed for the attachment of a muzzle brake or a suppressor. The brake ($89.00) and suppressor adapter ($49.00) are both available from Kimber. With either, the recoil of the .308 Winchester in this feather-light rifle could be reduced to her comfort level.
Drema would be shooting whitetails at close range here in the West Virginia hills. We found that Remington's Reduced Recoil .308 Winchester load was a tack driver in the Adirondack, and that it offered all the power needed for whitetails with 38 percent less felt recoil. With the muzzle brake installed, more potent loads could be used for larger critters while recoil was still kept to a minimum.
The only worry was how Drema's 5-foot, 2-inch frame would interface with the rifle's man-sized 13.5-inch length of pull. Conventional wisdom would predict that Drema needs a length of pull a full inch shorter. However, the unusually open grip on the Adirondack's stock, combined with a Sig Sauer Whiskey 3 2-7X riflescope mounted as far to the rear as possible, allowed her to manage the rifle very well. With the scope, a sling and full magazine, the combination only weighed 6.5 pounds.
Opening morning of West Virginia's buck season found Drema alone and on stand with the Adirondack. When she left the house in her Sitka Optifade Forest camo clothing, which perfectly matched the Adirondack's stock, I commented she was taking hunting fashion to a new level. She gave me that look and while I'm sure she was enjoying her harmonizing ensemble, I didn't say another word.
I heard the shot from the house, and in a few minutes, my cell phone rang. "I got him!" She said it twice; I guess to be sure I understood.
Kimber's Adirondack is not marketed as a woman's rifle. Intended as a mountain rifle for hunts in rough country far from the trailhead, the pillar-and-glass-bedded Kevlar/carbon stock keeps weight down and helps the rifle shoot straight. The stainless steel action and barrel resist corrosion. Tally lightweight rings, finished in the same Optifade pattern as the stock, come standard. An optional Zeiss Conquest 3-15X riflescope can be had with the same coordinating finish.
The Kimber 84M action used for the Adirondack has a Mauser-like full-length extractor and the Winchester Model 70-style three-position safety. The trigger on the test rifle broke crisp and clean at an even 4 pounds, and the rifle functioned perfectly with every load tested. This is a nimble and responsive rifle that's a joy to carry.
Available Adirondack chamberings include 6.5 Creedmoor, 7mm-08 Remington, .300 Blackout and .308 Winchester. The Blackout is a light kicker, and Remington offers Reduced Recoil loads for the 7mm-08 and .308. For those looking to reach out a little further, the Creedmoor is flat shooting and sufficient for most game animals worldwide.
Although you'd have to pony up some $1,500 to play, when you consider the Adirondack's features and versatility, all wrapped up in a stock both tall and short shooters will find accommodating, it's a fair deal. And, if your sporting wardrobe is of the Optifade Forest camo pattern, you can—like my wife—take the fashion show catwalk all the way to your stand or up the side of the steepest mountain. Either way, the svelte Adirondack won't slow you down.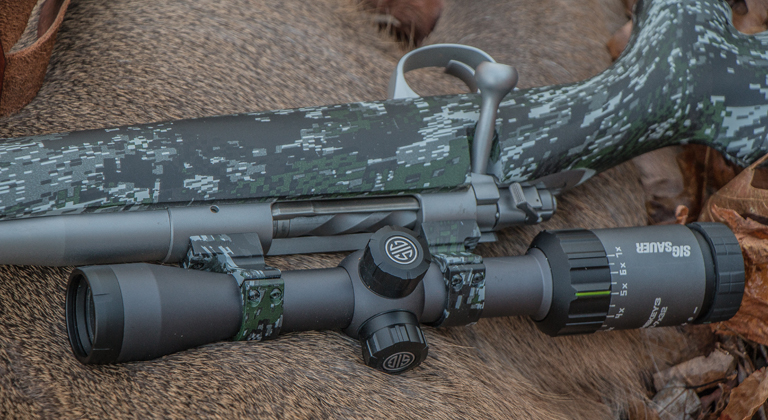 Specifications:
Manufacturer: Kimber Manufacturing Inc., www.kimberamerica.com
Model: Adirondack
Chamberings: 6.5 Creedmoor, 7mm-8 Remington, .300 Blackout, .308 Winchester
Length: 38 inches
Weight: 4 pounds, 13 ounces
Barrel: 18 inches, stainless steel, 1 in 9 twist
Stock: Kevlar and Carbon Fiber with Optifade Forest camo and 1-inch butt pad.
Trigger: Single Stage 4.0 pounds
Accessories: Talley Lightweight Rings, Muzzle Brake, Suppressor Adapter
MSRP: $1,768
Shooting Results:
LOAD                                                                     VEL     MD      SD       ENG     ACC
Remington 125 gr. Core Lokt           2339   143     51        1518   1.25
Federal 150 gr. Fusion                                            2719   12        5          2462   2.20
Nosler 165 gr. Ballistic Tip                                      2581   58        22        2440   2.06
Federal 165 gr. Trophy Copper                               2526   15        5          2338   1.36
Remington 168 gr. Match BTHP                              2526   79        30        2380   2.16
NOTES: Average muzzle velocity (VEL), maximum velocity deviation (MD), standard velocity deviation (SD), and muzzle energy (ENG) were established by firing 10 shots over a Shooting Chrony positioned 10 feet from the muzzle. Average accuracy (ACC) was obtained by firing five, five-shot groups with each load, from a sandbag rest, at 100 yards, using the Sig Sauer scope with magnification set at 7X. Temperature: 54 F Humidity: 68% Pressure: 30.15 mb, Elevation: 2,200 feet.