by
posted on December 16, 2013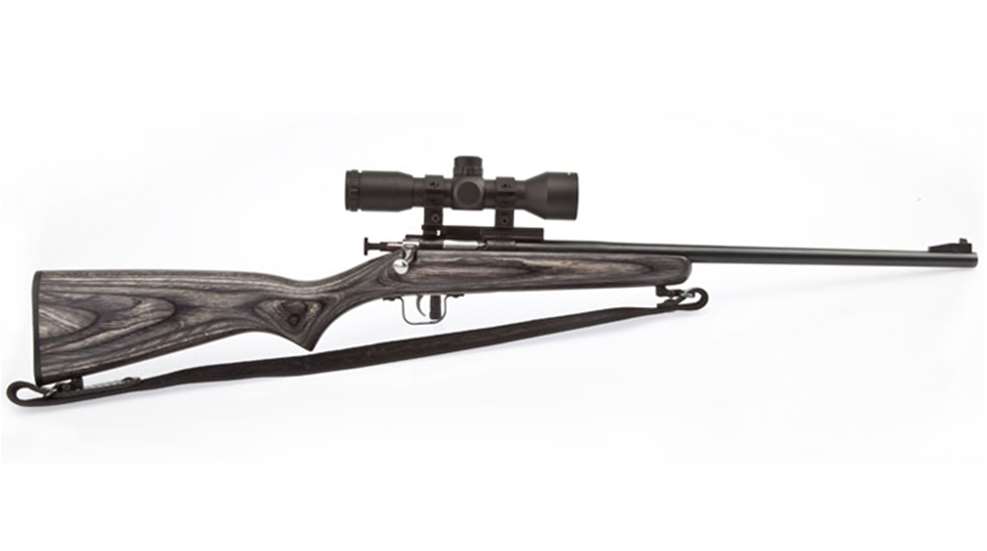 Bigger is not always better, particularly when it comes to your first rifle. In fact, the exact opposite is often true: Smaller rifles simply fit young shooters better than full-size adult models, which tend to be too big for kids. Several companies offer youth guns that work great for most pre-teens (and some teenagers) looking to sharpen their marksmanship skills or head afield with a rifle made especially for them.
But just like adult-size guns don't fit every adult, some youth guns may still be a bit too long, heavy or bulky to shoot comfortably when you are starting out. No need to stretch or strain when you shoot—if something smaller would fit you better, Keystone Sporting Arms has a handy solution with its scaled-down Crickett rimfire rifle.
Chambered in .22 LR, the Crickett has a 16 1/8-inch barrel and is just 30½ inches long from muzzle to buttplate. The rifle weighs an easy-to-manage 2½ pounds, so your arms won't tire quickly when steadying it for an offhand shot or carrying it through the woods. These compact, lightweight dimensions make the Crickett a joy for young shooters to handle and point.
Likewise, a length of pull (LOP) that is too long for your upper body will not let you place the buttstock firmly against your shoulder. It also forces you to stretch your shooting arm to reach the trigger, and you'll have to crane your neck to see the sights. None of this is helpful when trying to make an accurate shot. The Crickett's LOP measures 12¼ inches.
The Crickett's stock fit Emma—a petite 9-year-old who is 4 feet 5 inches tall—perfectly during testing. If you're taller than 5 feet, however, you might find the stock is a little too short. Emma's teenage brothers, Caleb and Nick, who are 5 feet 8 inches and 5 feet 2 inches tall, respectively, both wished the length of pull were longer. None of the testers had trouble seeing through the scope; the stock's comb is high enough that kids don't have to lift their head from it to take aim.
Having no magazine, the Crickett is a single-shot, bolt-action rifle. You must place a cartridge directly into the chamber through the open action port for each shot. Pushing the bolt forward and then rotating its handle downward completes the loading process. The bolt handle and knob are downsized so that small hands and fingers can get a secure grip when working the bolt.
Emma, Caleb and Nick all found the rifle easy to load and unload. Their nimble fingers had no problem inserting dozens of .22 LR cartridges into the Crickett's chamber; in fact, they were better at it than the two adults supervising the range test. Smaller fingers definitely had an advantage when working within the limited confines of the Crickett's action port.
Firing the Crickett requires pulling the cocking piece located just behind the bolt handle to the rear, which compresses the spring that drives the firing pin. Pressing the trigger releases the firing pin to strike the rim of the cartridge and fire the rifle. The rebounding firing pin is blocked when the cocking piece is in its forward position, serving as the rifle's safety. The rifle will not fire until the cocking piece is pulled fully rearward and the trigger is pressed. As such, the Crickett does not have a conventional thumb safety.
Keystone ships the Crickett with a ramped, post-style front sight and an aperture rear sight. The aperture is made of steel, but the front sight is polymer. The receiver is drilled and tapped for a scope base, which the company offers on its website, along with other accessories like scope rings, sling swivels, a sling and a 4X scope.
Three kids and three adults tested the Crickett with the scope mounted. It proved to be an accurate little rifle that brought smiles to the faces of everyone who shot it. Groups from ½ to ¾ of an inch at 50 yards were not uncommon with some types of ammo. Emma, Caleb and Nick liked the Crickett's light weight and simple, single-shot operation. Their father appreciated the fact that he could tell at a glance, while looking over his kids' shoulders, whether the rifle was cocked and ready to fire. The only negative comments involved the rifle's trigger. Although it broke at a reasonable pull weight of 4 pounds, 4 ounces, the kids noticed it had a good bit of creep.
Keystone sent a Crickett that had a blued barrel with a black laminate stock for testing, but the company also offers the rifle with a stainless steel barrel and a number of stock options. Some of the more interesting laminate colors include black and orange, green and brown camo, blue and pink. The Crickett is also available with a walnut stock or a synthetic stock in several colors like desert tan, bright orange and Mossy Oak camo. In addition, you can get a Crickett with a bull barrel and a thumbhole, target-style stock. And if you want a rimfire with a little more zip or punch, the Crickett comes in .17 HMR and .22 WMR chamberings. Finally, there are Crickett rifles sized for adults, too, having stocks with a longer length of pull.
With an MSRP of $140, the Crickett from Keystone Sporting Arms is an inexpensive but attractive option for young shooters looking for their first rifle. It's sized right, shoots accurately and is sure to make many memories in the field. Paper targets, tin cans, squirrels and rabbits will no doubt learn to fear the Crickett!
All The Deets
Manufacturer: Keystone Sporting Arms; www.crickett.com; (800) 742-0455
Model: Cricket
Action: Single-shot, bolt action
Barrel: 16 1/8 inches
Caliber: .22 LR
Stock: Laminated hardwood
Length: 30½ inches
Weight: 2½ pounds
MSRP: $140