by
posted on March 14, 2018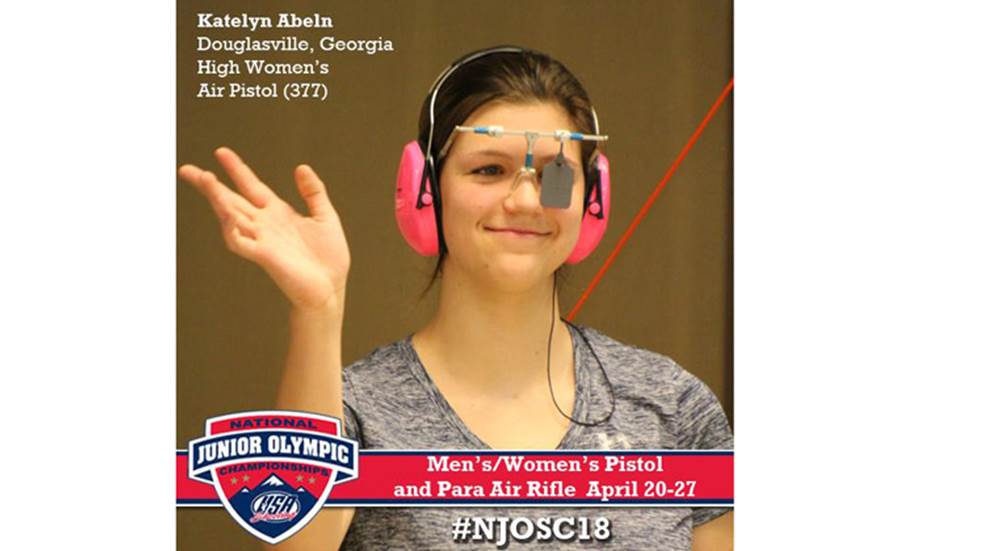 She's been called a "fast rising star" over at USA Shooting. Sixteen-year-old Katelyn Abeln currently leads the World Champs selection in Sport Pistol. Her enthusiasm doesn't stop at the range, though, as you will soon find out. This high school junior from Georgia has some big plans for her future—including more shooting and medical school.
NRA Family: When people ask you what you do, what do you say?
Katelyn: Usually, I say something along the lines of that I'm an Olympic style pistol shooter in air pistol and .22 pistol. I shoot at targets 10 and 25 meters away with pellets and .22 ammo. I usually include, 'They're not Nerf guns. They are real guns.'
NRA Family: What's your history in the shooting sports?
Katelyn: I've grown up shooting and my family is big into hunting. I started shooting BB guns competitively at 10 and air pistol at 12. I spent one month shooting supported—with two hands on the bench—and then went straight to International, standing and shooting with one arm. My first competition was the Junior Olympic state air pistol qualifier and I qualified to go to Colorado.
NRA Family: Will your March competition in Mexico be the first time you've been out of the country with a match?
Katelyn: No, I went to the Czech Republic and Germany over the summer for a couple matches. It was a great experience.
NRA Family: You are poised to compete in the adult divisions for the shooting sports. Other than age, what else do you anticipate will change?
Katelyn: I've been shooting with adults since I started shooting pistol, but I realized that at these selection matches versus junior matches, there's more of a seriousness. Juniors do take it seriously, but there's a different level.
NRA Family: Do you consider yourself to be an ambassador for the shooting sports? Why?
Katelyn: Yes, I do. I'm always trying to build the sport by being a positive role model. I've always been told you never know who's watching—so, always present yourself in the very best possible manner … in society, it's hard to find a positive role model for young women, and so I strive to do that.
NRA Family: Have you encouraged or inspired other young women whom you know to try shooting?
Katelyn: I've encouraged a lot of my closest friends to try it. It's not really understood at the high school level. They realize it's a lot harder than it looks.
NRA Family: What does the future hold and what are you interested in doing when you get older?
Katelyn: I'm really interested in the medical field, as an infectious disease doctor. For college, I'm looking at Ohio State, because they have a really good pistol team and a great medical school.
NRA Family: Is there a particular discipline in shooting sports that you'd like to try, other than pistol shooting?
Katelyn: Actually, shotgun. I haven't tried that yet. I think clays would be really fun.
NRA Family: Usually, young people get tremendous support from family members … what's your story?
Katelyn: Ever since I started shooting my family has been extremely supportive and still are. My mom and dad traveled with me when I first started out, but now it's usually just my dad. Now, my mom watches online or texts my dad during the competitions. My dad is my coach and my sister always texts me to wish me good luck on the days of my competitions.
NRA Family: What is your training regimen?
Katelyn: It depends on the week. Sometimes, I'll train a few days and sometimes, 7 days a week. I will go to training camps and matches at the Olympic Shooting Center in Colorado occasionally.
NRA Family: What else do you like to do when you're not training or shooting?
Katelyn: Read, watch Netflix, hang out with friends, and I'm in almost every club at my high school. Once a week before school, I go to an elementary school and I have a "little sister" in 5th grade and I get to mentor her. It's really cool, and we get to talk or go in the gym and play games or help with homework.
NRA Family: What brand of pistols do you shoot?
Katelyn: Both of my pistols are Pardinis. I started out with a Pardini air pistol and never have felt the need to switch. I probably never will.
NRA Family: What's the story behind your love of Ranch dressing?
Katelyn: I've always been a picky eater … and I was allergic to a lot of things when I was a kid. I ate pretty bland. One way my mom got my older sister to eat vegetables was to give her ranch dressing with them, so I copied what she did and I've been in love with it ever since. … I've gotten made fun of for putting it on some random things, like white rice. I prefer Hidden Valley, and I love homemade buttermilk ranch. I actually bring cups of it when I travel internationally. I didn't bring it to the Czech Republic, and I looked for it the whole week-and-a-half we were there and I couldn't find it. My mom found these little ranch cups that you don't have to refrigerate and I took them with me to Germany the next month. I am also bringing them to Mexico.
Follow Katelyn Abeln at the following social media sites:
Twitter -- @katelynabeln
Instagram -- @katelyn.abeln