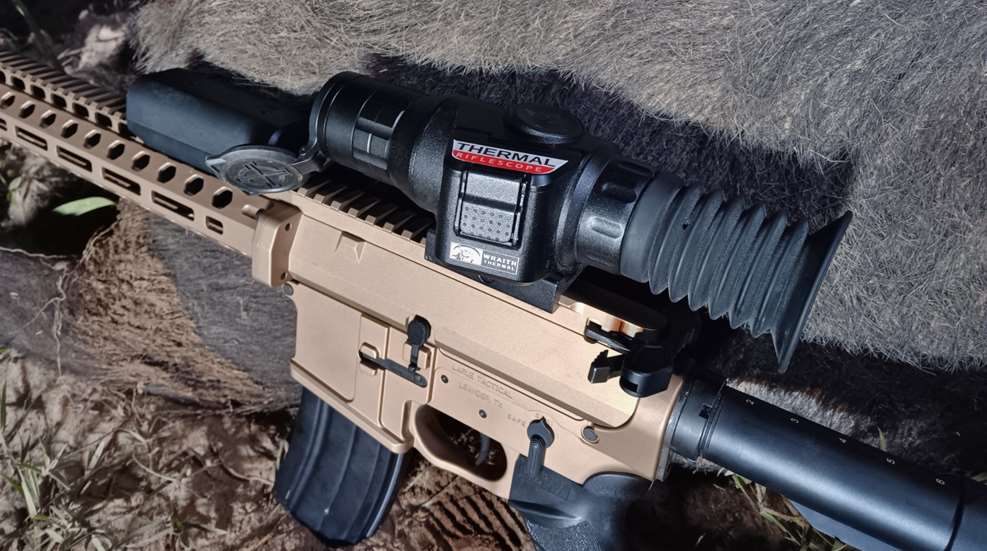 Pest control is serious business on any ranch or farm, as varmints wreak havoc on crops, livestock and the general landscape. In these hunting instances, the goal isn't to take home a trophy or even harvest meat. The main idea behind these outings is to humanely eliminate the troublesome creatures in an effort to save that which cannot defend itself. Undesirable wildlife comes in all shapes and sizes. However, none are more pronounced than wild hogs.
With millions of these giant invasive monsters running rampant, states like Texas allow even non-residents to remove them without so much as a hunting license. To that end, I graciously accepted an invitation from the folks at Sellmark to help with an ongoing problem that they are having at their ranch. Sellmark is the parent entity of Sightmark, which is best known for its affordable line of telescopic optics, red dot sights and, of course, night-vision devices like the Wraith. Its product line was only missing one element—a thermal imaging device. So, using the well-received Wraith body as a template, Sightmark was able to build one, and this was the optic that I would be using.
Thermal imaging technology uses an array of "sensor" beams that continually emit from the optic and bounce back with heat data, sort of like the laser thermometers that we got all too familiar with during the COVID-19 pandemic. A thermal takes that information and processes the different temperatures it receives to draw an image that is displayed on an LCD screen. By applying a color palette, warmer temperatures will appear white, black or one of many other hues available based on your personal preference.
Sound geeky? Well, it is, but we don't have to understand the moving parts to understand why they are important. Given that these optics don't need any light to operate, they can cut through the darkness and even light brush to detect and display anything warm-blooded. As most animals are more active at night, this gives a hunter trying to cull a crisis a distinct advantage.
The Wraith Thermal is one of the easiest optics to learn how to use, especially if you have had your hands on the Wraith Night Vision devices first. When I arrived at the ranch, our host, Kevin "Big Poppa" Reese, handed me one that was pre-mounted to an AR-15 chambered in Hornady's new 6 ARC cartridge.
Admittedly, it has been a few years since I touched anything Wraith, so it was like starting from scratch. Nonetheless, I found the controls to be instinctive, as a tap of the center button turned the unit on, and target focus and reticle focus were controlled by a manual pair of rings located fore and aft. Aside from that, the quad-directional control pad handled zooming and flipping the video camera on and off, which I loved because that meant that I was going to be able to record my hunt!
Our first night brought out plenty of pigs, just none to my position. However, I used this time to observe some other wildlife and gain an appreciation for how well this tech works. From 102 yards, I was able to spot over a half-dozen raccoons making their way to a food plot via a pad covered in tall grass. It was easy to determine what they were once I remembered precisely how the image was rendered. As it only picks up on heat, I wasn't able to make out their puffy tails as I would in the daytime because hair is the same temperature as the air around it. However, as they picked up food and shoved it in their mouths, I was able to use known behavior to ID them.
Night number two came bearing bacon, as a pair of pigs emerged from the woodline and made their way toward the same food plot. I learned something very important about thermal hunting, and that is that you don't have the same amount of depth perception as you do when using a conventional optic during the day. What looked like 150 yards was more like 75 yards, and those pigs were on top of my hunting partner, Fred Mastison, and myself, pronto! On three, we fired at the pig directly in front of us and tracked them as they retreated to where they originated from. The experience was exhilarating, to say the least, and it spoke volumes to the importance of knowing your surroundings and carrying a flat-shooting cartridge afield.
We ended the night by dragging out our bounty and harvesting as much meat as possible to bring home. Although feral, what you'll pick off of these animals isn't too far from what you'll buy at the grocery store, and it's completely organic and additive-free!
Over late-night Mexican food, we exchanged our thoughts on the Wraith Thermal, and all had favorable feedback. Some of us enjoyed the multiple color palettes, as some are easier to see than others for certain folks, and others raved about its compact size. I liked that I was able to capture my first-ever pig hunt on camera and show off precisely how far this technology has come. Above all, at an MSRP of $2,100, it marks the point in history where even a modest rancher can own a thermal imaging device to protect what they work so hard to build. You can expect to see more on this optic from me, as I am already figuring out which rifle is going to be wearing one in the near future. For more information, visit sightmark.com.