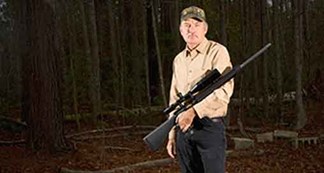 A recent article in USA Today indicates that, although Walmart may sell firearms and ammunition, sometimes their photo counter leaves a little bit to be desired when it comes to respect for the Second Amendment.
Mitch Strobl learned this the hard way when he tried to have the store print engagement photos that included an image of him, his fiancé and beloved shotgun. USA Today covered the story in this video, and across the pond, it even wound up in the pages of the Daily Mail. Obviously, that Ruger Red Label in the image has been made safe, it's unloaded, fingers are nowhere near the trigger and it's not pointing at anyone. I expect nothing less from the groom-to-be, who produces hunter-education materials. It's hardly gang-banger promotional material, as was alleged by the clerk.
A spokesman from Walmart told WFAA, "We had a new associate who was misinformed." With the retail goliath employing more than 1.4 million Americans-1 percent of all United States employees back in 2010-it's hard to argue the contention that some have never read the employee manual.