Last month, we published
an article about gun-concealment furniture
. One piece of feedback that we got from you, our readers, was that some of those options just can't work for a family on a budget, or one that has already established a houseful of decor. If your home-defense strategy is saying "yes please" to the idea of concealing firearms strategically about your house, but your wallet is saying "please don't," don't fret: There are plenty of other ways to hide your firearms in plain sight. We've researched five options that will fit into just about any decorative theme without breaking your pocketbook. Some of them require a bit of installment and/or assembly, but others won't oblige you to do much more than take them out of the box.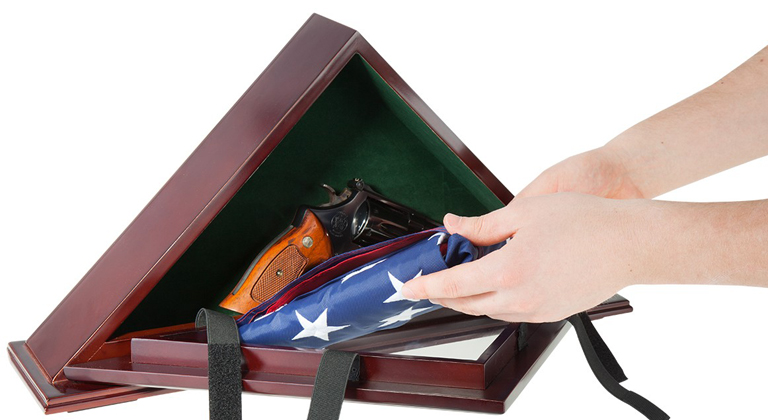 1. NRA Store American Flag Concealment Case 
It's simple, it's attractive and it costs $54.95! This neat little triangular display case allows you to fill the front compartment with whatever you like—a beautiful scarf, a sample of your furniture's upholstery or anything else that tickles your fancy. Secure it in place with the included hook-and-loop straps, then stash whatever you'd like behind it. The felt-lined compartment space will accommodate a full-sized handgun as well as passports, sensitive documents or cash. The compartment is sealed with a magnetic closure for easy access. The hinges are hidden to eliminate the idea that there's anything more to this beautiful display case than what it appears to be. (We've chosen to display it with a neatly folded American flag, but it's not included in the package.)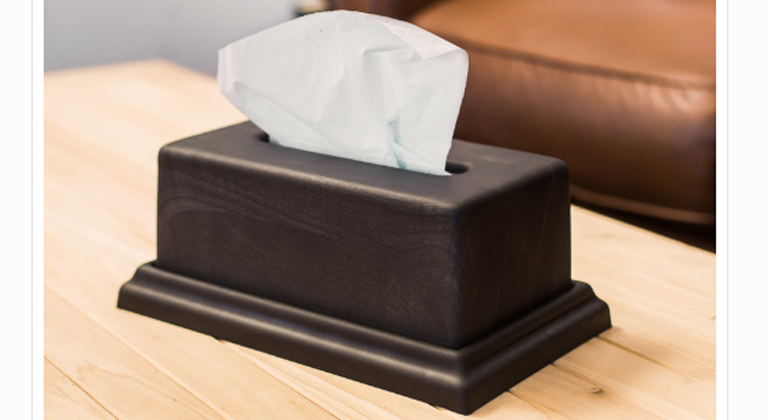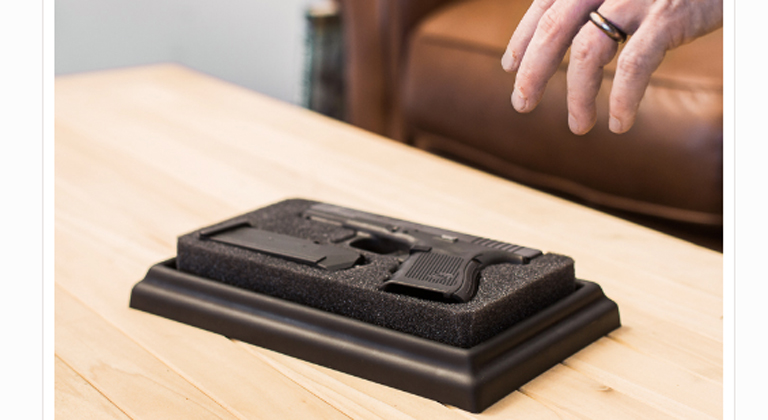 2. TacticalWalls Issue Box 
"Have an issue? Grab a tissue!" reads the cheeky description on TacticalWalls' site. All kidding aside, nobody will ever suspect that your pedestrian tissue box conceals the handgun of your choice in its special, customizable foam insert (included). It's completely functional as a tissue box, not to mention thoroughly portable, so you can move it from room to room as you see fit. With its black faux-wood finish and simple, clean lines, it'll fit it into any and every decor. It's important to note that this clever concealment option does not have a lock, so you'll want to ensure that your personal situation will work with this tissue box. At $49, it's as easy on your wallet as it is on your decor strategy.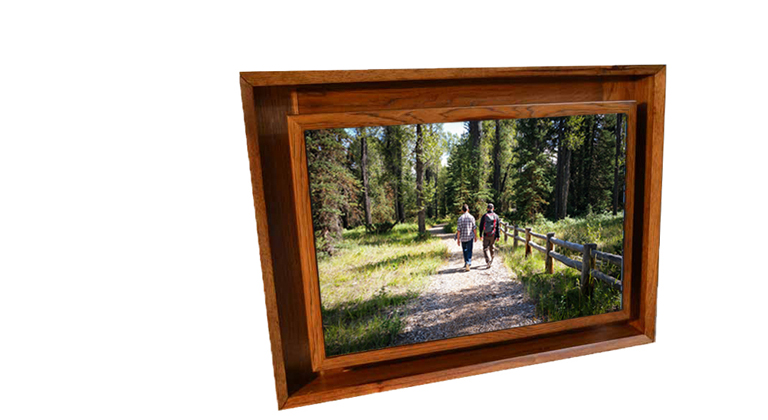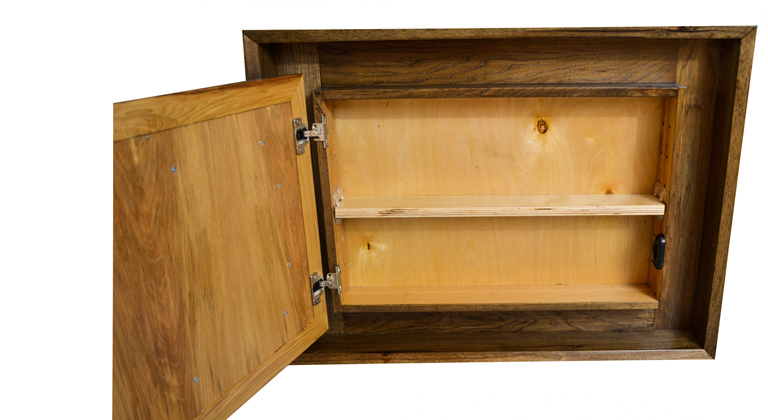 3. Stealth Furniture Personal Photo Secret Compartment Picture
Imagine a beautiful wall-mounted image of your family, custom printed onto the hand-crafted solid-wood hidden compartment in which you conceal the tools you use to protect them. That's the Personal Photo Secret Compartment Picture from Stealth Furniture. Handmade by Amish craftsmen, this sturdy and attractive wall unit features an interior storage compartment that measures 22 1/4 inches wide by 14 1/8 inches high, with external measurements of 30 7/8 inches by 22 7/8 inches. Simply upload your high-resolution image or choose one from Stealth Furniture's stock gallery, then select your desired frame color, latch type (touch latch vs. RFID lock), mounting magnets and hinge direction, and in two weeks, you'll have an heirloom piece worthy of passing down to your kids and grandkids. At $395, this option is one of the pricier ones on this list, but the quality and craftsmanship (as well as its adaptability to a wide range of home decor) more than make up for the price tag.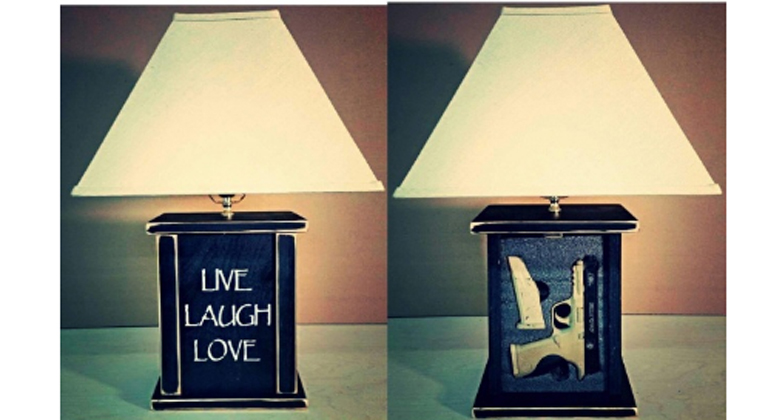 4. Rough Country Rustic Furniture Concealment Lamp 
Shine a little light on the subject of home defense with Rough Country Rustic Furniture's concealment lamps. We've chosen to highlight the "Live, Laugh, Love" lamp, but there are several other designs available, including ones with Army, Navy, Marine Corps and Air Force logos. The lamp comes with a lamp base and shade as well as a customizable foam insert that will fit a full-size handgun and spare magazine. Of course, the lamp is fully functional, and will make a great reading light for your bedside table while attracting zero notice from your guests. At $95, the price is right, too!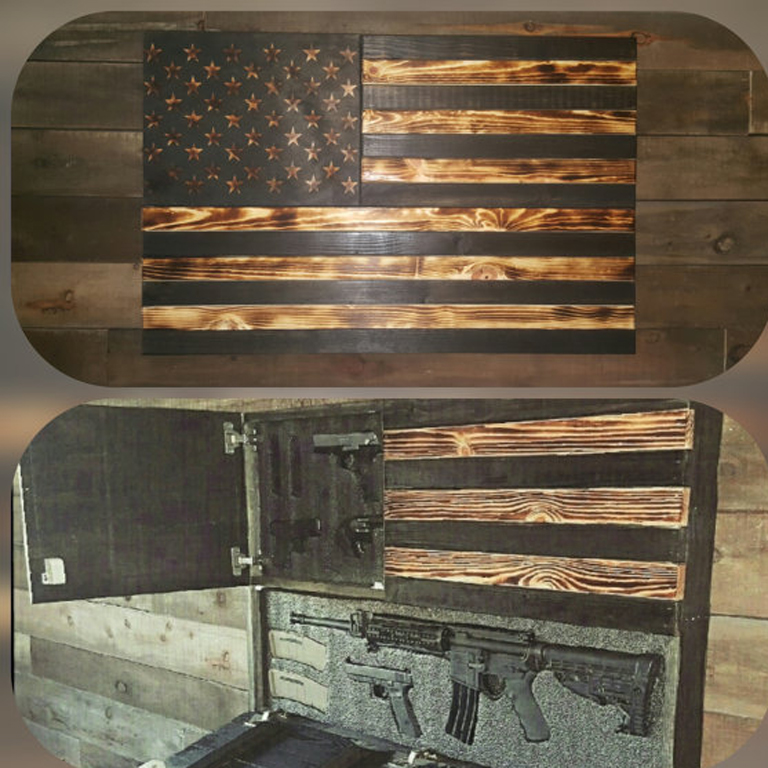 5. SanTan Woodworks Large Burnt Concealed Weapon Flag 
When it comes to home decor, it's a lot more difficult to conceal long guns than it is handguns. The SanTan Woodworks flag (on Etsy) is a solution to that quandary. With two separate concealed compartments, one large enough for a long gun, and customizable foam inserts, you'll have room for all of your home-defense firearms. Each of these attractive "burnt wood" wall decorations is handmade, so expect a lead time of five to seven weeks. Customer feedback is universally adulatory, so it will be worth the wait! At $240, it'll fit into your budget plans as easily as it will into your decoration strategy.