by
posted on May 26, 2017
If you're a longtime reader of
NRA Family
, then you're no doubt aware that Friday is the day on which we like to publish
critical
,
well-researched
,
cutting-edge
articles that are
completely serious
and totally
meant to be taken seriously
. This week, we're keeping up with the tradition by delving into the science* of astrology and how it can help you determine which new gun introduced in 2017 is the right one for your particular Zodiac sign. After months of independent research, which definitely involved lab coats and double-blind research studies and probably some Bunsen burners**, we've finally arrived at a foolproof way for you to choose a brand-new handgun. We've done all the work for you; all you need to do is remember your birthday.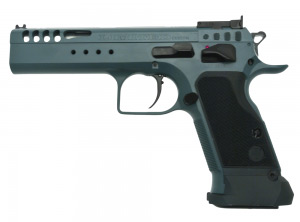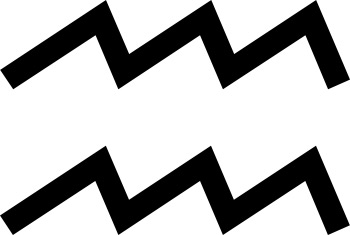 Aquarius: January 20 - February 18 
2017 New Gun: European American Armory Tanfoglio Witness Elite Limited Custom
According to our scientific* sources, Aquarians are independent, original people who don't like limitations. That's why your particular planets think you should check out the EAA Tanfoglio Witness Elite Limited Custom. This unique pistol, available in five chamberings suitable for everything from competition to self-defense to hunting, will ensure that you're never tied down to one particular discipline. Despite being popular for serious competition, Tanfoglio's Witness Elite line is remarkably reasonably priced: The pictured gun retails for $1,539. 
Click here for more information.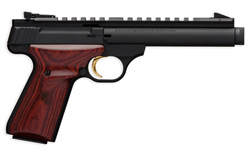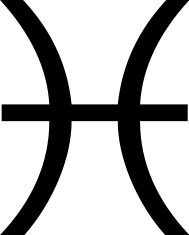 Pisces: February 19 - March 202017 New Gun: Browning Buck Mark Field Target Suppressor Ready
Research* indicates that Pisceans are both gentle and musically inclined, which is why the planet Neptune dictates that your new gun for 2017 is the Browning Buck Mark Field Target Suppressor Ready. Why? Well, it's a full-sized, 38-ounce firearm chambered in .22LR—so it's definitely going to be a gentle shooting experience. What's more, the barrel is threaded so you can add a suppressor if you like. Adding a can will not only decrease perceived recoil to pretty much nothing, it'll also be quiet enough that you'll be able to hear your music playing.
Click here for more information about the gun
.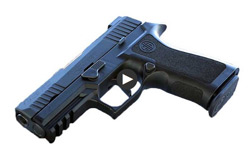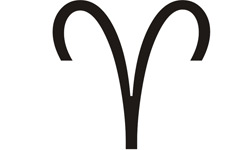 Aries: March 21 - April 19
2017 New Gun: SIG Sauer P320 XCarry
Studies have proven*** that Aries is ruled by the planet Mars, which is named after the Roman god of war. Therefore, people born under this sign are both courageous and aggressive, so the recent winner of the U.S. Army's MHS program will be perfect for you. The X Carry, a variant on the striker-fired P320, is designed for civilians who wish to carry concealed. At just 7.2 inches and offering a 17-round magazine capacity in 9mm, it's a solid and reliable choice for personal defense.
For more information on the gun, click here
.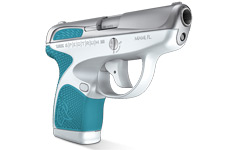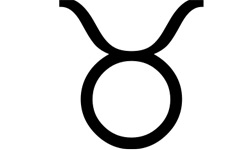 Taurus: April 20 - May 20
2017 New Gun: Taurus Spectrum
Four out of five scientists** agree that Taurus is ruled by the planet Venus, which is of course the Roman goddess of love. Tauruses are romantic and artistic and very invested in beauty, but they're also grounded and practical. Which is why the Taurus Spectrum is the ideal new handgun for those born under the sign of Taurus, and definitely not just because it happens to have the same name. (We wouldn't do that. We're scientists!**) With its enormous array of color combinations and sleek, modern appearance, the Spectrum will appeal to the romantic side of you while its down-to-earth price of $289 is humble enough for any budget.
For more on the gun, click here
.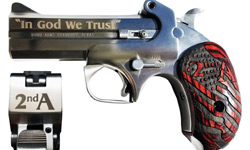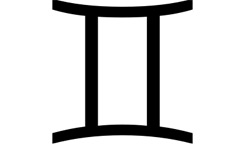 Gemini: May 21 - June 20
2017 New Gun: Bond Arms PT2A
Ah, Gemini, the sign of the Twins. This Zodiac sign is all about duality, which is why Geminis will want to check out the PT2A from Bond Arms. First of all, it's a 
two
-shot gun. Secondly, it's capable of firing 
two
calibers....45 LC and .410 bore. Finally, it's designed to show your support for the 
Second 
Amendment. Clearly, this diminutive derringer is designed for your dual personalities. It's science!** 
To learn more about the gun, click here
.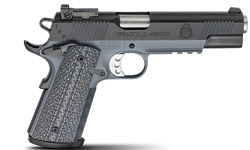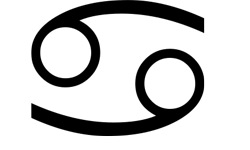 Cancer: June 21 - July 22
2017 New Gun: Springfield Armory TRP Operator - Tactical Gray
Rigorous testing has shown* that Cancers are both tenacious and loyal. They deserve a gun that can support them in their tenacity and loyalty, having been designed from the ground up to function reliably in the worst conditions. The Springfield Armory TRP Operator offers sights, a guide rod and accessory rails and can accommodate 13 .45 ACP rounds. This high-end 1911 retails for a remarkably reasonable $1,730, too!
For more about the TRP Operator, click here
.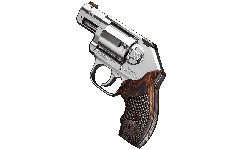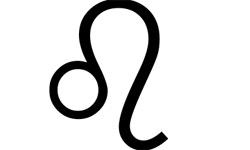 Leo: July 23 - August 22
2017 New Gun: Kimber K6S DCR
Leo, the sign of the lion. It's been proven*** that people born under this sign have a mighty roar that makes everyone else sit up and pay attention, so they need a sidearm that does the same. The Kimber K6s DCR, a six-shot revolver chambered in .357 Mag., is sure to provide all the sound and fury you lions deserve. With its Millennium rosewood grips, satin silver stainless finish and serrated backstrap, it's also as handsome as any King (or Queen) of the Jungle could want. For more on the Kimber K6S DCR,
click here
.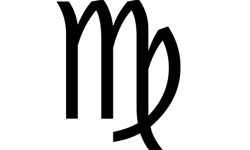 Virgo: August 23 - September 22
2017 New Gun: Kahr Arms CM45 Tungsten With Grip Glove
Researchers have established** that Virgos are shy, unassuming people who prefer to fly under the radar...but who are remarkably effective. For this reason, the 2017 handgun ideal for a Virgo is the Kahr Arms CM45 Tungsten with Grip Glove. This low-profile gun is only 5.79 inches long and weighs a mere 19.3 ounces
—a true pocket pistol perfect for concealed-carry. Just like the modest Virgo, the Kahr CM45 Tungsten packs a powerful punch: It's chambered in .45 ACP. The Grip Glove helps tame that recoil, making this handgun much more comfortable to shoot than you'd expect. What's more, it's yours for a very modest $499. For more information, click here.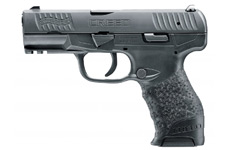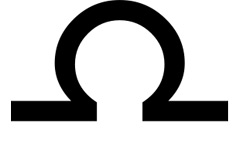 Libra: September 23 - October 222017 New Gun: Walther Creed
The stars and planets have given their testimony*, and the verdict is in: Libras are driven by principle and most interested in justice. That's where the Walther Creed comes in. According to Walther, their "creed" is
 "superior ergonomics, excellence in trigger design and unparalleled accuracy, quality and reliability." That's what you can expect from this
 polymer-frame, hammer-fired DAO handgun, which holds 16 rounds. Although Walther has long stood for dependability and quality, the Creed can be had for a mere $399. To read more about the Creed,
click here
.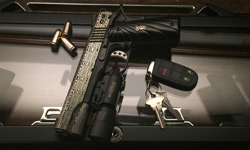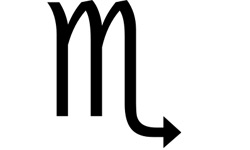 Scorpio: October 23 - November 21
2017 New Gun: Cabot Guns' The Ultimate Bedside 1911
The latest data from the Hubble telescope** proves that Scorpios are ruled by the planet Pluto. (Never mind that Pluto isn't actually a planet, stay with us here. For science.) This means that they're resourceful and brave, but their courage is tempered by caution. For this reason, Scorpios will do well to check out The Ultimate Bedside 1911 from Cabot Guns for their 2017 new gun purchase. From the attractive ladder-patterned slide to its G10 Fibonacci-style grips to its integrated SureFire X300U-A weaponlight, this top-end .45-caliber is the
ne plus ultra
for home-defense, even in the deepest Plutonian darkness. This top-end firearm retails for $6,950, because Scorpios deserve only the best.
For more on The Ultimate Bedside 1911, click here
.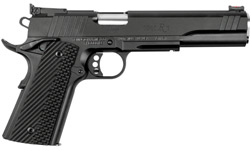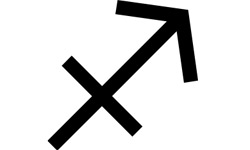 Sagittarius: November 22 - December 21
2017 New Gun: Remington R1 Hunter LS
A short list of mathematical constants: E=MC²,  a²+b²=c² and now, Sagittarius=freedom and a love of the outdoors*. Because you Sagittarians don't like being constrained, the Remington R1 Hunter LS is the 2017 gun for you. This 1911 offers eight rounds of 10mm power in a full-size gun, so it's suitable for handgun hunting small to medium-sized game (where legal), target practice and personal defense. Its 6-inch barrel provides the Sagittarius with a long sight radius and extra velocity for superior precision and stopping power. For more about the Remignton R1 Hunter LS, click here.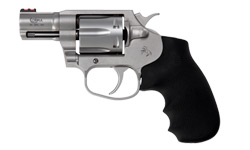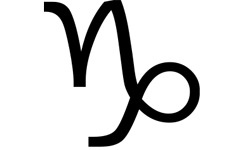 Capricorn: December 22 - January 19
2017 New Gun: Colt Cobra Revolver
The influence of the planet Saturn on everyone born from December 22 through January 19 cannot be disputed***. Capricorns are disciplined, serious and traditional people, which is why a Capricorn's 2017 new gun purchase ought to be a Colt Cobra revolver. The historical importance of Colt as a purveyor of fine revolvers will appeal to your traditional side, while its modern grip and trigger ergonomics will satisfy your desire for a serious firearm that does everything you need it to do in style. This attractive, matte-stainless-finished snubby offers six rounds of .38 Spl. +P, a time-tested and proven self-defense round. It's yours for $699, Capricorn;
for more information on the gun, click here
. 
So there it is, your 2017 gun horoscope! Hopefully you like the firearm that the stars and planets have assigned you, but if you like something else we've mentioned better, no worries. Just do what everyone does when they're reading their horoscope: Look at all the other signs until you find something you think suits you better. 
Are you looking for
real 
advice on buying your first handgun?
Click here for our First-Time Handgun Buyers Guide
. 
*Not really.
**No.
***We're fibbing.